Clodfobble Tuesday Nov 4 02:32 PM

November 4, 2008: Monkey Guard Dog

Since today is the culmination of a whole lot of nationwide griping and dissent, I thought we needed a good heartwarmer even though it's not Friday.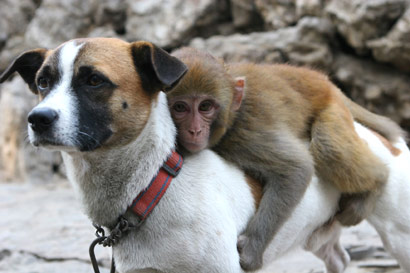 Keepers at Jiaozuo City Zoo have given an orphan monkey its own guard dog, because the other primates in the cage were bullying it. After being forced to intervene to save its life several times, they settled upon the trained canine, named Sai Hu, and are happy to report that it has been very successful.

"Whenever the baby monkey gets bullied, he dashes up and drives the others away. And the baby monkey is also very smart. Each time he smells danger he runs to jump on the dog's back and holds on tight. The alpha male monkey has been really unhappy since we sent in Sai Hu. He tried to organise several ambushes on the little monkey, but they all failed because of the dog," said a zoo spokesman.

---

sweetwater Tuesday Nov 4 02:43 PM

That's quite a smug mug on the monkey! And thanks for the warm fuzzy, Clodfobble. It made me smile.

---

Shawnee123 Tuesday Nov 4 02:44 PM

Awww, that's neat. Thanks Clodfobble!

---

Sundae Tuesday Nov 4 02:53 PM

Clod, why did you post an unhappy monkey story?




---

birdclaw Tuesday Nov 4 02:58 PM

Sai Hu nothing more than hired muscle. A goon.


Kinda cute though.

---

Cicero Tuesday Nov 4 03:17 PM

Oh, what a sweetheart!

---

Sheldonrs Tuesday Nov 4 04:23 PM

If they mate, do you get a donkey?

---

lumberjim Tuesday Nov 4 04:59 PM

nope. Moog.

---

Sheldonrs Tuesday Nov 4 05:16 PM

---

dar512 Tuesday Nov 4 05:55 PM

That was great.

---

Elspode Tuesday Nov 4 06:18 PM

You'd think that, on this most holy of all American days, someone could have found a picture of a donkey and an elephant engaged in sexual congress for the IOTD.

---

Elspode Tuesday Nov 4 06:19 PM

---

newtimer Tuesday Nov 4 06:30 PM

Whew...good thing I read the article. At first glance, I thought it was a photo of lumberjim's prom night. It would have explained a lot.

---

Sundae Tuesday Nov 4 06:33 PM

---

monster Tuesday Nov 4 06:53 PM



Now, as we're celebrating, I suggest no recipes, let's take the IOTD to BDs Mongolian BBQ and see what they make of them. Stir-fry-wise....

---

monster Tuesday Nov 4 06:55 PM




...pretty darn close....

---

Sundae Tuesday Nov 4 07:06 PM

I thought of that, just too slack to go looking
(also, Willo the Wisp creeped me out, with the Moog one of the worst)

---

monster Tuesday Nov 4 07:07 PM

Well you're a little younger than me, so of course i was all like dead mature when it was on tv and knew it wasn't really creepy....

my little sister hated it too.... HAHAHA

---

xoxoxoBruce Tuesday Nov 4 11:54 PM

Excellent find, Clodfobble.

---
Your reply here?

The Cellar Image of the Day is just a section of a larger web community: a bunch of interesting folks talking about everything. Add your two cents to IotD by joining the Cellar.