Undertoad Tuesday Jul 16 12:01 PM

7/16/2002: Box of nails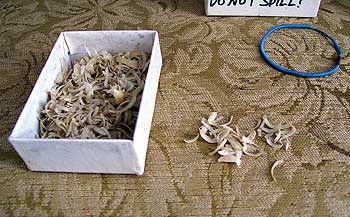 Once again proof that the Internet has everything. This dude has collected finger and toenail clippings since 1983, and shows us the box of them. If you go to his nail collection page you'll find a few more shots.

On his home page he says "What the heck...I will wave my freak flag high. If people don't like the fact that I collect my fingernails, there is something wrong with them, not me."

And I say: rock on, brother. I'm with ya. Why the hell not?

---

kbarger Tuesday Jul 16 12:26 PM

Ya know, I think I'm going to hang onto this link and pull it out the next time somebody suggests that my interests in ancient Egyptian history or origami are somewhat obsessive.

---

And Tuesday Jul 16 01:54 PM

Ew.

He might as well save his wipes from the toilet, too. That's just disgusting.

I bet he takes one out and chews on it from time to time, savouring their vintage flavor...

I don't do gross things. I just have a gross mind.

---

Griff Tuesday Jul 16 02:20 PM

[enable Australian accent] "Here we see toe nail in its natural enviroment, the college dorm couch. It waits, with never so much as a twitch, peeled off there by drunken frat boy, biding its time, well camoflaged in the debris... does it dream of scraping the back of a burley thigh or does it hope, against hope to entangle itself in sorority girls locks as ginned up roomy tries to pick up the trash during stoppage time..."

---

hairdog Tuesday Jul 16 02:58 PM

OH MY GOD! See attached.

---

dave Tuesday Jul 16 03:50 PM

Well, that's certainly not something that our society would consider "normal"... but whatever floats your boat, I say. He's not hurting anyone else, so it's all good.

---

Scred Tuesday Jul 16 06:29 PM

Oh, now that's just wrong. Collect them, sure, but stick your tongue in them? Ick.

---

elSicomoro Tuesday Jul 16 06:31 PM

It could be worse...it could be shit.

---

warch Tuesday Jul 16 06:42 PM

I just imagine the never-ending high-pitched pinking click of the nail cutter. Then the scramble to find the flying tip. "Ooohh, thats a GOOD one."

And certainly he wouldn't combine the fingers and toes in the same box?! Now, thats just crazy.

---

perth Tuesday Jul 16 06:54 PM

reminds me of a scene from the great play (and movie) Rosencrantz and Guildenstern Are Dead.



Quote:

ROS (cutting his fingernails): Another curious scientific phenomenon is the fact that the fingernails grow
after death, as does the beard.
GUIL: What?
ROS (loud): Beard!
GUIL: But you're not dead.
ROS (irritated): I didn't say they started to grow after death! (Pause, calmer.) The fingernails also grow
before birth, though not the beard.
GUIL: What?
ROS (shouts): Beard! What's the matter with you? (Reflectively.) The toenails, on the other hand, never grow
at all.
GUIL (bemused): The toenails never grow at all?
ROS: Do they? It's a funny thing − I cut my fingernails all the time, and every time I think to cut them, they
need cutting. Now, for instance. And yet, I never, to the best of my knowledge, cut my toenails. They ought to
be curled under my feet by now, but it doesn't happen. I never think about them. Perhaps I cut them
absent−mindedly, when I'm thinking of something else.

this is a great play, and if you ever have a chance to see it live, do so. otherwise, its a very entertaining movie with the likes of tim roth, gary oldman and richard dreyfuss. complete script is here.

~james

---

And Tuesday Jul 16 07:54 PM

SEE!?! I was RIGHT!

*barf* I've never hated being right so much... :whofarted

---

BrianR Tuesday Jul 16 08:04 PM

Bleh!

And you villify ME for a simple floor-mounted vibrator animated .GIF!

Hmpf!

Brian

---

CharlieG Wednesday Jul 17 08:03 AM

Quote:

Originally posted by perth
reminds me of a scene from the great play (and movie) Rosencrantz and Guildenstern Are Dead.

...snip...

~james

Heads....


(I got to play Rozencrantz in High School)

---

perth Wednesday Jul 17 12:46 PM

Quote:

Originally posted by CharlieG


Heads....


(I got to play Rozencrantz in High School)

i envy you. best part i ever had was judge danforth in the crucible.

~james

---

blase Saturday Jul 20 01:42 PM

"Whatever floats your boat or finds your lost remote"

---
Your reply here?

The Cellar Image of the Day is just a section of a larger web community: a bunch of interesting folks talking about everything. Add your two cents to IotD by joining the Cellar.