Undertoad Wednesday Jul 17 10:48 AM

7/17/2002: Micro bug on micro machine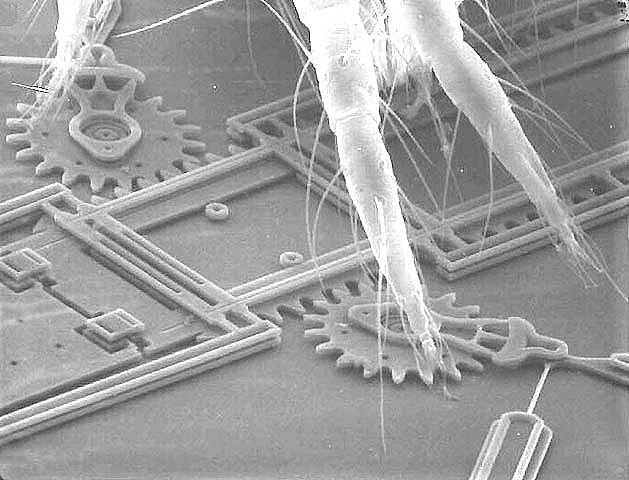 Thanks to Avi of Worth1000 for this one!

Miniaturization pushes on. Sandia National Laboratories works on MEMS, or MicroElectroMechanical Systems. It's amazing stuff - they're tiny little machines, with gears the size of blood cells. These make it possible to do things that have never been done before. They've put up an Image Gallery for all of us to enjoy, including a set showing tiny little live bugs walking across their tiny machines.

Those are the legs of a spider mite. The surface it's standing on is the micro machine.

Is the mite going to damage it? No! At the site there are movies of bugs walking across micro machines, and even sitting on a little platform getting spun around at high speed. The machines and bugs both survive.

---

Griff Wednesday Jul 17 02:23 PM

That put a smile on my face. As they fill the world with micro-machines, what happens to the poor spider mite? Will he need to evolve in any way as his enviroment changes?

---

blowmeetheclown Wednesday Jul 17 03:33 PM

Maybe he can get a job asa micro-mechanic.

---

Griff Wednesday Jul 17 03:38 PM

Yah, but who's gonna weave that nifty asa arm patch?

---

NateXLH1000 Thursday Jul 18 10:30 PM

Electron microscope

I think that in order for an electron microscope to function properly, the sample has to be plated with a metal film. Also, inside an electron microscope is a vacuum.

You will just have to face facts that those innocent insects died for the sake of art.

---

jaguar Friday Jul 19 02:12 AM

is it an electron microscope?

---

russotto Friday Jul 19 03:06 PM

Naa, it's probably optical. If the gears are blood cell sized, the pic is well within the range of optical microscopes.

---

Bitman Friday Jul 19 07:04 PM

Zoom zoom

I feel like quoting Slashdot here: "Doesn't Anyone REaD the ARtiCLE?!" (Yeah, I know there's no article, but still..) They only need a 200x scope for this stuff. At least, the live webcam is 200x, and the other pictures look about the same scale.

---

Tobiasly Friday Jul 19 11:12 PM

If it's an optical scope, why aren't they in color? Oh, that's right, bugs see in black and white. No, wait a minute..

Go to the Image Gallery link.. the second picture from the top has some text at the bottom that looks like what would come from an electron microscope.

Of course, it's been a few years since I've pretended I was a chemist, so I could be wrong.

---

juju Saturday Jul 20 12:10 AM

Their website explains a bit about their microscope. But it's in scientist-speak, and I can't decipher it.

---

jaguar Saturday Jul 20 01:53 AM

Well if its *not* an electron microsocope, why is there no colour. If it is, why are there movies of the bugs moving?
I looked on the site, couldn't find anything conclusive so....

---

juju Saturday Jul 20 02:14 AM

Their website says that the microscope is capable of capturing clear images of the gears even if they are moving at high RPMs. This allows them to take several pictures in a sequence and determine how fast the gear is moving.

Anyway, if you're really curious you can call them up.

Their phone number is on the site.



---

MaggieL Saturday Jul 20 10:02 AM

The microscope is optical. (There's a picture of it on the site.) Probably the imaging is monochrome to keep the digital size down.

---

Tobiasly Sunday Jul 21 11:04 AM

I just assumed the microscope used to take the still, black-and-white images wasn't the same one used to do the moving-gears movies, since the images look completely different and the magnification appears to be orders of, um, magnitude apart.

---

Undertoad Sunday Jul 21 11:22 AM

Quote:

Originally posted by Griff
Yah, but who's gonna weave that nifty asa arm patch?

I read this a couple of times before it struck me: the micro-machine will weave the patch.

---

Slight Monday Jul 22 04:44 PM

Supposing the image is of photons and not of electrons you will have to consider that any equipment that is attached to a microscope probably triples in price due to being in a lab environment. So any electronic camera equipment will be bought as cheaply as possible meaning no color. And color is not as important when you publish in science magazines.

---

NateXLH1000 Monday Jul 22 10:46 PM

Ongoing 'scope debate

http://www.sandia.gov/mstc/micromach...ery/Bug_2e.jpg

The lettering at the bottom indicates that this image was taken with a scanning electron microscope.
See "20KV"? that is the equivalent of brightness.

The moving pics look more like polarized light to me.

Thems mites is good eatin'!

---

Griff Thursday Jul 25 07:55 AM

Quote:

Originally posted by Undertoad

I read this a couple of times before it struck me: the micro-machine will weave the patch.

I fear you're slowing down in your old age Toad.

---
Your reply here?

The Cellar Image of the Day is just a section of a larger web community: a bunch of interesting folks talking about everything. Add your two cents to IotD by joining the Cellar.