Undertoad Monday Jul 22 01:11 PM

7/22/2002: Possible TV show for cats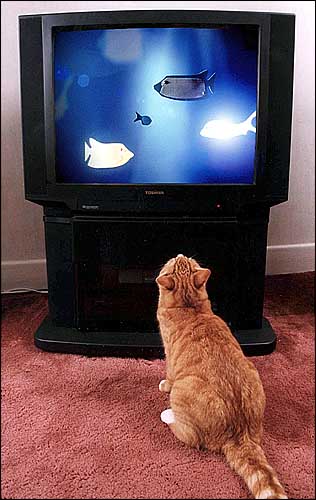 Insanity: The company that makes Meow Mix cat food did a study, found that there are 85 million cat owners, and 22% of those will watch TV that they think their pets will enjoy. And so they are setting out to create "Meow TV", a 30-minute TV show just for cats.

"There will be squirrels, bouncing balls, birds and all the things cats love to watch," says the Meow Mix CEO.

OK. Be sure to outfit your TV with a complete 5.1 Dolby Surround system so that your cat is truly fooled into believing the projected animals are real.

The Ananova story: http://www.ananova.com/news/story/sm_632374.html

---

sleemanj Monday Jul 22 07:07 PM

Re: 7/22/2002: Possible TV show for cats

Quote:

Originally posted by Undertoad
And so they are setting out to create "Meow TV", a 30-minute TV show just for cats.

Perhaps this could be thier first feature length movie :-)

---

elSicomoro Monday Jul 22 07:58 PM

Now all that's needed is aromavision for the catnip.

---

Nic Name Tuesday Jul 23 12:10 AM

Bugger
---

Katkeeper Tuesday Jul 23 08:11 AM

I was watching a nature show about lions one evening, and my cat started staring intently at it, then walked over and sat right in front of the set, watching, just like the cat in the image. He especially liked the shots of the lions hunting. But this has only happened once.
He used to watch the weatherperson, and especially liked the arm waving in front of the weather map which would appear, wave around, and then disappear off the edge of the screen. He tried to jump at it a few times.

So cats do watch TV. But mine, at least, gets bored with it, knowing that it is not interactive.

---

elemental Tuesday Jul 23 10:23 AM

My former next-door neighbor's cat (she's my former neighbor, Rio is probably still a cat) used to hang out in my house all the time. He especially liked watching Animal Planet. While they aren't IOTD quality, I think these <a href="http://www.synaesthetic.net/~elemental/visual/photos.php?who=rio&page=2">pictures</a> are pretty good.

---

Senor Oso Tuesday Jul 23 02:47 PM

My cat will watch anything on TV, especially if there's a lot of motion. I don't think it's that she cares about the images so much as the color and movement.

---

Katkeeper Tuesday Jul 23 07:13 PM

The pictues of Rio are quite good. I have some somewhere of my cat Pewter batting at the set while the weather report was on, but don't know where they are. Yours show what Rio was watching.

---
Your reply here?

The Cellar Image of the Day is just a section of a larger web community: a bunch of interesting folks talking about everything. Add your two cents to IotD by joining the Cellar.