Undertoad Monday Aug 5 12:00 PM

8/5/2002: Army battlebot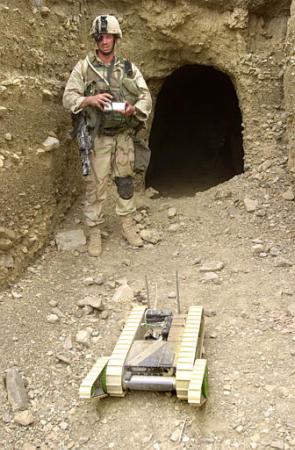 Being a geeky, nerdy sort, I watch the Comedy Central show "Battlebots", which features fighting robots. The robots on the show are impressive beasts, even if the poor production doesn't show them off very well.

Over the few years the show has been on, the robot builders have developed tricks to take advantage of the rules of the game. Originally the robots that would win were "wedges" - short in stature, built with ramps for edges, heavily armored on top. These bots were defensive in nature although some were developed with lifting arms or cutting blades. They were built to roll under their opponents and regularly succeeded.

The bot builders learned that spinning weapons could be developed that would slowly build up speed, developing and storing tremendous momentum force that could whap an enemy bot and send it flying. The latest such bot, which easily beat every challenger, put all of its efforts into spinning the largest possible weight in the largest possible circle.

But what you see above isn't a Battlebots robot. This is an army robot, built at a price into the tens of thousands of dollars. Its name is "Hermes", and its only task is to wander into that cave, looking for mines, traps, and maybe even the occasional live terrorist. The idea is to save casualties. You don't care if Hermes steps on a mine or something. This war is the first time such robots are being used.

The Battlebots builders spend about the same amount on their robots. While they don't have to broadcast video back to a waiting soldier, the Battlebots robots seem better-developed for their purposes than the Army robots do for theirs.

Of course, we don't know the background of the development of this robot. But it feels like robot building is done better by a bunch of happy amateurs, building robots for entertainment purposes, than it is by the military-industrial complex. The Army version is wheezy and whiny and has no torque, and would probably get stuck on the first rock. I'm certain the Battlebots version would have titanium armor, little whack-a-mole hammers to beat the ground for mines, and would be able to jump over small obstacles.

---

And Monday Aug 5 12:46 PM

Good god, I love that show. I spend many a dreamy moment designing what robot I would build if I had the money.

And if the Battlebots' builders made a Hermes replacement, it probably wouldn't just look for mines and traps. It would probably be able to take out a terrorist or two and drag them back out of the hole. Those guys are insanely good at what they do. (Well, usually, until some 14yo pimply geek comes along and brings in some doofy creation he made in Daddy's metal shop. The real battlebots make short work of those, though. "Safety Bot" indeed...)

---

blase Monday Aug 5 12:52 PM

Anybody else happen to catch The Daily Show's coverage of this thing? Had me laughing.

---

phil216 Wednesday Aug 7 12:02 PM

actually, that looks like a bot review in a Wired magazine a couple months ago. The shorter treads are to let it climb rocks and stairs.

I will see if I can find an on-line version of the article and post a link

---

phil216 Wednesday Aug 7 12:05 PM

reference

there was a sketch of this guy in the printed article, but not in the on-line version

here's the link http://www.wired.com/wired/archive/10.05/robots.html

---

Undertoad Wednesday Aug 7 12:15 PM

"We wanted to penetrate a bunker, but the robot, called Goldie, was too large to fit inside," says Blitch. "So we placed a smaller tethered robot on top of her, and when Goldie got close enough we drove the second one off and into the bunker."

That's pretty cool.

---

Degrees Wednesday Aug 7 12:35 PM

The Daily Show vs. reality

I saw The Daily Show segment too, and was pretty amused by it. However, the day before there was an article on Slashdot regarding these same robots. Someone there saw a demonstration by the original builders. What The Daily Show did not mention, and takes a bit of humor out of the whole thing, is that these robots can have a grenade thrower attached to them. Great for our soldiers, a real bummer for anyone still hiding in those caves. I do not know if the thing can play sound files or transmit live two-way audio - but being able to warn people to surrender would be a good thing.

---

warch Wednesday Aug 7 06:25 PM

I think we should consider drafting Ziggo into service. He light, manic, and he slices, dices, and makes julienne fries...

---
Your reply here?

The Cellar Image of the Day is just a section of a larger web community: a bunch of interesting folks talking about everything. Add your two cents to IotD by joining the Cellar.