Tuesday Apr 24 02:35 PM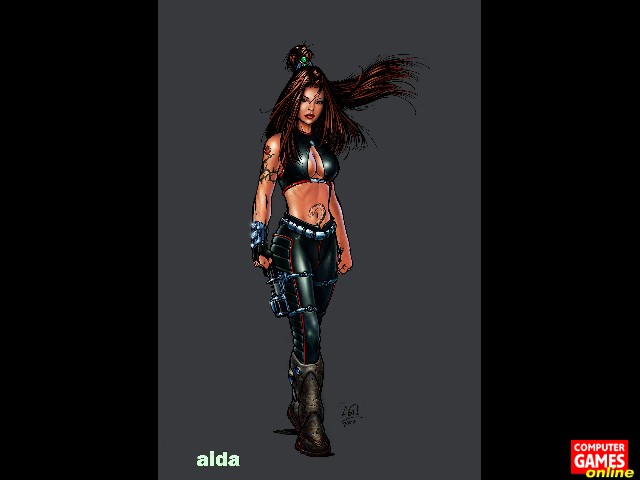 So what, it's just another sultry babe image. Not really! This is a preview shot for Unreal 2. So this broad doesn't just stand there; she runs around a 3D universe, picking up weapons and shooting them at other such characters.

The thought of having this finely rendered a character is alluring to gamers, and not just because she's a babe, either. If a character can look this good, the game will be more realistic as well.

The problem is that one might need a $500 video card in order to see her looking this good in action. Game companies should be aiming (er, so to speak) for the X-Box and Playstation II. I suspect that this is about as realistic as is possible on those consoles, if the hair problem is figured out.

The other problem is that this particular uniform isn't going to win any reality points with fps players. Obviously, if you were a real person going into the Unreal environment, you'd want ALL of your skin covered, and with something tougher than leather as well. That open skin isn't going to fare well against biologic slime. And a torso like that just cries out for a long-range sniper's shot.

But the "Lara Croft" impact is going to happen with fps games as well. Somehow the teen market is intrigued by hot babes in tight leather. I guess it's to be expected.

One thing really intrigues me about this character: her hair. Two things are difficult to do well in 3d worlds: hair and loose clothing. Trailers for this new movie "Shrek" are coming out, and you'll notice that the woman character has her hair tied down a certain way. If Unreal programmers have worked out how to do hair, that'll be kind of interesting.

For a moment, that is, before she is shot dead with a point-blank rocket launcher.


---

Wednesday Apr 25 07:29 AM

*laugzh hwo true but as for realisim most fps games (excluding some notable exceptions like Counterstirke) arne't noted for their dedicatin to realisim, frankly if i had to go in i'd choose a nice, solid 4x4m block of iron iwth automatic turrets thankyou very much. ie: a tank, but when u come back to life instantly.......it just a game =)

---

Tuesday May 8 03:55 AM

Sorry, I think this is concept art, not something from the game engine. Check out the gallery stuff on http://www.unreal2.com. There is some impressive stuff (notably the flame thrower) but I really doubt they have anything that can produce pics like the one you showed.

---

Tuesday May 8 09:39 AM

Sadly, it looks like you're right. damn if the broad doens't stand guard over the entire site, but it appears they aren't producing her.


---
Your reply here?

The Cellar Image of the Day is just a section of a larger web community: a bunch of interesting folks talking about everything. Add your two cents to IotD by joining the Cellar.