Undertoad Saturday Aug 24 03:33 PM

8/24/2002: Glacial lake busts out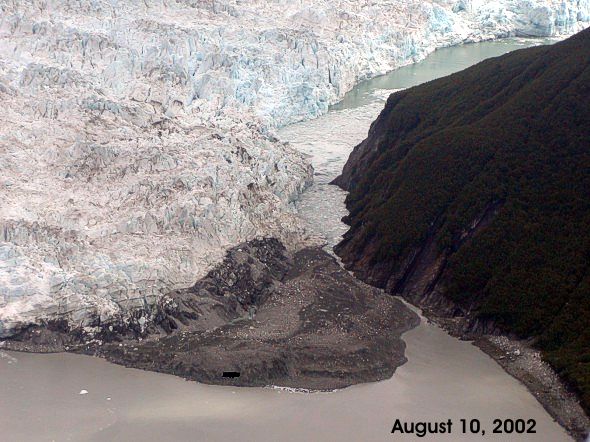 Modem users are going to hate me today. This is a pretty rare situation, where I'm going to post 3 pretty detailed images. I did try optimizing them, but the amazing detail of the ice was lost.

So what the heck is this? To start, it's Alaska, about where the long thin arm of the state meets the body of the state. You know, the long arm that seems to be there to steal coastline from Canada?

Up there is Yakutat Bay, and a spot where a glacier comes down and meets the ocean. There's a place where a fjord has been created, called Russell Fjord... okay, how can I describe this... best way is with a map.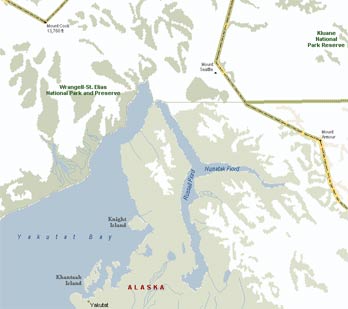 The upside down Y on the map is the fjord. Now to match the map with the first image there, the water at the bottom, where the date is shown, is the bay; the water at the top is the fjord; the white is the advancing glacier. Got it? The picture is not oriented the same way the map is, but...

In that shot, the advancing glacier has cut off the fjord from the bay. The ice on the left has moved in - from left to right - until the bay and fjord were no longer connected.

But the fjord kept rising. As a result, in that picture, the water in the fjord is 60 feet higher than the water in the bay. That's why the shot is a little confusing; you expect the water levels to be the same.

It took 2 1/2 months for the water to reach that point. At that point, the summer must have taken its toll, and finally the ice dam broke. At that point, on August 14, 70 square miles of 60 foot high water desperately rushed at the bay, creating a massive river of ice and debris.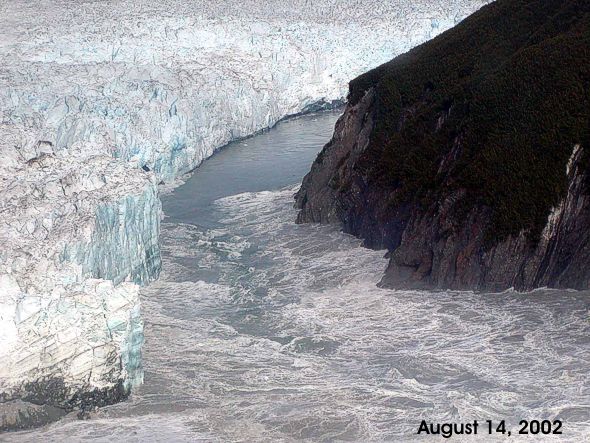 This is thought to be the second largest "glacial lake outburst" in recorded times, though who knows who is recording these things.

It took all of a day and a half for the water to find its level point, and now the fjord is connected to the bay again.




And when winter comes, the whole thing will probably start over.

---

Nothing But Net Saturday Aug 24 04:02 PM

Next on Fox: "When Fjords Attack!"

Somehow I find the whole thing strangely erotic...

---

blowmeetheclown Saturday Aug 24 04:17 PM

I wonder what that sounded like. Imagine the crack of the ice just before the extremely loud rush of water. But I'm sure it happened a little slower than that.

---

juju Saturday Aug 24 11:08 PM

One of the weirdest things I learned in geology class was that glaciers move. I guess it sounds kinda dumb.. I sort of knew before, but I never really thought about it. You look at them, and they don't look like they're moving. But they are. Just really really slowly. I also learned that you can look at a mountainous valley and tell whether or not a glacier has passed through it just by the shape of the valley. Pretty cool stuff.

---

Torrere Sunday Aug 25 02:12 PM

Wow! Quite an impressive sequence.

I was looking at it, and thinking about it, wondering just how you were deeming a lake a fjord when I scrolled down and saw the water rushing out. Wow!

---

bartman Monday Aug 26 09:13 AM

Ohhhhhh, you said fjord, I thought you said FNORD!!

http://www.swiss.ai.mit.edu/~boogles...ati/fnord.text

---

NateXLH1000 Tuesday Aug 27 08:54 AM

Whoosh!

I'll bet that would be a canoe ride you wouldn't soon forget!

---

ChrisD Saturday Mar 29 11:11 PM

I had to bump this... Anyone see west wing recently? They had an episode where this happened (and flooded a small town) and they put a very "global warming-esque" spin on it.

Does this happen commonly? Or is it possibly an effect of global warming?

In the show, they were basically saying "a glacier melted", which isn't entirely true.

---

wolf Sunday Mar 30 12:30 AM

Glaciers melt all the time. They also move.

I don't know how common this is, but I think it's fair to say it's not all that unusual, and is part of the life cycle of a glacier. It's not global warming. [fingers crossed]Isn't this what Cairo was on about ... hopefully she won't see this.[/fingers crossed]]

---

Elspode Monday Mar 31 02:23 PM

This is a small-scale example of similar events that are believed to have created, among other things, the entire Scablands of the Columbia River Plateau in Washington State and the Snake River Canyon through Idaho. Both are examples of the unbelieveable amount of scouring that occurs when unimaginable quantities of water and rocky debris are released in a short time.
(rocky debris increases as the water and the already-present debris rip to shreds the watercourse which the flood follows, causing even more impressive scouring)
Ice Age glacial lakes are believed to have created both the Scablands and the Snake River in a very few years, and perhaps as little as a very few *weeks*, as opposed to the many thousands of years such erosion usually takes, due to repeated outbursts and refillings of the Ice Age glacial lakes. There's lots of stuff in geographical literature about such lakes, including Lake Missoula (in Montana, obviously), Lake Bonneville and Lake Agassiz, all of which left obvious evidence of their catastrophic outbursts.

Of course, these lakes were many, many magnitudes of scale larger than the one shown in UT's pics (Lake Agassiz rivaled Lake Superior in volume), but man, those pics are awesome, UT. And relatively safe, compared to the Ice Age events.

---

Torrere Saturday Apr 5 11:21 PM

I live on Lake Pend Oreille. It was also created by flooding: from the local hills you can see the spot in the mountains where Lake Missoula was apparently dammed during the last Ice Age. The flood that resulted when that broke carved out much of the lake and is responsible for the boring landscape of most of Washington state: it's just a series of shallow hills (mounds would be more accurate). You can see the flat horizon in all directions, and it is agonizingly dull to drive through for hours and hours.

Apparently it looks like the ripples of a streambed from the air.

---

Elspode Sunday Apr 6 01:25 AM

Yes...I have a geology text that shows these mounds from the air...they are literally giant "sand ripples" like you see in a normal stream, just on a scale hundreds of thousands of times larger. It is a bit humbling, actually.

---
Your reply here?

The Cellar Image of the Day is just a section of a larger web community: a bunch of interesting folks talking about everything. Add your two cents to IotD by joining the Cellar.