Undertoad Sunday Sep 8 03:17 PM

9/8/2002: Giant beetles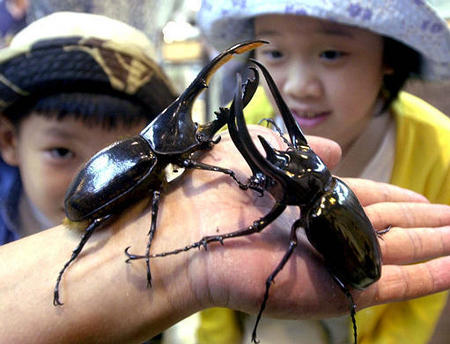 Ladies and Gentlemen... the BEETLES!

Two Taiwanese children look at two Chalcosoma Caucasus or "Atlas Beetles" at an insect show Friday, June 28, 2002, in Taipei. The beetles grow to an impressive average length of 120mm (4.75 inches).

---

dave Sunday Sep 8 04:38 PM

This almost makes up for last Sunday's lack of an IotD.

---

tokenidiot Sunday Sep 8 07:04 PM

Why are things like this allowed to exist!?

---

juju Sunday Sep 8 07:25 PM


This is what the Chalcosoma caucasus larva look like before they undergo their "metamorphosis".

---

blase Monday Sep 9 12:15 AM

The worm thing grosses me out, but the big shiny beetles are great.

---

jeni Monday Sep 9 02:42 AM

um, all i have to say is "yuck-ay."

---

tjennings Monday Sep 9 09:38 AM

Does anybody know the meat to shell ratio of one of those?

---

Vegeta Monday Sep 9 09:59 AM

I hear they're hard to season right. And they don't hold breading too well either--grilling only for those bad boys.

---

Griff Monday Sep 9 11:02 AM

The larvae hold breading quite well. Anything other than steaming for the atlas beetle should be reported to the Office of Homeland Security as an unwholesome act.

---

Nic Name Monday Sep 9 11:08 AM

Ladies and Gentlemen ... the BEETLES

UT wasn't the first to make the linguistic connection.



Quote:

Woman wins tickets by eating beetles

May 3, 2002 — What would you do for free tickets to a Paul McCartney concert?

One woman from Bay City, Michigan, ate 100 beetles.

Lisa Goodrow says it was nasty -- but worth it, because she's a huge fan of the ex-Beatle.

She's one of six people who competed in the "Eat a Beetle, See a Beatle" contest run by a radio station.

The contestants had to eat beetle larva in batches of 25. The first group was boiled. The second, third, fourth and fifth groups were live, causing one contestant to drop out.

After the first batch, the next batch was covered in chocolate, the next two with different hot sauces. The final batch was the contestant's choice.

But why do people think of eating 'em?

---

Bitman Monday Sep 9 09:29 PM

Re: Ladies and Gentlemen ... the BEETLES

Quote:

Originally posted by Nic Name
But why do people think of eating 'em?

Birds eat beetles, people eat birds. These people are just being energy efficient, and skipping the middle step.

---

And Tuesday Sep 10 10:26 AM

Or maybe they're just trying to gross everyone out for a laugh.

---
Your reply here?

The Cellar Image of the Day is just a section of a larger web community: a bunch of interesting folks talking about everything. Add your two cents to IotD by joining the Cellar.