xoxoxoBruce Thursday Aug 20 12:45 AM

Aug 20, 2009: Costumes

The Miss Universe Pageant has the usual evening gown parade and a swimsuit parade, but it also has the contestants parade in their "National Costume". How they came up with some of them, beats the hell out of me.



Here's a few...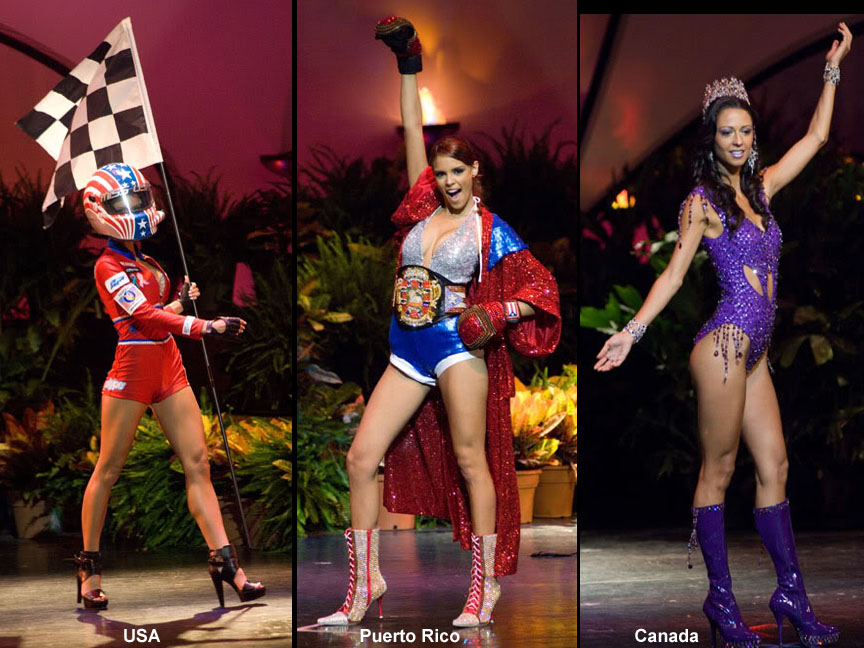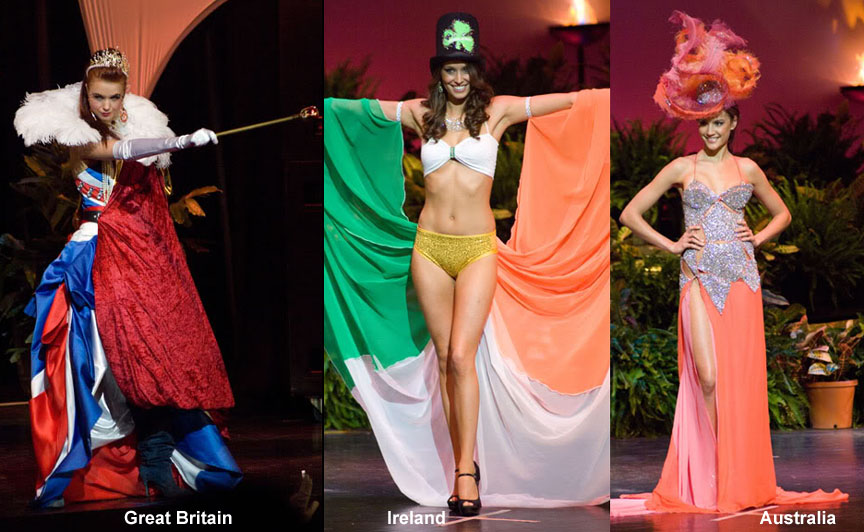 And here's the rest.

---

touchnova Thursday Aug 20 05:09 AM

Racing costume for US?

So we have NASCAR, but the rest of the world pretty much laughs at the US because of our absence from F1. Interesting that they would pick racing at all...sure bet she loved wearing that helmet with those dom-heels. OK, so call me a critical bastage...

---

ZenGum Thursday Aug 20 05:32 AM

The Great Britain costume does look somewhat like the traditional "Brittania" character much used by political cartoonists from the late Victorian era.

Attachment 24525

The Noice Irish Goil is at least in her national colours.

After some thought, I can only say the Aussie lass just looks like a galah. (This is also an Aussie idiom for a twit).

Attachment 24526

---

nil_orally Thursday Aug 20 06:44 AM

I would much rather they paraded out of their costumes


---

DanaC Thursday Aug 20 07:41 AM

The Aussie lass looks like she modelled herself on a Peach Melba.

---

Shawnee123 Thursday Aug 20 08:18 AM

What's Canada supposed to be?

Oh yeah, NASCAR, that's what we're all about. Ugh...

Maybe she should have just dressed like Jeff Foxworthy.

---

DanaC Thursday Aug 20 08:53 AM

I'm quite surprised she didn't turn up in a Stars and Stripes bikini with a Big Gun :P

---

Shawnee123 Thursday Aug 20 09:00 AM



And no health care.



---

Spexxvet Thursday Aug 20 09:02 AM

I thought the race motif would be from Monaco.

---

birdclaw Thursday Aug 20 10:25 AM

Ireland must be on a pretty tight budget. Hmm lets see...I have a hat left over from St. Pats, a bikini, and, well, I'll just use the flag. Tah Dah. Costume!

---

Tawny Thursday Aug 20 11:08 AM

Other events in the competition include:

Crotch grinding
Pole Dancing
Breast Reveal
Best Pasties

And answering the question: "What do you say when a customer asks your real name?"

---

Shawnee123 Thursday Aug 20 11:11 AM

I still can't figure out wtf Canada is supposed to be.



Some of them remind me of skanks at Halloween: dress less to be the best.

---

monster Thursday Aug 20 11:16 AM
Shawnee ftw

---

newtimer Thursday Aug 20 11:18 AM

I can't wait to see what the Romulan contestant wore to the Miss Universe competition.

---

monster Thursday Aug 20 11:31 AM

Looks like the other girls played a trick on Norway and Slovak Rep and didn't tell them what National Dress really means....




Mis Norway has a bit of a "Carrie" look about her -I'd be careful if I were them....

---

Spexxvet Thursday Aug 20 11:33 AM

---

Cloud Thursday Aug 20 11:38 AM

Bizarre, but I'm sure it's hard to come up with different "national dress" every year. If memory serves me right, we've had girls dress up as the statue of Liberty before.

---

monster Thursday Aug 20 11:44 AM

This is what Miss Australia should be wearing




Miss GB:




miss America:



---

Shawnee123 Thursday Aug 20 11:45 AM

Oh no you di'int.

---

monster Thursday Aug 20 11:47 AM

No I di'int. really. it was someone else pretending to be me. rly.

---

xoxoxoBruce Thursday Aug 20 11:55 AM

---

Gravdigr Thursday Aug 20 03:23 PM

I'll take two Miss Canadas for the weekend, please Alex.

---

WillieO Thursday Aug 20 04:21 PM

Miss Ireland's penis is showing

---

Shawnee123 Thursday Aug 20 04:38 PM

So is Miss USAs. You know, if you read Middlesex there's a theory about really tall thin women with no hips having been born hermaphrodites...



---

DanaC Thursday Aug 20 04:38 PM
Probably quite similar to the Japanese entry...

---

Elspode Thursday Aug 20 10:17 PM

I'm sure there were many worthy comments in this thread, but I didn't have time to read them as I was busy worshipping Miss Ireland's public mound.

---

dar512 Friday Aug 21 10:49 AM

However Miss Australia might get my attention.

---

Alluvial Saturday Aug 29 07:11 PM

---
Your reply here?

The Cellar Image of the Day is just a section of a larger web community: a bunch of interesting folks talking about everything. Add your two cents to IotD by joining the Cellar.