Undertoad Tuesday Sep 17 07:13 PM

9/17/2002: Bloody cyclist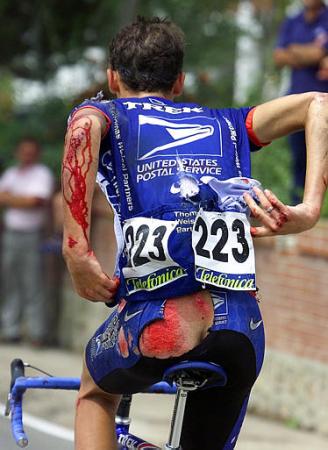 This one's dedicated to griff!!!

U.S. Postal's Michael Barry of Canada rides on despite crashing earlier during the 174 kilometer (108 mile) 8th stage of the Tour of Spain, Vuelta a Espana, cycling race from Malaga to Ubrique, southern Spain.

---

dave Tuesday Sep 17 07:20 PM

Dig the bloody crack.

---

Griff Tuesday Sep 17 07:24 PM

Ya can't see his brass balls but I think we can safely assume them.

---

NateXLH1000 Tuesday Sep 17 10:18 PM

AAAGH!

Reminds me of the rash I got in early May from my old Kawasaki. I was going WAY too fast in the sandpit on those old 1980 shocks.

I found out the hard way that yes, indeed you can get road rash without touching the road.

The rash healed faster than the two carpal bones.


Anyways, That guy will not be looking forward to waking up in the morning, glued to the bed like flypaper!
Took me about a week and a half to clot over.

the enclosed pic was from about three or four weeks after

---

smed Tuesday Sep 17 10:38 PM

grass rash

I hit a curb at 50 on my Honda Sabre back a few years now....
Got cut off (imagine!) and decided the grass looked better than oncoming traffic....or the asshole that cut me off.
Two things came to mind immediately...
1.) Helmuts work.
2.) Leather does not guarantee anything.
I rolled for 50 feet after I hit the grass wound up in a nicely mowed patch of lawn. I still got the rash up both arms cause my sleeves were welded up into my armpits.
Also...the jacket came un buttoned (prolly not if it was zipped), and consequently got some rash through my shirt up my back and side.

I cant imagine dropping it on the street.....asphalt seems much less forgiving.

---

Tobiasly Wednesday Sep 18 01:33 AM

My best friend from high school was driving this early-70's Pinto. I was riding shotgun, and unbeknownst to me, the door was held closed by a bungee cord and a prayer. Also, there were no seat belts.

Well, he takes a corner doing about 30, the door flies open, and I fly out. Musta skidded about 10 feet on my ass over the asphalt. The 3 passengers in the car actually thought they had run over my head, but luckily I skidded far enough to avoid the car as it came round.

I can tell ya though, it must have been a month before I could walk normally again, and a year before I fully regained sensation on my left ass cheek. A little patch of grass would have been nice.

---

jeni Wednesday Sep 18 03:23 AM

ouch. his ass looks very sore. why would you not bandage that up? OUCH.

---

tokenidiot Wednesday Sep 18 03:30 AM

hot.

---

Griff Wednesday Sep 18 07:18 AM

Quote:

Originally posted by jeni
ouch. his ass looks very sore. why would you not bandage that up? OUCH.

First you finish the stage, thats why he's carrying brass.
Velo News

---

russotto Wednesday Sep 18 11:44 AM

Ow. I once finished a skate race with a broken rib, but that was only a 5K. I can't imagine doing miles with my bloody ass flapping in the breeze...

---
Your reply here?

The Cellar Image of the Day is just a section of a larger web community: a bunch of interesting folks talking about everything. Add your two cents to IotD by joining the Cellar.