Saturday May 5 11:49 AM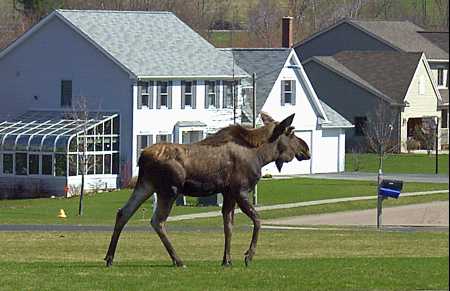 This moose was just walking around. I forget where the shot was taken, and the gag was done for the opening of that old show Northern Exposure.

And apologies to new user Ziggurat who has seen enough moose for a lifetime I'm sure. I for one would love it if mooses just walked around the neighborhood. It would add a little twist to life if you looked out your window and saw a moose clopping down the street.

The suburbs are all about control. Control your life, your lawn, your neighbor. With a moose around, you'd have to give back some of that control to nature. There would inevitably be huge moose turds all over the lawns.


---

elSicomoro Monday May 7 01:12 AM

Two summers ago, a similar situation developed in Town and Country, a western suburb of St. Louis.

The population in Town and Country (which swelled during the late 80s and 90s to 40,000 or so) started putting grazing deer out of places to roam. They wound up milling about town, causing problems for the local folk. Of course, the folks were up in arms, but the mayor put it quite simply: we took their habitat so what did we expect?

---

Monday May 7 10:07 AM

yaaargh... well, real moose aren't half as bad as the fiberglass eyesores.




and if you want to subject yourself to more of these things...



www.antlerwatch.com

but just to clear things up, there are definatly no real moose wandering around the toronto area... that kind of thing does happen up north though. i've heard many a tale of a moose taking out an eighteen-wheeler on northern highways. BONK.

---

Tuesday May 8 11:39 AM

Where I live in the US, the nearest 'city' of 60k people has moose wander downtown on occasion. Happened once a few years ago, the cops tranqued the poor beastie and released it a few miles out of town.

On a more serious note, there are always a few people killed each year by hitting deer and moose in new england. Especially moose. If you hit one, you take out its huge legs and the whole mass of it heads right at your windshield...

---

Thursday May 10 03:45 PM

Every year our local newspaper does something similar to that on April Fool's. They superimpose a moose wandering about the streets in front of local landmarks and such, all in all pretty fun.

On a serious(ha!) note, what's the accepted plural for moose? Moose sounds logical as a plural, as does meese (like goose/geese). What about mooses? Or moosen?

Steve

_______________
I hates meeses to pieces

---

Friday May 11 10:38 AM

the plural of moose is moose i think.

english isn't supposed to make sense

---
Your reply here?

The Cellar Image of the Day is just a section of a larger web community: a bunch of interesting folks talking about everything. Add your two cents to IotD by joining the Cellar.