Undertoad Saturday Oct 19 11:24 AM

10/19/2002: Hockey streaker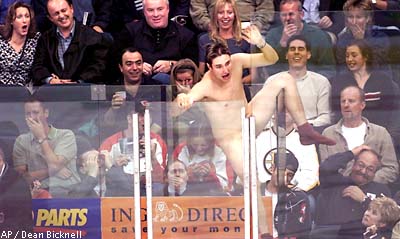 A different pic of this got Photoshopped on Fark, but this is a far better shot, and it's one that probably didn't get wide distribution.

This guy is streaking, at a hockey game. The game was Flames-Bruins, taking place in Calgary.

It's obvious what's going to happen, isn't it? One second after he reached the ice, he slipped and fell, landed on his back and hit his head, knocking himself unconscious. They had to get the whole medical team out there and isolate his neck and everything. He wound up relatively unhurt though.

Two great things about this shot. One, the photographer managed to catch him at just the right moment so his package is hidden by the glass supports. Now that's timing. Two, check out the reactions of all the people watching! Priceless.

---

tjennings Saturday Oct 19 11:45 AM

The reactions appear to range from hiding your face, to lauging, to (in the case of the two people in the upper right hand corner) sticking a finger up you nose.

---

blowmeetheclown Saturday Oct 19 01:14 PM

I like the two forward-most people on the right: the man is scared he's going to get it on the head from a nut, and the woman is sizing him up from the "sun-don't-shine" perspective.

---

Nothing But Net Saturday Oct 19 04:51 PM

That took balls. And a lot of alcohol.

---

xoxoxoBruce Sunday Oct 20 11:27 AM

I wonder how much alcohol it takes to dissolve a brain.
Hey, maybe the brain doesn't dissolve. Maybe the balls
swell. Alcohol works in mysterious ways!

---

warch Monday Oct 21 12:49 PM

My favorite detail: Socks. it is ice afterall.

---

Urbane Guerrilla Monday Oct 21 01:50 PM

Maybe wool socks and not acrylic blend might have given him better traction on the ice.

---

mitheral Monday Oct 21 05:03 PM

His socks were red, that's how we knew he was a flames fan.

---

juju Monday Oct 21 05:50 PM

Has anyone here streaked before?

---

warch Monday Oct 21 06:27 PM

Skinny dipping under cover of darkness. Good clean fun.

---

Nic Name Monday Oct 21 11:47 PM

I've surfed in the nude.

---

Undertoad Tuesday Oct 22 10:35 AM

Update: fark reports that this shot, which they subsequently put up for Photoshopping, has already been altered in the version that you see. Apparently the photographer wasn't as talented as first thought, and needed to go in and digitally remove some of the guy's bits and pieces.

The story:

http://waymoresports.thestar.com/NAS...path=Home/Home

---

Nic Name Tuesday Oct 22 10:52 AM

Quote:

He softened it out in Photoshop ...

Was it hard?

---

dasviper Tuesday Oct 22 10:57 AM

ad at the bottom

Did anyone else think ING was making a crack at their mothers at first glance? (See ad at the bottom.)

By the way, crack/bottom puns entirely not intended.

---

blowmeetheclown Wednesday Oct 23 09:37 AM

Quote:

Originally posted by Nic Name
Was it hard?

..as ice.

---

Nic Name Monday Nov 11 01:24 AM

Mom was not amused.

Quote:

"He has really embarrassed his mother and that's not right. The whole of Provost is going to know now. I mean, my church group — I am a born-again Christian and this is not going to help ... It's not comical. It's very embarrassing. I'd like to be proud of my son and I'm not right now."



---
Your reply here?

The Cellar Image of the Day is just a section of a larger web community: a bunch of interesting folks talking about everything. Add your two cents to IotD by joining the Cellar.