Undertoad Sunday Oct 27 12:53 PM

10/27/2002: MSNBC misplaces a state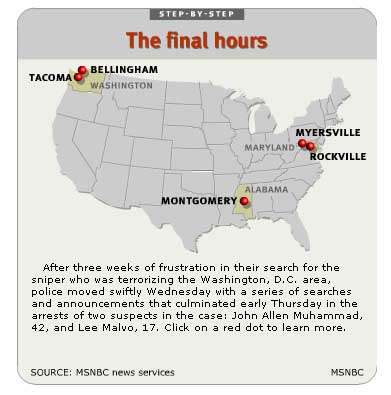 As the news came in that the sniper[s] had been caught, and that the Alabama shooting was connected, MSNBC tried vainly to give us a sense of where these events were taking place... and made Mississippi the new Alabama.

---

Chewbaccus Sunday Oct 27 01:48 PM

I actually used to do that myself. They're almost a mirror image of each other. I eventually gave up and just said "there".

~mike

---

blase Sunday Oct 27 03:26 PM

Bah, who knows the east coast states anyway



It's best to live in the west - square states rule!

---

goethean Sunday Oct 27 06:15 PM

Hey...it happens. I consider myself good at geography and just found out that Colorado and Wyoming's position were the reverse of what I thought they were.

---

elSicomoro Sunday Oct 27 10:15 PM

Well, they've done worse, with the whole "Nigger" Ellis deal earlier this year.

---

juju Sunday Oct 27 10:27 PM

Morons.

---

perth Sunday Oct 27 10:37 PM

Quote:

Originally posted by sycamore
Well, they've done worse, with the whole "Nigger" Ellis deal earlier this year.

niger innis. poor guy. nobody gets his name right.



~james

edit: not even me, apparently. is it innis or innes? googling it brings up the same sites for both. the infamous msnbc image spells it innis, but then they spelled the first name wrong too.

---

Nic Name Sunday Oct 27 10:50 PM

It's Innis.

Here's his official website.

Here's the MSNBC gaff for those trying to follow this thread.

---

Nic Name Sunday Oct 27 11:02 PM

Indications are that the accused snipers will not face trial in Alabama.

Geographic profilers say they'd be executed in Virginia before a decision could be reached on where exactly is Alabama.

---

ndetroit Sunday Oct 27 11:55 PM

rofl..

... hahaha...


sorry for the 'me too' pointless post, but nic name always cracks me up.

---

Beletseri Monday Oct 28 05:40 AM

I think they should let Alabama try them. It sure would be a lot more entertaining on court TV with all the good ole southern boys.

---

Nic Name Monday Oct 28 10:01 AM

Good ol' boy thinkin'

Quote:

"The key thing to remember here is the FBI deals with crime scene evidence from all over the country. Our experience is most crime happens close to home," said Sgt. Scott Martino.

hmmmm .... non sequitur

---

blowmeetheclown Wednesday Oct 30 12:17 AM

Notice how nobody ever misplaces Texas?

---

Nic Name Wednesday Oct 30 12:59 AM

Here's a link for MSNBC's home page.

---

Nic Name Thursday Oct 31 09:40 PM

Pat Buchanan calls Canada 'Soviet Canuckistan'

Quote:

"That place is a complete haven for international terrorists," he told co-host Bill Press. "Even their own retired security guys say it's a complete haven. We . . . need lectures from some people, not from Soviet Canuckistan."

MSNBC spokeswoman Alana Russo said from New York the network has not received any calls of complaint.

As if Canadians even watch MSNBC.

Does that buncha idiots even know where Canada is on a map?

News Flash, Pat ...

Quote:

OTTAWA — The United States has agreed to back off from its controversial policy of fingerprinting and screening Canadian travellers of Arab origin, Foreign Affairs Minister Bill Graham said today.

He told the House of Commons he got the news from Paul Cellucci, the U.S. ambassador.

"He informed me that in the future Canadians carrying Canadian passports will not be treated any differently depending on where they were born or for any reason whatsoever," the minister said.



---

elSicomoro Thursday Oct 31 10:04 PM

*snaps his fingers*

Damnit...he seemed to be improving. He really did...he was making progress. He seemed to have mellowed, even with his battle with Donahue in July. Then he has to come out of his mouth with some mess like that.

Let's get him back on the wagon people!

---
Your reply here?

The Cellar Image of the Day is just a section of a larger web community: a bunch of interesting folks talking about everything. Add your two cents to IotD by joining the Cellar.