Undertoad Monday Oct 28 12:03 PM

10/28/2002: Struck by lightning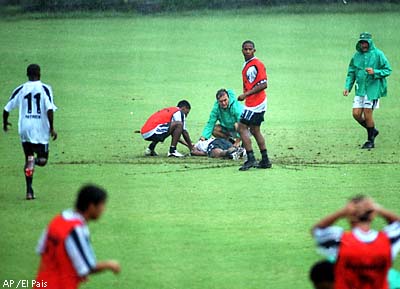 Teammates try to help soccer player Herman Gaviria after he was struck by lightning during practice in Cali, Colombia. There was nothing they could do. Gaviria, 32, a veteran of the 1994 World Cup, died on the spot.

---

chrisinhouston Monday Oct 28 12:19 PM

It looks like you can see the flashpoint where the electricity left his body and went into the earth and either radiated out or just blew the grass and dirt in all directions.

---

Nic Name Monday Oct 28 01:34 PM

Does lightning go up or down? - and other facts ...

FREQUENTLY ASKED QUESTIONS (FAQ) ABOUT LIGHTNING

---

mlandman Tuesday Oct 29 10:25 AM

I was nailed (somehwat) by lightning before

Last summer, I was in my garage watching an awesome electrical storm. Apparently being a dumbass, I was barefooted, on the concrete. The driving rain was making a small puddle at the threshold of the garage, so I picked up a fiberglass driveway broom, and started sweeping the water out. I didn't think anything of it, because I was inside the garage, not 'outside'.

Anyway, you guessed it... lightning hits about 50 feet away. Across the next second or so, I got nailed with what distinctly felt like 9 or 10 separate zaps that went up through my feet, and out my hands.

Hurt like a son-of-a-bitch, and made my muscles in my legs go nuts, and I fell to the floor. At which point, I am now sitting on the wet concrete, so I got up and ran inside, fearing another bolt.

Don't ask me how I know it was 9 or 10 'separate' zaps, or how I could feel the electricity going 'up' through my feet and 'out' of my hands... I just felt it.

-mike

---

BrianR Tuesday Oct 29 01:31 PM

Lightning goes "up"

Electricity travels from a relatively negatively charges area to a relatively positively charged area or pole.

Basic electricity I studied way back before I wuz an electrician.

Thus, the electricity flowed from ground (charged state 0), up through your feet and body and out your hands and head to the relatively positive charge of the airborne ions.

It hurts, I know. I've been zapped more than once myself.

Brian

---
Your reply here?

The Cellar Image of the Day is just a section of a larger web community: a bunch of interesting folks talking about everything. Add your two cents to IotD by joining the Cellar.