xoxoxoBruce Friday Nov 5 01:12 AM

Nov 5, 2010: Silver Beetle

Candy is dandy and liquor is quicker
You can drink all the liquor down at Costa Rica
But if you do, you might start hallucinating.

Roland Seitre may have thought he was hallucinating when he first spotted these metallic looking silver beetles, in the mountains of Costa Rica.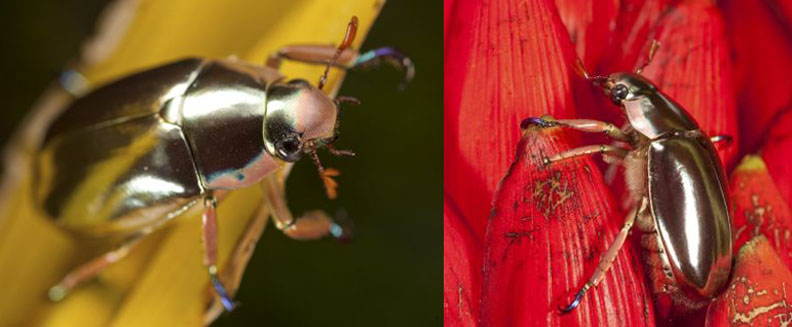 They look more like beetle shaped jewelery, than real bugs, with their shiny silver shells and purple feet.
But they are real, as are their metallic green, metallic yellow, and porcelain white cousins.

I don't think we should eat them though, any critter that flashy, usually tastes bad.



link

---

SPUCK Friday Nov 5 04:18 AM

They're constantly bothered by other bugs trying to comb their hair.

Ba-ling

---

Griff Friday Nov 5 06:35 AM

garnish

---

Trilby Friday Nov 5 07:49 AM

squish it anyway.

---

spudcon Friday Nov 5 09:28 AM

They don't taste bad, they have bad taste.

---

BigV Friday Nov 5 10:57 AM

Want.

I have a fine chain that would set one off *perfectly*, and idea I have shamelessly stolen from The Libertine.

---

Sundae Friday Nov 5 01:26 PM

Pretty, pretty!
They'd look lovely on chocolate cupcakes.

---

Gravdigr Friday Nov 5 02:06 PM

A ready-made brooch.

---

Slight Monday Nov 8 02:03 AM

I have it on authority that "those are kind of common". My opinion: the dude snap'n the pictures is more 'playfully ignorant media whore' than 'cataloging entomologist'. Still cool pics though.

---

xoxoxoBruce Monday Nov 8 02:26 AM

WTF? He was a French photographer on vacation in Costa Rica, and said he'd already seen them in a Costa Rican museum, just delighted to see them in the wild. Where are they common, you mean in Costa Rica?

---

wolf Monday Nov 8 11:18 AM

My mind works in mysterious ways:

VW should do a bug in stainless steel. They could even call it the Wolfsburg Back to the Future Limited Edition.

---

glatt Monday Nov 8 11:25 AM

Porsche did a 911 in stainless a while ago. Just to give it a go. Neat idea, but expensive.

---

Leah Tuesday Nov 16 09:56 PM

We have Christmas beetles here in Australia that look similar to that.

---

Pete Zicato Thursday Nov 18 10:29 AM

White Beatles:


---

xoxoxoBruce Thursday Nov 18 12:35 PM

What's the 378383, something you added? My copies don't have that.

---

glatt Thursday Nov 18 12:57 PM

My vinyl version doesn't have the serial number, but my CD copy does. I assumed it really was a unique serial number for the CDs. If I remember, I'll check my number at home.

---

Pete Zicato Friday Nov 19 01:27 AM

Wikipedia describes it http://en.wikipedia.org/wiki/White_album.

---

xoxoxoBruce Friday Nov 19 02:15 AM

I clicked on the link 5 times and Jimmy Wales was only staring at me twice.

---

Pete Zicato Friday Nov 19 10:28 AM

You're breaking his resolve.

---
Your reply here?

The Cellar Image of the Day is just a section of a larger web community: a bunch of interesting folks talking about everything. Add your two cents to IotD by joining the Cellar.