Tuesday May 22 10:46 AM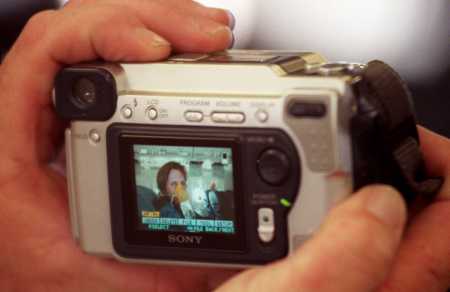 This picture of a picture is from a passenger's digital camera when he was on a flight that encountered severe turbulence.

I think that digital camera pictures are awesome, particularly if they are documenting things that we want to know about.

Digital camera images are amazingly crisp and lifelike compared to print images. In my experience, digicams tend to sharpen edges, brighten everything. Even when you take a film shot and scan it in, so that you're looking at a shot produced by glowing phosphors, the digital camera image is brighter and sharper.

That's why I can't wait for digital images to be more widely used. In a case like this one, I wonder why the news folks didn't use the actual image itself, instead of the image of the image. The image itself is pretty striking, I'd wager.

The immediate processing afforded by most digital cameras means that a shot can be available in seconds. We're about two-three years away from the point where consumer-level cameras have the same resolution as regular film; they say that a digital camera will need to be five megapixels or greater to match film grain.

After that, it will take another few years for people to realize that they can take as many images as they want without any additional cost. Concurrently, people will learn how to use them, swapping and pringing digital photos quickly and easily.

At that point, an event like a riot will be documented by many digital cameras. A bad flight will have ten people walking off with photos, maybe even submitting them to news organizations on the internet pay phone in the gate (reading the "film" in with a smartcard reading slot in the phone's console).

By that time, too, hopefully we'll have short video recorded to smartmedia, and actual short films of events will become commonplace. Maybe the nightly news outlets will find that the most bang for the buck will come from bargaining with various "regular" folks who have video and images of events.

Or maybe I'm just daydreaming. What do you think?


---

Tuesday May 22 11:32 AM

You have a real point there Tony. Especially in days like this. The name of the media game is "realism", always has been. But now, with things like "Survivor" out there, the demand for such realism was increased a hundredfold.

Papers always wanted "eyewitness accounts", probably the most famous of which being the Zapruder film. With technology increasing in availability and user-friendliness, anyone can send in pictures to their local news station.

But the lining isn't all silver. If you think about it, this could create a kind of papparazzi(sp?) that would plague the common man. If you have the misfortune to have been involved in a disaster, perhaps plane trouble, or a school shooting, or something of that nature, your misery would be compounded by vultures circling around you trying to get any pictures or video or any kind of media you may have recorded during the event.

Now that I think it through further, that would more than likely spur legislation protecting people from those that would prey on their misery, and would end not only that hypothetical scourge, but the celebrity-stalkers that exist today.

Ahh, the ramifications. I think I have a topic to discuss at lunch today.

~Mike

---

elSicomoro Tuesday May 22 04:26 PM

A photographer from the St. Louis Post-Dispatch came in to speak to my photography class during my last semester in college (fall 1998). He happens to cover the Cardinals. He was telling us about how he can snap his digital pics, go into the press office at Busch Stadium, send his photos over to the Post via e-mail (which is about 9 blocks from the stadium), and they do the rest. He was also showing us the actual process of it--taking the pics, putting the photo card into his Mac, and voila! It was rather fascinating.

The internet allows just about anyone to be a photojournalist. Look at how the news stations encourage folks to send their pics in during major news (i.e. snowstorms). With news stations cutting their staffs, they're essentially relying on people with e-mail tips and their own photos to create some stories...especially during sweeps I would think.

---
Your reply here?

The Cellar Image of the Day is just a section of a larger web community: a bunch of interesting folks talking about everything. Add your two cents to IotD by joining the Cellar.