Undertoad Monday Dec 2 11:44 AM

12/2/2002: Tattooing robot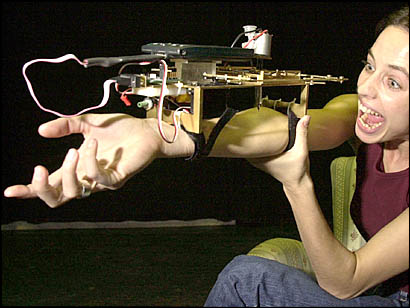 Can't possibly be true, is the first thing I think when seeing this, but apparently it's true.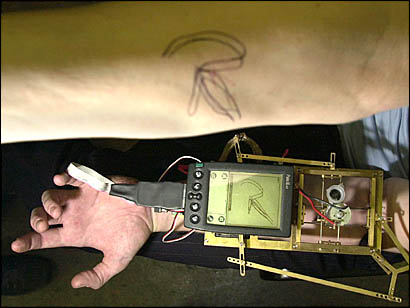 The whole Ananova story is here. The gist: 25-year-old inventor Niki Passath, an Austrian guy, came up with this idea and used himself as a guinea pig. I think we can take that the above images are a test and that the person is faking alarm, eh?

It makes sense, kinda, but at the same time you have to wonder why he hasn't chosen a COLOR Palm to work with.

Frankly if I was going under the, uh, thingie, I would want a much better outcome than we see here. Look at the "R" on the screen and compare it to the "R" on the arm. That's not good enough! Hell, in some places it's not even close!

---

arz Monday Dec 2 12:29 PM

The article comments that the "R" shown on the inventor's arm is from an earlier software version, so maybe now it is a little more accurate.

My favorite quote in this article:

"It was a hard job because the only person I could test it on was myself which was painful but a good incentive to get it right as soon as possible."

---

MaggieL Monday Dec 2 12:40 PM

I suspect the program is simplistic enough that it fails to allow for mapping the tat onto a non-flat surface...which would account for how funky the results are. Not that the tat displayed on the Palm looks like a real "work of art".

Testing with a felt-tip pen might be a good start. :-)

I just can't not think about the Harrow from Kafka's <i>In The Penal Colony</i> reading about this machine, though.

---

Slight Tuesday Dec 3 12:12 AM

As soon as I saw this posted on slashdot, I knew it was IotD worthy. I bet it is for real. The idea reminds me of the movie, Starship Troopers, in which all the friends get tats of the squad logo that are done by a robot arm.

Seems like it could be useful for livestock or lab animals, but it seems to take some of the artistry out of the art in tattoos. I suppose it would also be useful if your gang all wanted the same tattoo like the secret societies you see in movies.

---

jeni Tuesday Dec 3 02:50 AM

...and only in movies.

---

dave Tuesday Dec 3 06:39 AM

Nuh uh. I'm in a Secret Society. I call it "The Ya-Ya Sisterhood".

---

jaguar Tuesday Dec 3 07:36 AM

Quote:

Nuh uh. I'm in a Secret Society. I call it "The Ya-Ya Sisterhood".

*shudder*

I hope the random doodle is temp.

---

wah Tuesday Dec 3 11:52 AM

It's progress, but still no bj machine.

---

helen Tuesday Dec 3 12:28 PM

Put this thing upright, add a tech. in a lead apron and with a few minor adjustments it could be a mammogram machine.

---

Tobiasly Tuesday Dec 3 02:26 PM

Quote:

Originally posted by wah
It's progress, but still no bj machine.

Hahaha.. and isn't that really what all human society is really working towards?

---

Undertoad Tuesday Dec 3 03:43 PM

No way, I'm looking to cure cancer. Because if you cure cancer I bet you could score with a lot of chicks.

---

jaguar Sunday Dec 8 06:58 AM

and they'd all still be bald.

---

Tat2diver Monday Dec 30 07:49 PM

At least the R is on the person RIGHT arm :-)

---
Your reply here?

The Cellar Image of the Day is just a section of a larger web community: a bunch of interesting folks talking about everything. Add your two cents to IotD by joining the Cellar.