Undertoad Monday Dec 9 04:43 PM

12/9/2002: Venice flood again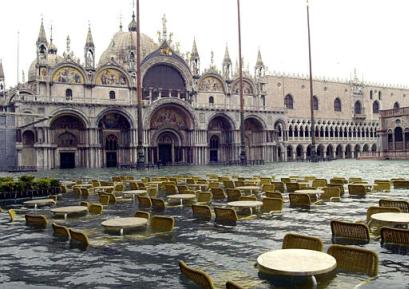 Venice, of course, and yet another flood. The city of Venice faces this kind of thing so routinely that they secure the tables and chairs to prevent losing them every high tide.

They've taken forever to do it, but Italy is going to spend a half a billion dollars to try to build an elaborate system of hinged barriers, to try hold back those tides.

I guess it wouldn't be easier just to build everything up another story?

---

blase Monday Dec 9 05:39 PM

How do they avoid constant water damage to the buildings?

---

snagglefish Monday Dec 9 09:17 PM

st marcos reflection.

reminded me of the last time i was in venice - i took this shot. i will also post a shot in quality images from 'The Venice of China' where i was over the weekend. . .

the cathedral in this shot is the same one in UT's posting....St. Marcos......

---

jtm Monday Dec 9 10:18 PM

UnderToad, is this a recent image? If so, would you tell me where you go it and if there's more information. My wife and I were there the 1st week of November so this flooding saddens us more than one might expect.

---

Undertoad Monday Dec 9 10:26 PM

Yes, it's a wire service shot from November 17th so this happened shortly after you were there. I don't think there were further details... unfortunately I sometimes toss the notes I have on a shot at the same time I post.

Scratch that, I found it:

http://story.news.yahoo.com/news?tmp...168/2s3ja.html



---

juju Monday Dec 9 11:00 PM

Snagglefish, that is a truly amazing picture. What kind of camera did you use?

---

elSicomoro Monday Dec 9 11:08 PM

It is a great pic, but I don't know if this really compares with the picture of the Shanghai party.

---

snagglefish Monday Dec 9 11:15 PM

tech specs.

thanks juju - it is one of my favourite shots.

as for what it was shot with.....it was shot using a mamiya rb67, using TMX 100 Kodak film, on a manfrotto 055 tripod with a 3-pan head.....

i shot this 3 or 4 years ago, when i was doing some backpacking in italy....that particular day (as i re-read journal entries) i was bemoaning the fact that i was having to lug this tripod and medium format camera around......weighs a far bit....so basically i was bitching.

and then it dawned on me.

"you're in venice. life could be worse. quit moaning. and go find a photo to take"

and so i purposely stamped about in st marcos square looking for reflections in puddles, as i had once seen a shot taken in a puddle that looked pretty cool. and i finally settled on this one, set the tripod up, got the cable release out. and took exactly one exposure.

and this is it.

---

snagglefish Monday Dec 9 11:18 PM

shanghai shenanigans

good point syc.

i have a birthday coming up in january....typically these are fairly nutty affairs.....i am sure there will be some wackiness that happens then too....

---

arz Tuesday Dec 10 12:33 PM

Alta Acqua

The alta acqua is a very common occurence in the lagoon. It happens most often in winter. The phenomenon requires a high tide and a north-blowing wind and has been recorded for centuries, although the fact that Venice is sinking at the rate of 7 centimeters a century hasn't helped things lately.

As to water damage, most Venitian homes' ground floors are abandoned, and the cafes around Piazza San Marco have "waterproof" ground floors. They move the guests up to the second level and continue with the serving of overpriced drinks and food. After the tide has passed the staff squeegee and mop up. I'm not sure what happens to San Marco - the ground floor is even with the piazza, so I guess the water just rolls right on in.

Venice is a sad place in some ways; it is losing population and many buildings there are empty - completely empty. If you want waterfront property in a town with no economy other than tourism, kitschy glass object blowing and lacemaking, Venice is it.

http://www.learnersonline.com/weekly/archive2K/week33/

---
Your reply here?

The Cellar Image of the Day is just a section of a larger web community: a bunch of interesting folks talking about everything. Add your two cents to IotD by joining the Cellar.