Undertoad Friday Dec 20 01:39 PM

12/20/2002: Painting pig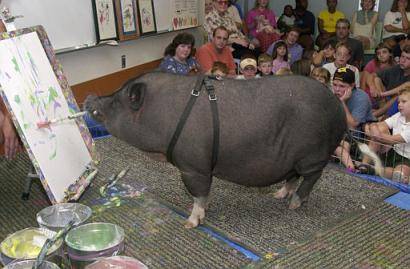 Ladies and gentlemen, your Friday image. I have no further information on it. I don't know where it happened, or the name of the pig, or if he continues to paint or if he donates his works to charity or if they have a cleanup crew on call.

And yet it is strangely compelling.

Hunh.

---

perth Friday Dec 20 01:48 PM

i like the kid in the black hat sitting just above the pigs ass. he looks like hes having a great time.



~james

---

arz Friday Dec 20 02:32 PM

This pig's clearly not a serious artist, because he doesn't have his own website, unlike the "Painting Elephants of Thailand."

http://www.elephantart.com/view.asp?page=artgallery

---

wolf Friday Dec 20 02:34 PM

IMHO, the lack of a commericial website makes the pig a more serious artist.

---

arz Friday Dec 20 02:36 PM

Yes, you're right. Perhaps the word "serious" should have been put in quote marks in my original post...

---

Griff Friday Dec 20 07:52 PM

No beret no latte no arte.

---

Undertoad Friday Dec 20 11:48 PM

An anonymous lurker sends us the details:

The pig's name is Smithfield

Smithfield the pig demonstrates his artistic talent for an audience at the LaPrade branch library in a file photo from July 31, 2002, in Richmond, Va. The program 'Pet Star' has invited Smithfield to Los Angeles. The Vietnamese potbelly and his 'mom,' Fran Martin, will appear on the program's premiere, Jan. 10 or the following week. (AP Photo/The Richmond Times-Dispatch, Lindy Keast Rodman, File)

Smithfield, Virginia is the home of Smithfield Meats the largest producers of hogs in America.

About Smithfield

For more than two centuries, the colonial town of Smithfield, Virginia, founded in 1752, has been shipping the finest hams to satisfied customers around the world. Today, thanks to the vision of a Virginia family and its patriarch, Joseph Luter, that tradition not only continues but has grown into something of a legend.

In 1936 Joseph W. Luter & Joseph W. Luter, Jr. founded the Smithfield Packing Company along a tributary of the historic James River. Over sixty years later, the "Genuine Smithfield Ham" that brought them worldwide acclaim is still produced only here in Smithfield. And thanks to a new generation of Luters, Joseph III and Joseph IV, Smithfield boasts a line of quality meats so vast, it's helped make the parent company, Smithfield Foods (NYSE: SFD), the world's largest producer of pork products.

http://www.smithfield.com/help/faq.html

Smithfield the painting pig has been on Letterman's Stupid Pet Tricks as well as Live with Regis and Kelly.

http://www.pilotonline.com/breaking/br1212pig.html

oink.

---

Hubris Boy Saturday Dec 21 05:44 AM

Ogg think this nice, but...

Ogg want to know... is he funded? Has he received a grant or a fellowship from a major endowment? How are we supposed to take him seriously if he isn't funded? Won't the purity of his artistic vision be skewed if he's forced to soil himself by grubbing around in the marketplace?

Ogg want to know.

---

blowmeetheclown Saturday Dec 21 08:44 AM

That's nice and all, but can he paint on sheep?
I'd hate to be a pig. Life must be a boar.

---

Nothing But Net Saturday Dec 21 08:54 AM

Oh please Ogg, any government art funding is just pork barrel spending :p

---

xoxoxoBruce Saturday Dec 21 10:20 AM

Was he the star of "The Days Of Swine And Poses".

---

Jacque Strapp Monday Dec 23 09:55 AM

I have a Smithfield original above my fireplace, it's quite compelling. The snout-marks convey the contemporary hog's plight very effectively.

---
Your reply here?

The Cellar Image of the Day is just a section of a larger web community: a bunch of interesting folks talking about everything. Add your two cents to IotD by joining the Cellar.