Friday May 25 08:11 AM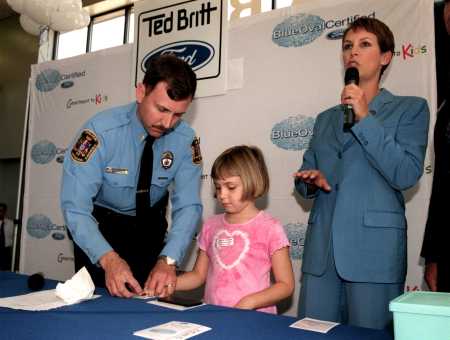 How do you keep kids safe? By fingerprinting them. At least that's what this program says, sponsored by Ford (thus picking up another Cellar thread, in the Home Base section) and hosted by Jamie Lee Curtis.

Another good way to keep a kid safe is to <b>NOT have her picture, first AND last name, age, and home town captioned by the Associated Press.</b> Too late for this child, whose personal information has been transmitted around the world, published in major newspapers, web sites, etc. At least they didn't say which school she goes to and what time recess is.

Yesterday there was a news item that said 1/3rd of parents can't specify their childrens' height, weight, and eye color. It does take a village to raise a child -- because some parents are just too brain-dead to do it on their own.


---

Friday May 25 07:50 PM

First of all, yes the kdi is more safe, safe in the clutches of the corperate state, as I've said before, one step closer to having a chip implanted in our asses at birth and everything we say listened in on, for our own safty of course.... Talk about a peverse mix of Brave New World and 1984, no way i'd be cruel enough to bring kids into this world.

---

Saturday May 26 12:53 AM

http://www.usatoday.com/life/cyber/t...iew/crg943.htm

THIS brought us one step closer, Jag.

---

Saturday May 26 05:16 PM

all this, and I still haven't found a way to amke my barcode tattoo work with *any* of my outfits. Ah fiddleshit.

---

elSicomoro Saturday May 26 11:54 PM

Fingerprinting and dental x-rays are a great tool for identification...after you're dead.

I'm not a fan of government conspiracies or paranoia, but do you ever wonder if (other than global satellites) the US has a way to keep tabs on all of us? Like an implant or hidden cameras? I doubt it, but it IS food for thought...

And this is post number 200! :-)

---

Sunday May 27 04:08 AM

Ever heard of Echelon?
THe US Govt ahs refuse dto admit or deny its existance, but alot of docs have come out. A large number cna be found on the highly respected http://www.cryptome.org
.
It is basicly a network of computers, very, verypower that can analyise in realtime phone conversations and other data transfer (such at the net) for words or phrases. For instance, if you make a hpoen call that is watched, and i say for instance, bomb nad president, the call will eb tagged, recorded and sent thoguh to an operater to analyse.

As well as mass monitering of web content.
Big Brother is watching.

I'm no con sipricy theorist but echelon iswell known, there is mainstrema media stuff abotu it.


---

Tuesday May 29 09:58 PM

I think this came up in an interview

I believe that only the parents are given the fingerprints/photos to place in a safety deposit box. The cops/corporation does not keep copies.

---
Your reply here?

The Cellar Image of the Day is just a section of a larger web community: a bunch of interesting folks talking about everything. Add your two cents to IotD by joining the Cellar.