Monday May 28 12:15 PM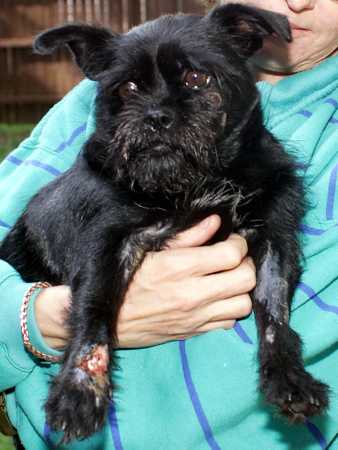 Meet Sweetie. She was hit by a car and showed no signs of life. Her owner buried her in the back yard. But after a couple hours, she came to, dug her way out, and greeted her surprised owner.

---

Tuesday May 29 09:56 PM



---

polar Monday May 3 05:05 AM

Sweetie's owner suddenly understood why the Pai Mei Obedience Class insisted on teaching each dog the three-inch punch technique.

---

xoxoxoBruce Monday May 3 09:34 AM

Good one Polar, welcome to the Cellar.
It's fortunate for sweetie, her/his owner did a halfassed job of burying him/her. No shroud, not deep and not tamped down to prevent some animal from digging up the body.

---

wolf Monday May 3 09:44 AM

I'm sure that Sweetie has some finer qualities, but that is one ugly-ass dog.

---

stlbob Monday May 3 09:55 AM

Is this thread from last year, or is there some sort of time warp going on?

---

Undertoad Monday May 3 10:00 AM

Thread's from 2001!

---

stlbob Monday May 3 10:05 AM

Thanks UT, I was getting confused! (It's not hard for me)

---

xoxoxoBruce Monday May 3 06:08 PM

If you go back into the achives, and add a post, it move to the head of the class. Polar has a way-back machine.

---

warch Monday May 3 06:33 PM

resurected!

---

Trilby Monday May 28 11:21 AM

Holy Moly.

Look into those doggies eyes--that pup has PTSD. I hope his owner is prepared to pay for some therapy.

---

Flint Monday May 28 12:39 PM

With the help of a good friend, I dug a hole deep enough to get that trunk deep enough underground to prevent attracting the interest of other animals. This was made more difficult by the fact that about a foot down, the ground became solid clay which had to be hacked apart and picked out in chunks.

At the conclusion of this hard labor, I looked at the hole we had dug and I realized this could have been done with one scoop of a back-hoe. Things like this make you realize the incredible labor-saving advances technology has provided for us.

---

rkzenrage Monday May 28 09:55 PM

I have a Giant Schnauzer that likes to be buried at the beach. I'll look for a pic later.

---

kerosene Tuesday May 29 12:28 AM

Okay, now why does this thread keep getting resurrected?

---

DucksNuts Tuesday May 29 01:04 AM

I was wondering why Bri bought this back from the dead.

What were you *really* looking for Bri????

---

Aliantha Tuesday May 29 03:34 AM

---

kerosene Wednesday May 30 09:38 PM

Every three years in May.

---

TheMercenary Wednesday May 30 09:43 PM

Maybe she was just sick of the dog and it was all a story. IS there anyone out there that can't look at a dog and see if it IS NOT breathing? That dog looks at least 20#. The owner ought to be locked up.

---

justush Wednesday Jun 13 01:17 AM

Was this thread burried alive?

---

phil216 Thursday Jun 14 09:39 AM

this is from so long ago the dog is likely dead for real now.

---

skysidhe Thursday Jun 14 12:35 PM

I think any rational person would wait for the body cool and stiffen? Well I would. I couldn't bear to part without knowing for sure. I would never bury a warm body no matter how disfigured.

---

HungLikeJesus Thursday Jun 14 01:05 PM

---

mcnugget91 Sunday Jun 17 08:03 PM

Wow, 2001?

I wonder how that doggie is doing today?

---
Your reply here?

The Cellar Image of the Day is just a section of a larger web community: a bunch of interesting folks talking about everything. Add your two cents to IotD by joining the Cellar.