Undertoad Friday Jan 10 11:21 AM

1/10/2003: Infrared zoo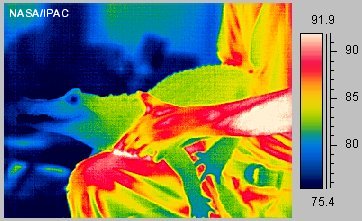 The net is so full of stuff that's fun to look at just casually. I had an image all set today, ready to go, uploaded and everything, and then I decided I was weak on information and decided to do a little research on the animal I was posting. And within a few Googles I was at the Infrared Zoo.

This is meant to be an educational thing for the kiddies, from NASA and Caltech, but I found it so interesting that I had to check out a lot of the animals. I'm sure they meant to highlight the differences between the warm-blooded and cold-blooded animals but I found it very interesting to look at some of the warm-blooded and see where they were giving off heat. And sometimes the images wind up a little spooky.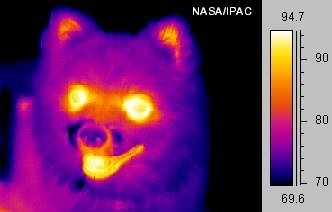 ---

dave Friday Jan 10 11:23 AM

That wolf/bear looks HAPPY!

---

Undertoad Friday Jan 10 11:27 AM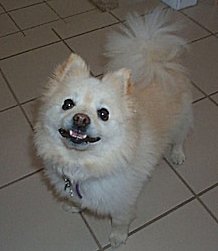 He is!

---

Uryoces Friday Jan 10 01:32 PM

Yup. Small cute animals have the ability to render me to goo.

I had a border collie/collie mix named Sofie. I raised her from a wee pup, and had to put her down a few years ago. She was 15 happy years old.

Her nose was cold, but somewhat above ambient temperature.

---

Jacque Strapp Friday Jan 10 01:57 PM

I once saw a thermal image of an arctic fox resting on an ice sheet. The entire image was blue (ambient temp) except for the fox's eyes, nose, and mouth. The rest of his body was not radiating *any* heat to the environment. Most impressive.

---

Beletseri Friday Jan 10 03:56 PM

The link to the zoo isn't working for me

---

perth Friday Jan 10 03:59 PM

it looks like everything below the root page is broken right now.

~james

---

Undertoad Friday Jan 10 04:59 PM

They moved it! I found the new location and edited the URL in the original post.

---

Torrere Friday Jan 10 09:25 PM

This is calling to my memory an article about desert animals. It mentioned a fox that had very large ears to cool down.

The pig has slightly warmer eyes than the rest of it's face. I wonder how much heat humans radiate at their eyes and ears and mouth, as compared to areas just skin [or with hair].

---

Whit Saturday Jan 11 07:33 PM

     Wow, you learn something new every day. I was going through them with my ten year old, and found chickens listed under mammals. Well, I'm certainly not as well edumacated as these guys so I guess I just learned something. It's odd though, they certainly seem more like birds than mammals to me...

---

Torrere Sunday Jan 12 12:35 AM

The images of reptiles are almost entirely uninteresting. For some unexplicable reason, almost every picture of a cold-blooded reptile is shown with the reptile being held by a warm-blooded human. This, of course, drowns out any thermal variation in most of the pictures, not that the reptiles seem to have much to begin with.

In the picture with the Gecko, it is noticeable that it's eyes are very cold, showing up as black, an interesting contrast with the white hot eyes of the mammals.

Otherwise, feel free to contrast the cold-blooded reptile with the warm-blooded human [hand], time and time again. They only need one picture of a reptile to do that, not six.

---

Torrere Sunday Jan 12 12:47 AM

I think you might be missing the point, Whit. You do not seem to understand how convoluted these matters can be. The people that set up the Infrared Zoo know that they are birds, and even call them birds in their profile. However, it would appear that chickens are mammalian birds, or mammal-like birds, or part of the obfuscated, government-secret bird classification within mammals.

I probably would have to have a degree in the matter if I wanted to tell you more clearly why Chickens are mammals, however.

---

wolf Sunday Jan 12 01:18 AM

Chickens don't fly. Therefore Mammal.

Q.E.D.

---

Uryoces Sunday Jan 12 10:42 AM

"As God is my witness, I thought turkeys could fly!"
-Mr. Carlson, WKRP in Cincinnati.

I would guess looking uninteresting to a heat-sensing pit viper is a good thing. It's interesting that this thread showed up when it did. The night before, I was watching a show, "the Human Animal". There were various infrared images of people and thier naughty bits. It was really quite interesting. I suppose I could sum it up by saying things get hot when you get hot.

---

Whit Sunday Jan 12 11:39 AM

     Thanks for the clarification on that Torrere, I figured the goverment must be invoved if the chickens are considered mammals now. It does seem to suggest bureaucracy at work.

     Oh yeah, hey Wolf, the only reason chickens don't fly is because humans clip their wings. Trust me, I've been in the back woods of Arkasas where they don't bother to. It's really surreal to see a chicken fly up into a tree to perch on a branch. Odd though, it's only strange because human's intervention is so common...

     Oh well, I like chicken sandwiches...

---

juju Sunday Jan 12 01:51 PM

My wife was the <i>100th customer</i> at Chick-fil-a yesterday. They have this deal going where they give every 100th customer a free meal. Isn't that exciting!?!?

Anyway, I'm told that the bored-looking cashier said something like, "Well, your total was $5.45. But since your the 100th customer, it's free." Then she picks up this cowbell and rings it pathetically and unenthusiastically, and goes, "Whoooooo!" in a sort of mocking way. Then she hands Kathy her food and says, "Have a nice day."

I love chicken.

---

Torrere Sunday Jan 12 01:53 PM

Sorry wolf, you'll have to look a bit farther afield. Emus can't fly, but they are birds.

---

Griff Sunday Jan 12 08:27 PM

Quote:

Originally posted by Uryoces
"As God is my witness, I thought turkeys could fly!"
-Mr. Carlson, WKRP in Cincinnati.


Possibly the funniest sitcom episode of all time. Oh btw the wild ones do fly.

---

wolf Sunday Jan 12 11:01 PM

Quote:

Originally posted by Torrere
Sorry wolf, you'll have to look a bit farther afield. Emus can't fly, but they are birds.

We're talkin' govt. agency standards here.

My response stands.

(incidentally, most "cooking" chickens (and turkeys) are bred to be extra heavy in the breast and therefore they are aerodynamically inadequate to the task of flying. Therefore, anyone having experience of an Arkansan farm chicken that can get aloft is not dealing with the same boid ... uh, I mean species.)

---
Your reply here?

The Cellar Image of the Day is just a section of a larger web community: a bunch of interesting folks talking about everything. Add your two cents to IotD by joining the Cellar.