Undertoad Wednesday Jan 15 12:35 PM

1/15/2003: Dead deer mystery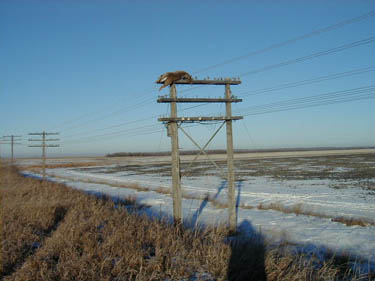 Imagine you're in the middle of nowhere, Northeast USA, walking along a set of power lines when you notice something strange on the top of one. You get closer to find that it's --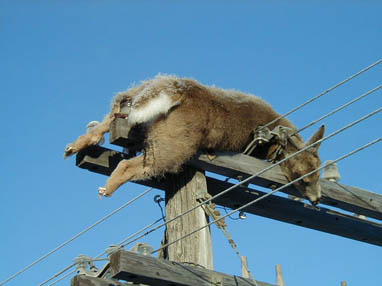 It's a dead DEER, lying on top of a 22-foot high pole, with its rear legs clipped off.

How did it get there? The images are from a talk radio show website here (tw pls ignore), and the accompanying text suggests that it might have been hit by a train.

"There is a train track several yards away and there is a possibility that the deer was struck and tossed into the air, thus landing on the pole. However, the deer would have to have traveled in the air approximately 45 feet (across) to the pole and reach a height of approximately 22 feet (up) to reach the top of the pole."

They include a link to another stuck dead deer story, a tale from Griff country of a deer shot by arrow and stuck 12 feet up in a tree for no reason. (That one was only 12 feet and only 70 pounds so it seems likely that some very strange human was responsible.)

It makes you wish the FBI was not otherwise engaged and could assign a special unit just for investigating strange, inexplicable mysteries such as this.

(Tip o' the hat to wolf.)

---

elSicomoro Wednesday Jan 15 01:07 PM

Re: 1/15/2003: Dead deer mystery

Quote:

Originally posted by Undertoad
It makes you wish the FBI was not otherwise engaged

And they're otherwise engaged in...???

---

dave Wednesday Jan 15 01:43 PM

Re: Re: 1/15/2003: Dead deer mystery

Quote:

Originally posted by sycamore
And they're otherwise engaged in...???

Baggin' yo mama.

---

Griff Wednesday Jan 15 01:48 PM

Strange human or normal lion behavior.

---

dave Wednesday Jan 15 01:58 PM

I read the deer-in-a-tree story and here's what I think happened.

The deer gets spooked by something and jumps up into this tree. Some time afterward a hunter notices it and decides to put it out of its misery with a well-aimed arrow shot.

Yeah, that's it. Would that be so hard to believe? They seem to want to make a big mystery out of it. I bet the truth comes out, and I bet that's it.

---

elSicomoro Wednesday Jan 15 05:20 PM

Re: Re: Re: 1/15/2003: Dead deer mystery

Quote:

Originally posted by dave
Baggin' yo mama.

Well good for my mom!

---

wolf Wednesday Jan 15 08:41 PM

I thought it was a great picture, with some good mystery attached. I also think it is important to note that the originating website did not speculate that the deer ended up on the pole as a consequence of aliens, divine intervention or even black helicopters ... (although they do try to implicate bigfoot in the deer in tree incident)

I don't think bambi ended up there either under her own power or as consequence of being hit by the train ... the way the legs are wedged around the top of the power pole and the position of the head seem to rule that out.

My guess: There weren't any good cornfields to make crop circles in, so a couple drunk linemen with a cherrypicker found this deer, see ...

---

Bitman Wednesday Jan 15 09:56 PM

I think the nose (not to mention speed) of an Amtrak engine is sufficient to launch a deer. Now we just need to see if any engineers have reported loud thumps while on this track.

---

wolf Wednesday Jan 15 09:59 PM

A friend of mine is an engineer for NJTransit. Unless the object is the size of a VW Bug or better, you don't even notice the thump.

---

Undertoad Wednesday Jan 15 10:43 PM

But now I'm thinking about the probability of a train hit landing the bugger right on the pole. As opposed to the wires.

There are a ton of these critters even around where I am. Perhaps there are so many of the buggers up there that the 3:05 outta Concord is going to clock 3-4 of 'em on any given trip, and it's only the strung-up ones that we find and get curious about. But if that were the case, rural electricity should be in danger - before that one caught the right angle to catch the pole, a few dozen should have hit the wires and either taken them out or been sliced in two.

---

quzah Thursday Jan 16 02:59 AM

Was there huge pools of blood at the base? I don't see any blood anywhere. It looks to be frosty, but the thing didn't "insta-freeze", which means it had to bleed some place. ALso, we have no hind legs. Which I suppose could be lodged in the front of a train, but it still doesn't explain the lack of blood on the pole or ground.

Quzah.

---

Griff Thursday Jan 16 07:29 AM

There really shouldn't be much blood in a situation like this. The deer probably had internal bleeding and thats where the blood is, in the carcass. When you see a really bloody one on the highway, its been opened up in some way. To get tossed like that the deer was probably just nicked by a high speed train while it was leaping. There isn't much muscle tissue below the knees so you wouldn't necessarily get much if any blood there, especially if the heart stopped before the legs were lost. I was wondering if the legs were burned off by high voltage but they look sheared...

Are there any train freaks in attendance here? If I'm not mistaken the poles and wires we see are not rural power but rather old fashioned rail communication/power lines for switching etc...

---

Elspode Thursday Jan 16 09:00 AM

I think the 'hit by a train' argument is pretty viable, here. While the poles my be 20 feet high, the top of the pole is probably only 12' or so above the grade that the track runs on (you can see the grade in the left side of the pic), so that greatly reduces the vertical distance the deer had to fly after being struck. The lack of blood isn't a big deal...the legs wouldn't have bled that much, and if they had, they'd have likely dripped straight down, leaving nothing on the pole (since they're hanging away from the pole). There may well be some blood on the ground, but it sure isn't going to be visible without walking right up and looking for it in all that vegetation.

Finally, the loss of the legs is no big mystery. Deer are pretty massive everywhere except the legs...if the legs got caught just under the train a split second before the deer's body was hit (as you might expect if it was turning tail and running away at the last second before impact...it is the rear legs that are gone, yes?), they'd probably just pop off, and, unless you were looking pretty hard for them, you wouldn't notice the severed deer limbs amongst all the plant matter in the area.

---
Your reply here?

The Cellar Image of the Day is just a section of a larger web community: a bunch of interesting folks talking about everything. Add your two cents to IotD by joining the Cellar.