Undertoad Thursday Jan 16 12:37 PM

1/16/2003: Dead man's tattoos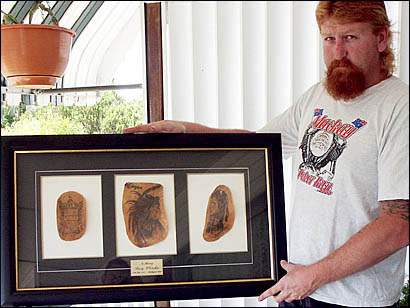 Y'know, after I'm dead, I don't really care what happens to me. I'm gone, you know. My brain won't be there to pass judgement on what the living do with me, or whether they give a damn at all; it won't matter to me one bit. While I'm alive I can at least tell my loved ones to, as Woody Allen once put it, "cast my remains to the four winds... and get back the deposit on the urn."

Such was not the case with Barry Whittaker, however. Upon learning that he had terminal cancer in 1999, he decided to get some large tattoos. And then he instructed his son Carl that he would like the tattoos to be saved after his death.

And the son, out of respect, did exactly that. He found a taxidermist who was willing to remove the tats, and a tanning company that was willing to tan the skin. And so, there are dad's remains, framed and typically hung up in the living room.

---

Beletseri Thursday Jan 16 02:07 PM

I"m astounded that this is legal. Wasn't there a big flack in England about some artist perserving the body of a friend of his as art?

---

gossard187 Thursday Jan 16 06:14 PM

Not familiar with anyone in England, but it is similar to an artist who "stole" body parts in Germany. This page somewhat covers that issue, but they seem to address it legally as just a matter of theft versus ownership.
"Today, lawful possession of a dead body usually goes to the next of kin..."
http://www.channel4.com/science/micr...ethics1_t.html

---

kabomba Thursday Jan 16 07:18 PM

Morticians Ink

He might have saved a lot more money and time if he'd just bought a camera!

---

Bitman Thursday Jan 16 09:11 PM

Reprints are never as valuable as the original.

---

Thadius Thursday Jan 16 09:32 PM

Like all great art.. death brings value.

Who will be the bearer of the value the artist or the X-wearer.?

---

Cam Thursday Jan 16 09:36 PM

"and here next to the picture of my kids is my fathers tattoos."

---

Nothing But Net Thursday Jan 16 11:20 PM

I'm leaving my heirs a bag of toenail clippings.

---

elSicomoro Thursday Jan 16 11:29 PM

I'm just going to leave some DNA behind so that the Raelians can clone me. Future generations are in a shitload of trouble.

---

bartman Friday Jan 17 10:44 AM

When I was in college, one of the charter pilots had to take someone up to dump some remains out over a field. He was flying a 172, and the passenger (doing the dumping) managed to get ashes all over the inside of the plane since it came back in the window. It never seemed to affect how the plane flew, though.

---

richlevy Tuesday Jan 28 08:45 PM

I would like to be around 50 years from now for the Antique Roadshow when one of the grandkids brings that in.

---

chrisinhouston Wednesday Jan 29 10:02 AM

I'm trying to figure out what is on the shirt of junior. Looks like some kind of flags.

---
Your reply here?

The Cellar Image of the Day is just a section of a larger web community: a bunch of interesting folks talking about everything. Add your two cents to IotD by joining the Cellar.