Undertoad Monday Jan 27 02:35 PM

1/27/2003: U of K uterus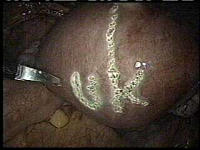 This was covered on Fark, which I try not to duplicate, but again in this case, the photo is so mind-boggling that I just had to share it.

The organ shown above is in fact the uterus, and the letters you see "uk" were purposefully etched there by the surgeon, using a cauterizing gun, just before he removed the whole thing in a planned, normal hysterectomy.

The surgeon was a U of Kentucky fan, you see, and wanted to indicate the depths of his fandom during the procedure. And he wasn't exactly ashamed of his technique; he gave a videotaped copy of the operation to the patient.

On Fark, 95% of responses were negative, saying this was a total and complete outrage. The other 5% said, eh, what's the big deal if he was removing it anyway. One person made a great point, which is that the surgeon probably had to test the equipment anyway. Hey, maybe a good long test line steadied his hand for the procedure. Like taking a test shot in golf.

And most certainly, doctors and people heavily involved in the medical process see it much differently than the rest of us. They deal with it all day and have a quite different perspective than do the rest of us.

Certainly a different perspective than the husband, who claims in their pending lawsuit that the whole thing has led to a "loss of companionship". I guess he's not a U of K fan.

full story

---

Riddil Monday Jan 27 02:55 PM

This is a silly, frivolous lawsuit. I *hate* the new "American dream" built up around just trying to find something to sue anyone over, so you can make your 30 million and retire in luxury.

What the doc did certainly wasn't appropriate, but honestly, it's not a big deal. "loss of companionship"? Whatever. Grow up people.

---

Mav Monday Jan 27 04:38 PM

Quote:

Originally posted by Riddil
What the doc did certainly wasn't appropriate, but honestly, it's not a big deal. "loss of companionship"? Whatever. Grow up people. [/b]

Well we don't know the after effects of it. Who's to say the wife, after not being able to have kids (you can't have kids after the uterus is removed right?) left the husband? Or the other way around, I know alot of guy's who left their wives cause they got a hystericmy (not concensual, justout of the blue not telling the husband). The UK thing was probably just adding to the fact his wife can't bare his children, kinda like kicking him while he's down.

"Well I can't have kids, oh and look the docter was nice enough to sketch out his favorite college initials on the uterus he removed from me! Wasn't that nice of him?"

---

ladysycamore Monday Jan 27 06:30 PM

Re: 1/27/2003: U of K uterus

Quote:

Originally posted by Undertoad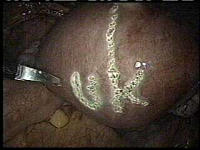 This was covered on Fark, which I try not to duplicate, but again in this case, the photo is so mind-boggling that I just had to share it.

The organ shown above is in fact the uterus, and the letters you see "uk" were purposefully etched there by the surgeon, using a cauterizing gun, just before he removed the whole thing in a planned, normal hysterectomy.

The surgeon was a U of Kentucky fan, you see, and wanted to indicate the depths of his fandom during the procedure. And he wasn't exactly ashamed of his technique; he gave a videotaped copy of the operation to the patient.

This was on The Today Show this morning, and Katie Couric interviewed two former patients that had the same procedure done. They stated that the doctor explained to them why he does this "marking" on the uterus before removing it. The one line is to mark where there is a major artery, and the "UK" was to merely mark where the uterus was for removal (sure, he's the doctor and should KNOW where it is, but that's what the two patients said that HE told them).

I'm thinking, "Well, the uterus will be removed, so where's the harm?"

*Wishing there was a transcript of the interview, but MSNBC does not have one*

---

russotto Tuesday Jan 28 11:12 AM

Seems unprofessional to express his team spirit that way, but I don't see the damage done. ("loss of companionship"? Puh-leeze). Of course, the doctor might just claim "U" is for Uterus and "K" is for "to be removed".

Marking the organ for removal in some way, though, is just sensible precaution. Sure, he should know -- but sometimes things get mixed up. You don't want to remove the wrong patient's uterus!

---

tjennings Wednesday Jan 29 10:32 AM

Marking the organ for removal? It's not like he's wandering through a forest deciding which trees to cut.

---
Your reply here?

The Cellar Image of the Day is just a section of a larger web community: a bunch of interesting folks talking about everything. Add your two cents to IotD by joining the Cellar.