Undertoad Tuesday Feb 4 01:33 PM

2/4/2003: Bird crap art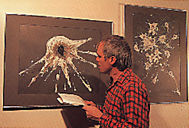 Another in the IotD series playing with the edges of what art is and what can be considered art. Now, I admit up front that I take a pretty liberal view of this. I think anything that could be considered a creative attempt to cause some kind of stirring in one's self or others is art, and all our attempts to say something is NOT art is sometimes proof that an item IS art.

It might not be GOOD art, but that's another topic entirely.

This, however, touches the limit of even my sensibilities. A site called The Museum of Non-Primate Art includes three sections: Why Cats Paint, Dancing With Cats, and Bird Art. The Bird Art section includes the online exhibit "Bird Works of Great Britian (sic) and Europe - Significant works of Windshield art from the MONPA Collection" and sadly, it's exactly what you might think.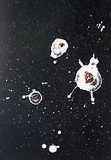 The site contains absolutely no evidence that it's tongue-in-cheek, and I'm pretty good at detecting that kind of thing.

---

Griff Tuesday Feb 4 01:47 PM

How about a little computer art? This is Swarm music which was developed by Tim Blackwell using the simple rules he observed in bee swarms or a bird flocks to set the rules for his computer model.

---

xoxoxoBruce Tuesday Feb 4 05:31 PM

It may not be tongue in cheek but it's most certainly head up butt.

---

Degrees Wednesday Feb 5 07:41 AM

Grant funded?

If you are running low on cash, and someone (with grant money to disburse) says 'come up with something ', is this what you get?

---

Griff Wednesday Feb 5 07:48 AM

This really isn't that different from photography as an art form. The artistic part is picking the cool compositions out from all the crap...

---

Elspode Wednesday Feb 5 11:26 AM

The "Why Cats Paint" book and its companion, "Why Paint Cats" are satire themselves, BTW. Easily mistaken for being real, though. The "Why Paint Cats" pictures are strikingly cool. Almost made me sad that it wasn't real.

http://xtramsn.co.nz/entertainment/0...846973,00.html

---

Drydock Wednesday Feb 5 04:32 PM

The Artist in Me

i guess by these standards, i produce a couple of works of art every day, and , on the hole[sic], i'm a very prolific artist indeed. i'm wondering if number one is also considered great art, or if it is just number two. If i could get a check everytime i pinched a loaf, i could afford to get some top of the line equipment. Maybe i could even take night vision pictures of my dook. i could probably make big time cash selling the originals rather than selling only prints. Is it worth more if i do it on someone's windshield? Are skids considered "studies" for more refined projects? Is being evocative the only standard for art? Is tickling someone art? Is leaving your toenail clippings out to gross out your wife art? i'm sure somewhere out there, someone thinks that it is. Maybe they're right.

"We are the music makers and we are the dreamers of dreams."

---

Elspode Wednesday Feb 5 04:57 PM

I like this individual's skeptical and sarcastic attitude! Well stated!

---

Zorg Wednesday Feb 5 06:40 PM

I'm reminded of a quotation by Andy Warhol:


Quote:

Art is what you can get away with.



---

Drydock Wednesday Feb 5 06:44 PM

i just re-read my post. It sounds really angry, like i care about a thousand times more than i do. WOW, and i thought i was just another apathetic X-er. Is was meant to be more playful and less wrathful.

"You can't get a good sarsaparilla
like this back in Springfield—angries up the blood."


---

Elspode Wednesday Feb 5 07:40 PM

I didn't take it as angry at all...just a nicely sarcastic take on the weird and wooly world of art.

---

elSicomoro Wednesday Feb 5 08:18 PM

I think it's pretty cool...certainly no worse than some of Serrano's stuff.

(For those unfamiliar with Andres Serrano, go look at the CD cover of Metallica's Load.)

---

dave Wednesday Feb 5 09:26 PM

And Re-Load.

Basically, it's jizz and blood.

---
Your reply here?

The Cellar Image of the Day is just a section of a larger web community: a bunch of interesting folks talking about everything. Add your two cents to IotD by joining the Cellar.