Undertoad Wednesday Feb 5 12:38 PM

2/5/2003: Optical camoflage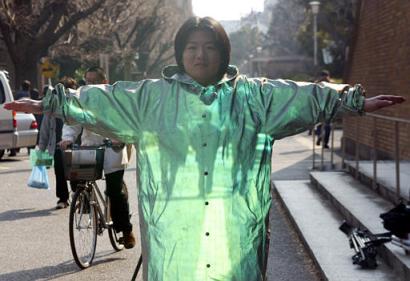 At first I was stunned by this one. At the U of Tokyo they are developing this technology and calling it "optical camoflage". This is their first shot at it, and at first you think, whoa - I can't possibly see what I'm seeing, because imagine what they would have to do to accomplish this... bending light in ways that you'd think impossible.

The caption gives it away: you are looking at this guy's suit through a special viewfinder. They are taking shots of what's behind him and basically displaying it on his suit.

OK, not as interesting as it might have been. It's not true camoflage if the viewer has to have a special eyepiece or something, right?

But they suggest that the technology could be used to create, for example, surgical tools that are partly transparent, or cockpit flooring that you can see through for landings. Now it makes a little more sense.

---

Cochese Wednesday Feb 5 12:47 PM

I wonder where the camera is. In the hood?

---

gossard187 Wednesday Feb 5 04:40 PM

hmm, don't have the link anymore, but saw a site a while back on this, and they had videos of them moving objects around. pretty interesting.

Also heard that the US military has done this with things like tanks, as seen on shows on TLC, but I unfortunately haven't seen these.

---

Elspode Wednesday Feb 5 05:11 PM

The concept has been around for awhile, but this is the first I've seen of any prototyping. I just finished a (fictional) book about an aircraft which used a system that evaluated the surrounding environment and then emulated it on a pixellated covering material, rendering it perfectly matched to the sky, ground, terrain, etc, depending on where the primary viewer was located.

Cool idea.

---

perth Wednesday Feb 5 05:36 PM

what was the book called?

~james

---

Elspode Wednesday Feb 5 06:09 PM

Black Stealth One, I think.

---

perth Wednesday Feb 5 06:33 PM

thank you.

always looking for interesting reading material.

~james

---

Zorg Wednesday Feb 5 06:44 PM

There seems to be a camera in the lower right corner, which I assume is what they're using.

This seems to be basically an application of plain 'ol blue-screen technology. While it's an interesting application, it's nothing real cutting edge.

The proposals for optical camoflauge that I've seen involved sensors and displays embedded into the suit or skin of the vehicle, so that any observer would see what was on the opposite side of the object.

---

xoxoxoBruce Wednesday Feb 5 07:39 PM

If you want to know how it works, just ask my ex. She said she could see right through me all the time.

---

slang Thursday Feb 6 10:53 AM

Sometime in 97 there was a special on discovery or TLC about the use of this system by the ATF.

---

And Thursday Feb 6 01:47 PM
---
Your reply here?

The Cellar Image of the Day is just a section of a larger web community: a bunch of interesting folks talking about everything. Add your two cents to IotD by joining the Cellar.