Undertoad Sunday Feb 9 02:42 PM

2/9/2003: Cell-phone gun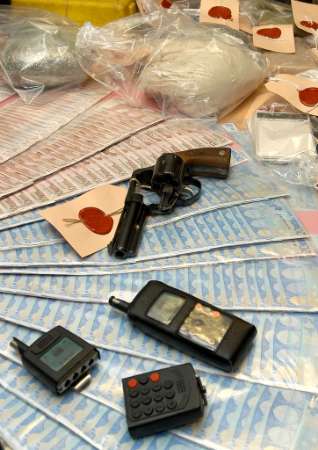 Three weeks ago we had a rash of tiny guns "threatening Europe". Now, another one shows up in France - a mobile phone disguised as a gun, capable of firing four .22 bullets via the keypad. That's kinda cool... scary, but cool.

I know it seems like all technologies eventually converge into cell phones - PDA, digicam, voice recorder, mp3 player - but this is ridiculous.

All I can think is how important keypad lock becomes. Otherwise you might put it in your pocket and blow off your genitals, or kill somebody trying to make a call.

---

wolf Sunday Feb 9 03:01 PM

That might just entice me to upgrade my cell phone



Oh, and UT, don't you mean "gun disguised as a cell phone"?

Otherwise, you'd have people thinking you were attempting suicide everytime you placed a call to your mom ...



There have been kits and instructions available for years that allow you to transform an ordinary ball point pen as well as other household objects into single shot .22 pistols. This is just the next logical extension (phone pun not intended, I swear).

That also appears to be one hell of a lot of heroin in that pic. I assume the items shown were the take from a drug bust?

---

Undertoad Sunday Feb 9 03:08 PM

Yikes, and I've had my coffee so I have no excuse.

---

MaggieL Sunday Feb 9 06:17 PM
---

slang Monday Feb 10 12:29 AM

What's next? Chewing gum guns? Cranial implant guns? Hearing aid guns? Christ.

---

SteveDallas Monday Feb 10 01:12 AM

Neal Stephenson's novel "The Diamond Age" has cranial implant guns... kind of cool in an extremely warped way.

---

juju Monday Feb 10 02:57 AM

Just better hope to god it doesn't backfire..

---

NateXLH1000 Thursday Feb 13 09:34 AM

Diamond age

I loved that book. I thought I was the only freak that liked it.


I want a matter compiler.

---

MaggieL Thursday Feb 13 10:39 AM

Diamond Age is a wonderful book...up to a point. It seemed to get a bit murky towards the end.

---

wolf Thursday Feb 13 12:08 PM

I really love Stephenson. My favorite so far has been Snow Crash.

I thought Cryptonomicon plodded along WAY too much, though.

---

SteveDallas Thursday Feb 13 12:29 PM

I agree Maggie, much as I like Stephenson (and The Diamond Age is my favorite), he does not do a good job at closing out his stories.

---

Torrere Thursday Feb 13 09:20 PM

Cryptonomicon really irked me because of how it kept switching from timeline to timeline and character to character. After reading for a while about Randy and Avi, I didn't want to read about Shaftoe for the next chapter, damnit!

I'd have to say that Snowcrash was my favorite Stephenson novel, and I'm anxiously anticipating Quicksilver.

---
Your reply here?

The Cellar Image of the Day is just a section of a larger web community: a bunch of interesting folks talking about everything. Add your two cents to IotD by joining the Cellar.