Undertoad Friday Feb 14 01:09 PM

2/14/2003: Kuwaiti camels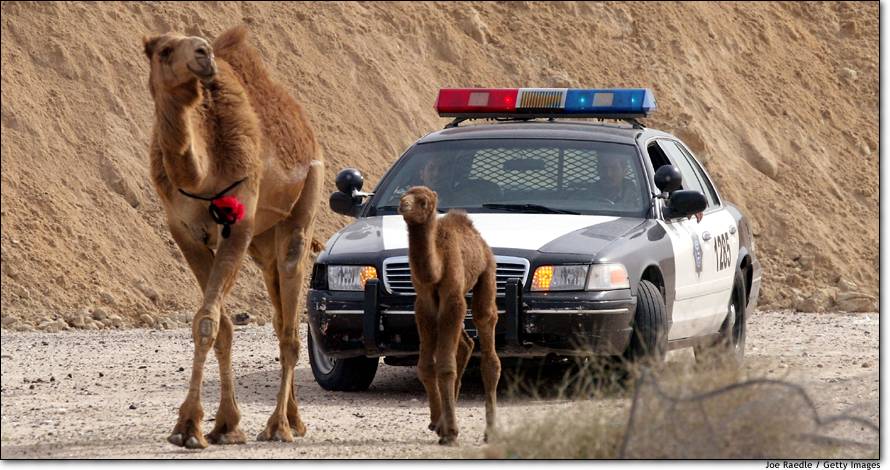 Today's MSNBC Week in Pics has this one which is too wide
for your browser windows. Welcome to northern Kuwait where
they are creating a zone for military operations and moving out
people, and apparently camels, in war preparations.

Even in war preparations there are quirky scenes that we have
never seen before.

---

dave Friday Feb 14 01:10 PM

I saw this earlier, and I liked the fact that their Police cars look a lot like ours. Don't ask me why though.

---

Griff Friday Feb 14 01:18 PM

That is one cute little camel.

Is that a Crown Vic? If so those buggers got sold a bill o' goods.

---

wolf Friday Feb 14 02:22 PM

So wait, I don't get it. Why are they pulling the camels over? Are their registration stickers out of date or something?

---

Fudge Armadillo Friday Feb 14 03:31 PM

The mother camel looks pretty happy. Maybe it's the pretty red something-or-other she has around her neck.

---

Thadius Friday Feb 14 04:34 PM

Here we see a camel in full battle armour...

---

slang Friday Feb 14 06:44 PM

Are camels legal as "pets" in Pa? The enormous mastiff might look cool riding it in my back yard.



Ahh, maybe not a good idea with the NJ hunters* around every year.

*NJ hunter motto: If it appears to be brown, furry and large....shoot at it 157 times from 950yds....*then* check the target and background with the spotting scope. If you discover you just wasted a camel, decorative lawn deer, bear, or dog .....roll up the car window and head for the bar.

---

wolf Saturday Feb 15 01:13 AM

Just goes to show you ...

If you're not allowed to have a gun in your home state, you shouldn't be allowed to have one out-of-state ...

Oh, and Slang ... just to warn you. Horses and camels do NOT get along. For some reason they have an instinctive dislike of each other. Well, at least the horses don't like the camels, who pretty much don't give a damn. I suspect that the horse brain gets the camel image, and starts wondering "what the hell is wrong with that horse????" then they short circuit ...

---

cynthetiq Tuesday Feb 18 11:35 AM

Quote:

Originally posted by Griff
That is one cute little camel.

Is that a Crown Vic? If so those buggers got sold a bill o' goods.


that's probably some of the "aid" we gave them like where the cops in Russia drive Crown Vics and other Fords.

---
Your reply here?

The Cellar Image of the Day is just a section of a larger web community: a bunch of interesting folks talking about everything. Add your two cents to IotD by joining the Cellar.