Wednesday Jun 13 10:54 AM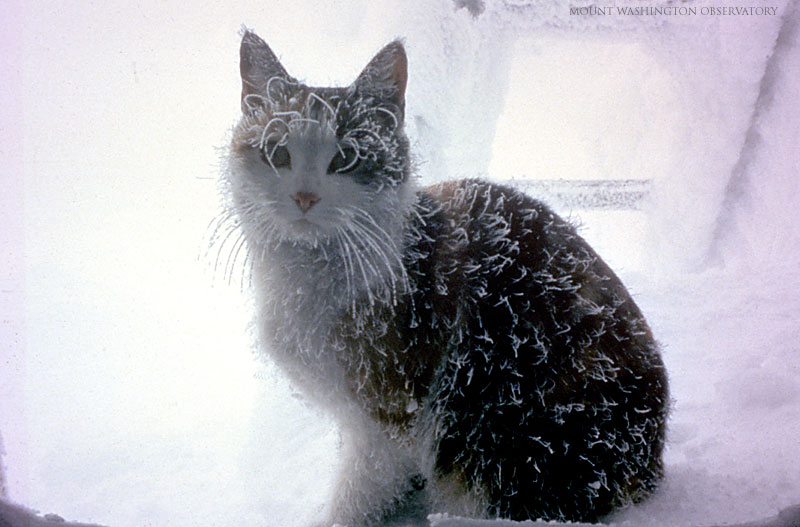 Last fall we went to the observatory at the top of Mt. Washington (New Hampshire, highest mt. in the Eastern US) and they offer this image as a poster there. It's a great image though, and I've selected it even though it will load pretty slowly on modems. It's worth the wait in high resolution I think.

The weather conditions at the top of the mountain are often bizarre and quite different from conditions at the base. There can be snow in May and September (and they've recorded snow even in July and August). There can be wind gusts over 100MPH; the record recorded there is 231, which is also the world record for wind recorded anywhere! The average wind speed is about 40.

The people at the observatory have cats as companions, and this one happened to be caught outside during a condition where water droplets freeze instantly on cold surfaces.



---

Katkeeper Wednesday Jul 4 07:48 PM

I just hate seeing zero responses to one of my favorite pictures.

---

jaguar Thursday Jul 5 04:59 AM

I would have but i couldn't think of an entertaining quip at the time =)

If its any consolation i saved this and gave it to my girlfirend who loved it (bigtime animal lover, 6 cats, 2 dogs and +100 fish)

And it has had well over 600 views...

---

Katkeeper Thursday Jul 5 06:51 AM

Glad to hear it is getting good circulation! I first saw the image last year in the gift shop on the top of Mt. Washington. I show it to my cat to let him know that things could be a whole lot worse. I have given it to cat loving friends as well, all of whom love it.

---

alangeorge7778 Thursday Jan 29 08:31 PM

really cute cat

That's a great cat. You can find a lot of Cheap DC Hotels that allow cute pets like this to stay with you. There are even a few of the Luxury Washington DC Hotel that might allow them.

--Alan

---

footfootfoot Thursday Jan 29 08:40 PM

Wow. Holy spammer batman!

---

Shawnee123 Thursday Jan 29 08:44 PM

I don't know...I think it's just a person using a great opportunity to make the connection, for us, about cats and hotels.

Wait, what?

Oh Alan, we barely knew ye.

---

footfootfoot Thursday Jan 29 08:47 PM

Mt. Washington
Washington DC
Rump Roast
it all makes sense!

---

Shawnee123 Thursday Jan 29 08:48 PM

Well duh Dr Massuess.

---

SPUCK Friday Jan 30 04:25 AM

Quote:

will load pretty slowly on modems.

What's a modem?


LOLOLOL

---

TheMercenary Friday Jan 30 10:45 AM

Frigid pussy.

---

Cloud Friday Jan 30 11:31 AM

cool cat!

---

Flint Friday Jan 30 11:47 AM

i can has freezburger

---

Shawnee123 Friday Jan 30 12:16 PM

baaahaaaaaa!

Icicle your jokes, man.

---

TheMercenary Friday Jan 30 05:30 PM

Yur katz is outside, yur dogz is inside. Why?

---

hampor Monday Feb 2 04:28 PM

Highest in Northeast US

Mt. Mitchell in North Carolina is a bit higher, but not nearly the same weather.

---

Undertoad Monday Feb 2 08:36 PM

WOW, it's true! I stand corrected!

---

glatt Tuesday Feb 3 09:12 AM

That kind of blew me away too. I simply knew that Mt. Washington was the highest. What else did that school teach me that is totally wrong?

---

xoxoxoBruce Tuesday Feb 3 10:42 PM

Quote:

The second highest point in eastern North America, Mount Craig at 6,647 feet (2,026 m) is roughly a mile to the north of Mount Mitchell.

Quote:

It is the third highest state high point in the eastern U.S., after Mount Mitchell, North Carolina – 6,684 ft (2,037 m) – and Clingmans Dome, Tennessee – 6,643 ft (2,025 m) – and is the most prominent peak in the Eastern United States.

One way or another, Wiki lies.

---
Your reply here?

The Cellar Image of the Day is just a section of a larger web community: a bunch of interesting folks talking about everything. Add your two cents to IotD by joining the Cellar.