Undertoad Monday Mar 3 12:26 PM

3/3/2003: Organ for John Cage piece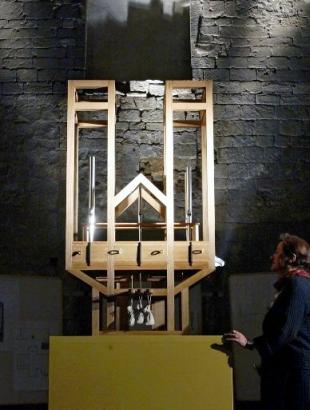 John Cage is famous for all kinds of creative, original takes on music composition.

This organ in Halberstadt, Germany was built specifically to play one of his pieces. The piece is called "Organ2/ASLSP" or "Organ squared/As slow as possible." They started to play the piece on September 5, 2001, and last Friday they played the first actual notes.

Y'see, the piece takes about 640 years to play. The silence that marked the first part was engineered, and so far the've worked out how the first 72 years of the piece wil be played.

The first notes consist of an E chord that will play through August 2005. Then they'll switch to playing the next notes, for which the actually organ pipes will be added in late 2004. You can see above how there are only the three pipes at the present time. They use weights to hold down the keys.

"This is a project that conveys optimism," said Michael Betzle, a businessman who helps run the private foundation behind the concert. "When you start something like that, you're counting on people's creativity 200, 300 years down the road."

I appreciate Cage but this work may not be amongst his best. Still, it's my goal to personally witness the final note, and to write the first complete critical review of the work. Wish me luck.

more info

---

elSicomoro Monday Mar 3 12:51 PM

UT, put down the crack pipe.

Step back slowly.

Now turn around and slowly walk away.

Good UT.

---

goethean Monday Mar 3 04:46 PM

reminiscient of the <a href="http://www.longnow.org/about/about.htm">Long Now Foundation</a>.

---

MaggieL Monday Mar 3 08:07 PM

Cage has said many quotable things--McLuhan loved to quote him--and done some interesting work. Never thought I'd see him able to brag about the longest organ piece in the world, though.

Not that it does him much good now...

Although winning the copyright lawsuit over the "four minutes of silence" piece was pretty remarkable.

---

russotto Tuesday Mar 4 02:58 PM

This is a guy who threatened to sue (for copyright violation) a performer who did a silent piece. Screw him and his novelty music.

---

xoxoxoBruce Tuesday Mar 4 04:33 PM

I'd call that nonperformance. Isn't that what people get fired, sued and court marshalled for?

---

Jakeline Tuesday Mar 4 04:35 PM

Story about the lawsuit

Just to clarify, John Cage didn't sue. He's too busy rotting the ground. His greedy "representatives" sued.

Cage's reps do have a point, though. It was the musician making the CD who gave him credit in the first place. However, I don't think that it was worth a reported 6 figure settlement.

---

smoothmoniker Tuesday Mar 4 08:06 PM

In going through my music degree program, Cage's name was always raised more in the context of philosophy of music than in the context of musically important works. He actively sought to explore the delineation between music and noise, and I think did so intelligently.

Still, I don't much care to listen to his works.
-sm

---

Bitman Tuesday Mar 4 11:09 PM

This reminds me of the "last one wins" contests we had as kids. Winner just turned around and watched TV. I suppose procastination could be said to be the slowest possible, since although nothing gets done, I intend to do it, eventually.

Anyway, I'd like to hear the song at normal speed to see if it's any good. If not, then I think this whole exercise is definitely on the 'noise' side of the line.

---
Your reply here?

The Cellar Image of the Day is just a section of a larger web community: a bunch of interesting folks talking about everything. Add your two cents to IotD by joining the Cellar.