Undertoad Tuesday Mar 4 10:13 PM

3/4/2003: Indian sports fan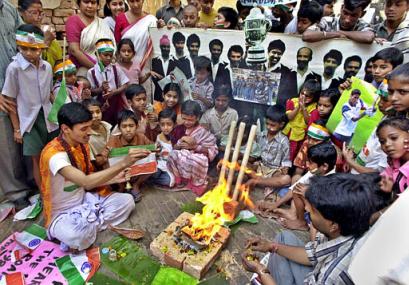 Sorry for the late post today!

OK, what we have here is a Hindu priest, with fans offering special prayers for the victory of India over Pakistan in the then-upcoming World Cup cricket match.

I thought it was great to see this mix of religion and sports and clearly everyone is having fun with it. In the US sports tends to be more secular, except for those whom it serves as its own religion. I count myself as one who worships regularly at the stadiums, but I don't pray to God that my team wins, and really I doubt a busy God would have time, nor interest, to intervene to set the outcome of a sporting match.

And I'm certain that He doesn't take the point spread into consideration.

In US football, we've seen a trend for players to point up at the sky when something goes well. At some point organized religion is going to have to answer the "round worlders" notion, which suggests that everyone who points up is in fact pointing in an entirely different direction. Maybe they use different systems of geometry or something.

By the way, the match is over now, and the Hindus took it this time, by 6 wickets.

---

99 44/100% pure Tuesday Mar 4 11:24 PM

When I moved from NYC to a small town in western PA in my senior year of high school, my universe changed from 8 million loud, outgoing ethnic people to 8,000 quiet blond Protestants.

In NYC, it seemed that the people I encountered were 1/3 jewish, 1/3 italian or irish catholic, and 1/3 some flavor of protestant (almost all of the latter group were black; the others almost exclusively caucasian). No one I knew was "religious" -- as in, attending church and having a healthy fear of/respect for God.

In the town of 8,000, there were 18 churches, one of which was catholic, all of which were full every Sunday. What does this have to do with this thread? Well, my new friends decided to save me from the everlasting damnation guaranteed by my jewish birth and insisted that I attend "Young Life" meetings. I had never heard of this group before, but soon found that it was an interdenominational christian youth group that met in the high school and led daily schoolwide prayers before class each morning. (Like thatwould ever fly at the rad-lib single-sex magnet high school I had attended in NYC!) So, what did these earnest young people pray for, with all their idealism and fervor? Victory for the football team!

Somehow, I don't think this was what my rabbi had in mind when he wished that I, an agnostic from early childhood, could find a relationship with God!

But, yes, there are large pockets of the US population that mix their religion and sports with great energy and seriousness.

---

wolf Wednesday Mar 5 01:18 AM

We had Young Life at my high school. There was a minor bit of foofawraw involved related to the whole church/state/public school issue.

Mostly they hung out in clumps, sold a lot of candy, tried to recruit more members, and went to a special camp together every summer.

In Tarrytown, NY ... home of the Moonies.

It was a feeder group.

---

wolf Wednesday Mar 5 02:06 AM

Oh, and about the Hindu ritual for victory ...

It worked, didn't it? What's the fuss? The Blue Dude apparently likes cricket.

In other religious news of the weird ... Did everybody see what Michael Jackson's up to lately?

---

Nothing But Net Wednesday Mar 5 02:40 AM

This is an especially dicey question for many Islamic athletes, who must kowtow towards Mecca from wherever the may be on Earth, after proper determination of the Qibla.

A fairly reliable calculator may be downloaded here, but don't blame me if any Department of Homeland Security goons show up at your door after doing so.

---

SteveDallas Wednesday Mar 5 08:08 AM

Funny you should mention YOung Life...

I don't know much about them... but there was a bit of a dusting over them at my alma mater, the NC School of Science and Math. It seems a card key security system was installed in the dormitories. It further seems that there were Young Life folks from nearby Duke University who were working on having meetings or whatever at NCSSM. And some of these Duke students were given cardkeys to allow them to get into the dorms! People were not amused... one of several things the current director si being raked over the coals for.

---

wolf Wednesday Mar 5 12:39 PM

Quote:

Originally posted by Nothing But Net
Qibla.


"DO NOT CLICK" (*giggle* *snort*)

---
Your reply here?

The Cellar Image of the Day is just a section of a larger web community: a bunch of interesting folks talking about everything. Add your two cents to IotD by joining the Cellar.