Undertoad Thursday Mar 6 02:36 PM

3/6/2003: Fake cop car in Ukraine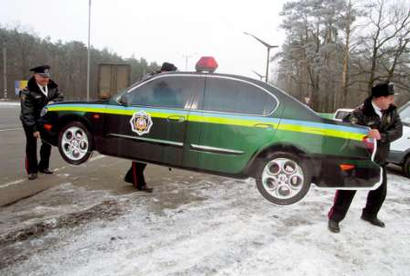 This news image was taken in the Ukraine, where they are trying to figure out how to stop speeders, and have come up with this idea of putting up fake cop cars.

They're trying this because they're so short on funding. (But if the real cars have rims like that, they can't be TOO short on funding.)

The BBC story (link below) says that the plan might not work because the fake car idea might be scuttled by scrap metal theives. The fake car is made from a sheet of metal, which makes it such a valuable target that the fakes might have to be policed by real cops. Thus defeating the purpose.

How IRONic!

http://news.bbc.co.uk/1/hi/world/europe/2820393.stm

---

wolf Thursday Mar 6 02:45 PM

PSP has a cruiser that they move around, which has a fake trooper (actually an old dept. store mannequin) with the radar gun pointed out the window.

It's called "passive enforcement".

---

juju Thursday Mar 6 03:22 PM

What a great idea!

---

Lt Thursday Mar 6 04:22 PM

I seem to remember on a fast stretch of road somewhere in the UK seeing a bird house one guy built in his garden which was a replica of a speed camera. It was very effective, apparently.

---

xoxoxoBruce Thursday Mar 6 05:49 PM

That's why God invented radar detectors.

---

Cam Thursday Mar 6 06:10 PM

Some town down in the south western part of North Dakota has a real car with a dummy in it.

---

aqualung Thursday Mar 6 07:21 PM

that's funny...

ALL the cop cars around here have dummies in them...

---

wolf Friday Mar 7 02:40 AM

Quote:

Originally posted by xoxoxoBruce
That's why God invented radar detectors.

The fake state trooper has a REAL radar detector hanging on the window of "his" cruiser. If they leave it active, then the radar detector goes off, and drivers slow down ... as do the ones who just see him. Either way, mission accomplished. (all for the cost of one piece of equipment already owned, a donated mannequin, and a decommissioned cruiser ... I kind of remember something about the cruiser being a dummy (nonoperational) as well. I think they flatbed or tow it from place to place.)

---

BrianR Friday Mar 7 09:11 AM

And if that radar gun is still there when the police come back, I'll eat my hat.

Brian

---

russotto Friday Mar 7 11:26 AM

The real problems come when people decide it's fun to use the decoy for target practice. And then one day they put a real cop there.

---

Griff Friday Mar 7 04:38 PM

Speaking of faking a cop, has anyone else had the momentary doubt when someone behind them in traffic has the new inspection sticker that reflects red?

---

And Tuesday Mar 11 08:26 AM

Reminds me of an old Not Necessarily the News skit, where a guy speeding sees a motorcycle cop behind a billboard and slows down. As he draws near, he see that it's a fake cop like the above car. Later, he is speeding again, but a cop comes up behind him and flags him down. He gets out his liscence and registration, and when he turns around...

...It's the cardboard cop standing outside his car window.

I really miss that show... *sigh*

---

smalland Tuesday Mar 11 11:34 AM

fake radar detector

Rather than faking a speed camera, I remember another guy in the UK who got fed up with cars speeding on the roud outside his house, so he stood there with a hairdryer pointed towards the oncoming traffic -- worked like a charm!

---
Your reply here?

The Cellar Image of the Day is just a section of a larger web community: a bunch of interesting folks talking about everything. Add your two cents to IotD by joining the Cellar.