Undertoad Monday Mar 10 12:15 PM

3/10/2003: X-country skiiers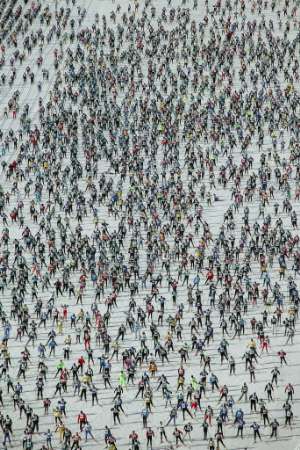 I didn't save the details of this one -- partly because they weren't as interesting as the image itself. It's the start of a cross-country race with thousands of participants, somewhere in Scandinavia I believe.

You can't find Waldo, but you can pick out the lime-green ski outfits.

---

xoxoxoBruce Monday Mar 10 03:41 PM

Ah, free in the wilderness...communing with nature.

---

Whit Monday Mar 10 06:23 PM

     For some reason the first thing I looked for was to see if a guy in the bottom 1/3 of the shot had fallen down with the rest of the crowd well on their way... Not that such a thing would be funny or anything...

---

Nightsong Tuesday Mar 11 02:03 PM

I wonder if there is road rage like they would have if they were in cars like that? This angle of shot brought to you so those that were in it feel like they were skiing downhill...lol

---

chrisinhouston Wednesday Mar 12 10:44 AM

Obviously not America, they'd all be on snowmobiles.

---

Nightsong Wednesday Mar 12 05:26 PM

Have to be careful in America if they are not wearing an orange vest a hunter could mistake them for some wild game to shoot at...lol.. Not all hunters are like that.

---

chrisinhouston Wednesday Mar 12 05:51 PM

I showed this image to my wife who used to ski in upstate NY and also in Colorado. Her remark was that there is a certain sharp noise that is associated with the motion of sliding your ski through the snow. I have to wonder what the sound must have been like of thousands so close together.

---

Nightsong Thursday Mar 13 09:05 AM

Can anyone tell me where in the pic is Waldo???


Sorry could not help myself:p

---

Griff Thursday Mar 13 09:38 AM

The nice part of x country skiing in the states is that nobody else is doing it...

---

Elspode Thursday Mar 13 10:06 AM

Now THESE are the lemmings which that Webscalpel guy over in Photoshop was talking about...

---

Nightsong Thursday Mar 13 03:17 PM

Well that would explain the angle. It looks downhill but there is that big cliff that they missed putting in the picture :p

---

ink3 Tuesday Mar 18 09:32 AM

I am not sure if anyone is even remotely interested in this, but this pic is probably from "vasaloppet", a swedish skiing contest with something like 14 000 skiers competing over 90 kilometers. For more info: http://www.vasaloppet.se/wps/VasaCMS...idan/en/2.html

---

chrisinhouston Tuesday Mar 18 09:38 AM

Interesting site. From there you can click on another link: enerated/resources.Loppinfosektion/loppen/en/OppetSpar/enoppetsparpresentation.html
Someone explain to me how come a guy in the backcountry of Sweden can use a cellphone when I can't get a clear signal at my house, 25 miles from Houston (which is touted at the 4th largest city in the USA).

---

Leus Tuesday Mar 18 12:46 PM

Perhaps you mean this link?

---
Your reply here?

The Cellar Image of the Day is just a section of a larger web community: a bunch of interesting folks talking about everything. Add your two cents to IotD by joining the Cellar.