Tuesday Jun 19 11:59 AM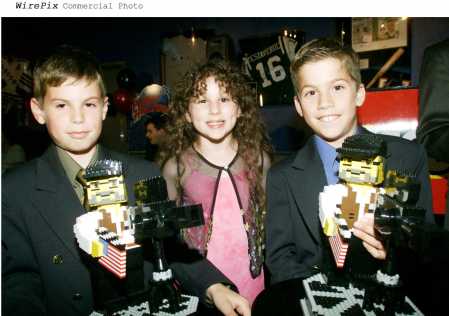 In the midst of all the evil in the world today comes the news that... not only does the Pepsi girl have siblings, but TWIN brothers.

I should think this puts a new light on the whole death penalty thread. There the three of them are, together; what would you do if you had a rocket launcher? Some things are just instinct.

Jag, is this girl in Pepsi commercials in Au?


---

elSicomoro Tuesday Jun 19 04:16 PM

*rofl*

Easy there Tony...she's young...there's a good chance for recovery.

---

Tuesday Jun 19 04:26 PM

Sure, sycamore... That's what they said about Jerry Mathers (the Beaver) and Macaulay Culkin (Home Alone). Now they're in either rehab or counselling. Either way, the girl is clearly evil incarnate and any genes related to hers should be obliterated from the face of the planet.

Or maybe she just made a lot of money off of Pepsi. Is it her fault she landed a role Pepsi could have filled with any one of hundreds of cute annoying children? Look, I can't stand children under most circumstances, but if we're going to play the blame game, we might as well get it right...

This world is going to hell in a handbasket... and the corporations are charging us $29.95 for the trip.

tom


[Edited by modernhamlet on 06-19-2001 at 04:31 PM]

---

Wednesday Jun 20 11:57 PM

Hey now, that's not fair. I lived in a dorm last year with her cousin.. he's a very good guy and agrees that she is annoying as hell on TV

---

Thursday Jun 21 03:13 AM

Pepsi comemricals?
sorry this means nothign to me, i havne't seen any and i don't watch enough tv ot know anyway...I prefer to spend my time playing violent computer games which at least require some thought that watching mindless violence on tv....



---

plool Saturday Jun 30 05:06 AM

Smuckers Kids

I can't be certain, but I'm fairly sure this girl was also one of the Smuckers(tm) kids at one point.

I only mention this because I have a suspicion the Smuckers(tm) factory is breeding these hellspawn. I mean, have you ever watched their commercials?

//shudder

---
Your reply here?

The Cellar Image of the Day is just a section of a larger web community: a bunch of interesting folks talking about everything. Add your two cents to IotD by joining the Cellar.