Undertoad Tuesday Mar 18 12:58 PM

3/18/2003: Homebuilt boat sets off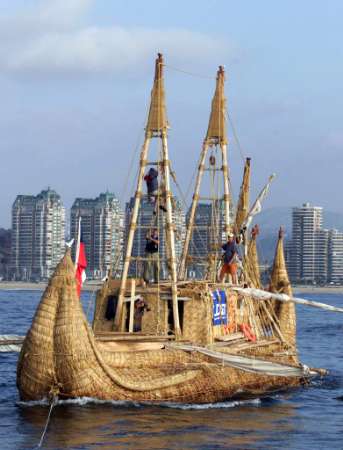 Now this is real adventure. And the sort of thing that would make the news if only the other news wasn't so important...

This is American Phil Buck and his crew, sailing their reed boat 'Viracocha', and in this picture taken yesterday they're setting off from Chile to sail to Australia.

They built the boat for three months on the Chilean beach, and at least for the next six months, they'll be at sea. If they do reach Sydney, they'll be the first to sail from S America to Oz with ancient shipbuilding techniques.

And they'll be really REALLY tired of fish for dinner, I'd expect.

They may have only used ancient techniques, but I hope they do have a GPS and radio on board just in case.

---

chrisinhouston Tuesday Mar 18 01:06 PM

But if they do reach Australia, they suffer the fate of others only to be put in a detention center somewhere in the outback.

Don't know about the GPS or radio but I would venture that they have a few bottles of Chilean wine on board.

---

xoxoxoBruce Tuesday Mar 18 06:25 PM

NO SMOKING !!!

---

wolf Tuesday Mar 18 07:41 PM

I wonder, though ... was it really WISE to name a boat after the Incan God of Storms??? Apu Viracocha is he who hurls down the lightning ... and brings the cleansing wrath of the storm to the people ... he's not your sissy gentle rain and benificence kind of God. He's more of a smiter .... He holds the lightning in his hands, and the rage of pumas is in his eyes. He's also the Creator god of the Inca.

---

Elspode Tuesday Mar 18 08:26 PM

Didn't Thor Heyerdahl pretty much already do this? Or is this a significantly longer journey or something?

---

The Mad Hatter Tuesday Mar 18 09:26 PM

Are you sure it is Viracocha, Undertoad? A few years ago, Phil Buck sailed from Chile (I think) to Easter Island on a reed boat named (IIRC) Viracocha. Also, that picture looks a lot like the pictures of the boat from his first voyage (but they'd probably mimick the first design anyway, so...). In any case, the book <i>Four Men and a Duck</i>, which a journalist (who participated on the first expedition) wrote, is good.

(BTW, I've been a lurker for a while, but just felt the need to register.)

---

Undertoad Tuesday Mar 18 11:39 PM

Nope, I'm not sure - in this case I'm dependent on the wire service caption, from which I just took the information.

---

Griff Wednesday Mar 19 07:25 AM
---

Leus Wednesday Mar 19 10:00 AM

It's the Viracocha II. Last month I was in Viņa on vacations, and they were exhibiting it. Impressive work.

(btw, I'm Chilean)

---
Your reply here?

The Cellar Image of the Day is just a section of a larger web community: a bunch of interesting folks talking about everything. Add your two cents to IotD by joining the Cellar.