Undertoad Wednesday Mar 19 12:33 PM

3/19/2003: Threatening baboons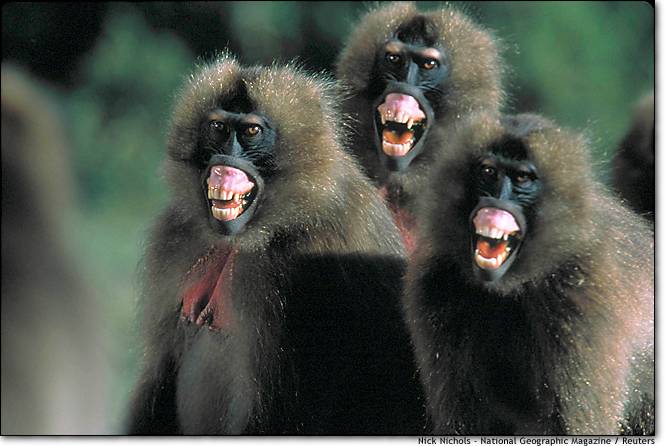 Happy Wednesday! This trio of Gelada baboons, sent along by Nic Name (no kiddin'! Hi Nic!), is kinda threatening for a Friday image and also I have a deep overflow of animal shots right now. The image first appeared in National Geographic where it has become a prize-winning shot for photographer Nick Nichols.

It deserves it, cos it's a great one! I'm severely tempted to print a copy and take it to my next dental hygeine appointment.

---

elSicomoro Wednesday Mar 19 12:38 PM

Oh my God...are those members of my father's family?

---

wolf Wednesday Mar 19 02:59 PM

Ooooooh .... I thought it was going to be an animal cruelty pic, you know, someone standing over the baboons preparing to whack them with a big stick or something ...

I now see that it's the Baboons themselves who are doing the threatening.





Cool pic.

(I don't think they are members of your sperm donor's family, Syc. They are too high on the food chain, aren't they?)

---

elSicomoro Wednesday Mar 19 03:02 PM

Nah, this is about right. Anything lower might make me a vegetable.

---

wolf Wednesday Mar 19 03:13 PM

Good thing the 23 chromosones from the egg were stronger ...

(if they weren't you wouldn't be posting here, after all. )

---

xoxoxoBruce Wednesday Mar 19 04:46 PM

Reminds me of Alien,with the mouth within a mouth. How do we know their not smiling?

---

wolf Wednesday Mar 19 04:59 PM

Cuz their eyes don't crinkle up happily in the corners ...

---

Skunks Wednesday Mar 19 06:03 PM

The leftmost one has some wicked nipples/claws.

---

Torrere Wednesday Mar 19 10:07 PM

The way in which they issue threats is to curl up their lip. It is scary.

I can't do it, though I've tried.

---

juju Wednesday Mar 19 10:10 PM

Re: 3/19/2003: Threatening baboons

Quote:

Originally posted by Undertoad
sent along by Nic Name (no kiddin'! Hi Nic!)

Was there any text in the e-mail, or was it blank with an attachment?

---

elSicomoro Wednesday Mar 19 10:26 PM

*laughs*

Damn, that was good, juju.

Nic, if you're reading this, please quit being a bitch and come back. Come on...you know you want to. God only knows what you've been doing with your free time recently.

---

Undertoad Wednesday Mar 19 10:46 PM

He included the original caption.

---

elSicomoro Wednesday Mar 19 10:49 PM

Thank you, Ari Fleischer.

Here Nic Nic Nic Nic Nic Nic...

---

Drydock Thursday Mar 20 02:47 AM

Its not very nice but...




What is it with those Buseys and their winsome gums?

---

And Thursday Mar 20 09:19 AM

The babs remind me more of lipless zombies I've seen in certain horror flicks... It's right creepy... but then again I love horror flicks.

---

Nightsong Thursday Mar 20 03:14 PM

Everytime I see these three all I can think of is mother -in- laws with detures..go figure...lol:p

---

Bitmap Friday Mar 21 11:05 AM

Those teeth should be the focus of a Thread in the Photoshop section.

---
Your reply here?

The Cellar Image of the Day is just a section of a larger web community: a bunch of interesting folks talking about everything. Add your two cents to IotD by joining the Cellar.