Undertoad Saturday Mar 22 01:00 PM

3/22/2003: Warrantied bomb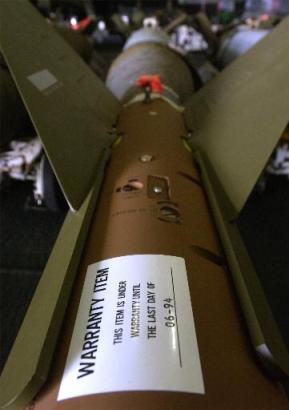 As the war is on it gets harder and harder to find non-war-related items. I've been trying to do that because everyone who wants to see war images has probably seen them.

But this one struck me as curious anyway. The bomb here is a "bunker buster" that politely delays detonation until it has had a chance to bury as deeply as possible into wherever bad guys might be underground. The note says that it's under warranty until 6/94, so this one is well past expiration.

I don't get it... does that mean if it doesn't kill anyone, the Army can go back to the company that produced it and demand its money back?

Those Tomahawks (which this isn't) are like $1.4 million each so it would be nice to get a refund on duds.

---

wolf Saturday Mar 22 01:06 PM

I think it's more like drinking milk past the expiration date ... or using a med past the expiration date. Or Installing a set of duracell batteries after the 'best if used by'.

"It will probably still work, but we, as a corporate entitity, are no longer responsible if it fails to act as originally promised."

So the US Military could only get it's money back if it was deployed and failed to kill anyone BEFORE the expiration date.

After that it's a matter of use at your own risk.



(although if the expiration date is related to long term storage, THAT could be a significant issue. Does the explosive filling of a bunker-buster become sweaty over time like other HEs?)

---

xoxoxoBruce Saturday Mar 22 03:19 PM

The warranty sticker on the bomb is for the battery pack. It has to be checked periodically after that date. Personally, I would hope they check the batteries before they try to use them, regardless of the damn sticker.

---

Elspode Saturday Mar 22 04:56 PM

Damn...I was going to send this one to you, UT, but you beat me to it.

Your thinking was precisely the same as mine on this. Be very frightened.

---

Jacque Strapp Monday Mar 24 12:03 AM

Hm, I maybe Dubya was on a stroll through an armory somewhere, saw some bombs that were about to expire, and figured he may as well use them for something before the warranty expires. You know how things always break a few days after the warranty is up.

---

CharlieG Monday Mar 24 08:07 AM

It's the guidance system,

As someone said, probably the battery. If you look, the bomb actually starts back where the red fuzzy thing is behind the fins

What a lot of folks don't realize is the way bombs are built/stored

There the the ordance section of it - the long eliptical part. That is built, stored, and handled seperately than the rest

Then there is the fuse assemblies - there can be more than one, and they can be anything from proximity to delayed. In fact, there are fuse extenders to put the fuse 4-5 feet in front of the bomb, so it goes off in air. Then there is the tailfin assembly - These can be "normal", or "High drag" (slow down the fall of the bomb), and others

What you see in the front there is a laser guidance system - it just straps on a regular bomb.

The ordanance men make up what kind of bombs are needed, as they need them

---

gossard187 Thursday Mar 27 05:48 PM

theres also a difference on which branch of the military is using a bomb. for some bombs, like laser guided bombs, the fuzes for the navy sometimes have wind turbines that pop open and charge the battery. either way theres a procedure for setting other information when the bomb is loaded onto the plane, and that should include verification that something like a battery is ready for flight in addition to checks for problems from captive flight.

---
Your reply here?

The Cellar Image of the Day is just a section of a larger web community: a bunch of interesting folks talking about everything. Add your two cents to IotD by joining the Cellar.