Thursday Jun 21 10:58 AM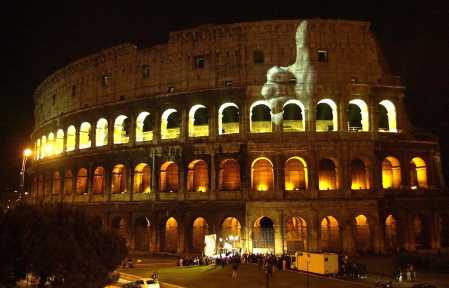 Another image related to the death penalty. Did you know - I sure didn't - they have taken to lighting the Colosseum up in gold, along with the thumbs-up slide, whenever a country abolishes the death penalty. (Normally it's lit in white.)

It's shown here lit gold because Chile did away with their death penalty. Italy hasn't had a death penalty for a long time.

I don't know how I feel about this though. Using a major historical site for political statements? But then again, unlike the US, Rome is littered with historical sites so they probably have a different attitude.




---

Thursday Jun 21 11:16 AM

I don't see what's all that wrong about using a historical landmark for a political message. (Then again, I'm in favor of this particular message, most Western countries except this one recognize the death penalty as barbaric.) And it is a clever visual tie-in to what actually went on at this landmark, the gladiator thumb up thumb down (even if we're not sure what the actual 'let them live' gesture was)

---

Thursday Jun 21 11:50 AM

Italian monuments

The Italians will use their monuments for all kinds of practical things: I have seen a woman washing a diaper out in a lovely old fountain in a square in Napoli. I've seen clotheslines tied to statues. The Italians seem to think that they ought to keep the monuments, but with several thousand years worth of building good stuff, if they didn't get used for -something- the Italians would get crowded out of their own country. It's kind of like why it's good wood rots and gets termites - otherwise we'd be feet deep in fallen trees.

So - they're making a point with this one. No harm done, but it's amusing that a venue of blood-soaked amusements is used to celebrate other people's nice behavior.



---

elSicomoro Thursday Jun 21 12:12 PM

So, I wonder what would happen if the US re-abolished the death penalty...or at least put a moratorium on it. Would there be church bells ringing and children singing the praises of good ol' America?

For being the world's most advanced nation, we are horribly out of date...

---

Thursday Jun 21 10:15 PM

Now see...this is ironic.

A friend of mine did some digging, and I think he found someone who proved that when the Emperor gave the thumbs-up, it meant that the person should die.

If that's for real...man, I'm still laughing.

~Mike

---

Friday Jun 22 12:12 AM

As far as I know we just don't know what the thumb gesture was for certain. And even if thumbs up meant kill 'em, (which might be... I think the believed most likely symbology was uncovered thumb = death, thumb covered with other hand = spare 'em) you could still spin the message of display so it's not completely goofy... "better to get your 'bloodlust' out on a big artsy projection than to make the state a murderer", or "now the thumbs up means something good, times have changed", that kind of thing. It doesn't work as well as the most likely symbolism, but it doesn't fall apart.

I think it looks pretty cool, actually.

---

Saturday Jun 23 01:34 AM

What it really is is that regular (where regular == stupid, in other words, everywhere) people don't know that, and have associated thumbs-up with good, pleasant things. Forget what's real, and twist it all to fit what's pleasant....God Bless Earth!

---

Saturday Jun 23 10:27 AM

I'd take issue with your use of "stupid" in this case.

Gestures change meaning over time and across cultures.

Right now thumbs up means approval. And there is some cutsie tie-in with gladiator battles. It's not a case of "Forget what's real, and twist it all to fit what's pleasant" at all, since the "reality" is a historical "reality", lost in the fog of history, and not all that relevant to the matter at hand (a visual joke of sorts) anyway.

---

Sunday Jun 24 03:31 AM

AFAIK, thumbs up meant death, ie, towards the gods. Thumbs down meant life, stay on Earth.


---

Sunday Jun 24 11:21 AM

That thums-up=go to gods, thunbs-down=stay here on earth sounds like an after-the-fact rationalization. For one thing, I don't think the Romans would have so strong an association of "up is where the gods are", given Mt.Olympus was almost more over than up, *everyone* (good, bad, or ugly) who dies going to the underworld, now 'with the gods' anyway, Poseidon and some other gods living places that were definately not up, etc. No, I'm not a historian, but I do know how good culture is at making up "just so" stories.

This Straight Dope column talks a bit more about it: http://www.straightdope.com/classics/a2_450b.html The fact is we don't know for certain what they actually did, but we do pretty much know why have the traditional thumbs-up=live, thumbs-down=die.

---
Your reply here?

The Cellar Image of the Day is just a section of a larger web community: a bunch of interesting folks talking about everything. Add your two cents to IotD by joining the Cellar.