Undertoad Sunday Mar 23 09:24 PM

3/23/2003: Health robot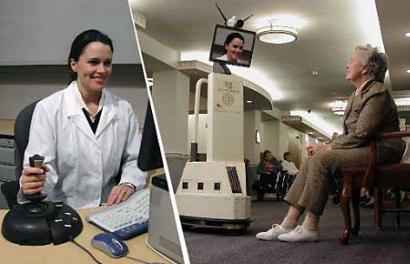 In the future, old ladies will be frightened and harassed from afar with the use of robots. This is preferable to being harassed in person.

The caption didn't say much about this, and I find that it's much more impressive if you just imagine what they're trying to accomplish. It looks like they're doing this so that health professionals truly won't have to interact with the elderly. Maybe so one doctor can walk the halls of 10 different nursing homes from the comfort of her own home.

The antennas at the top of the thing are completely unnecessary, except for the "My Favorite Martian" effect that might help the more mentally-addled patients recognize the unit as something other than the usual orderlies.

And using a massive Gravis Gamethruster Max Pro (or whatever) joystick is also high overkill. Although having a trigger button must make the entire experience even more surreal for both doctor and patient.

---

wolf Sunday Mar 23 11:31 PM

Physicians who oversee care for nursing homes already slack.

Technology that helps them slack BETTER (and possibly even in their bedroom slippers) does not serve the needs of their patient community.

---

slang Sunday Mar 23 11:56 PM

Maybe the gas pumpers will be using this thing in the future, who knows.

---

Jacque Strapp Monday Mar 24 12:01 AM

Unless I miss my guess, that is a Microsoft Force Feedback joystick. So when the patients get pissed that a freaking robot is giving them their meds, and go crazy and beat it to death, the operator's joystick should rattle a bit.

---

quzah Monday Mar 24 02:18 AM

Quote:

Originally posted by Jacque Strapp
Unless I miss my guess, that is a Microsoft Force Feedback joystick. So when the patients get pissed that a freaking robot is giving them their meds, and go crazy and beat it to death, the operator's joystick should rattle a bit.

[Edit]Nope, it's a Precision 2. The Force Feedback 2 would have a power cord.[/edit] The mouse is an Optical Mouse Blue, the keyboard is a Natural Multimedia Keyboard.

Quzah.

---

Griff Monday Mar 24 07:20 AM

Quote:

Originally posted by wolf
Physicians who oversee care for nursing homes already slack.

Technology that helps them slack BETTER (and possibly even in their bedroom slippers) does not serve the needs of their patient community.

Sometimes old people smell funny. You don't expect a med school grad to put up with that stuff.... says the guy with chicken crap on his tevas

---

russotto Monday Mar 24 10:01 AM

Re: 3/23/2003: Health robot

<troll>
Fair enough. Nobody should have to interact with the elderly. They're slow, deaf, and have an unshakeable belief in their own superiority. They feel every young person should defer to them and cater to their very whim because after all, they're old. And they smell funny.
</troll>

---

Degrees Monday Mar 24 10:04 AM

Point of view

Kids, because they are little, 'look up' to adults, both physically, and mentally. That perspective imparts a sense of inequality - which is a good thing, because the grownups do have a better grasp on the real world (and dangers.)

I notice this robot was built to look down on people sitting, and to be even with people standing (which isn't the elderly, so much.)

Nothing says "care" quite like first putting your customers in their place....

Along the line of "points of view", notice the position of the camera that took the picture. We, the audience, are lower than all.

Advertising. Ugh.

Do you think the machine's slogan is going to be "Your plastic pal that's fun to be with" ? ;-)

---

deepandchilled03 Monday Mar 24 10:25 AM

Heres the artcile

Experimental Robots May Offer Aid at Bedsides
Reuters Health

Thursday, March 6, 2003


LOS ANGELES (Reuters) - Its bedside manner has kinks to work out, but an experimental robot may one day help the U.S. health care industry cope with burgeoning ranks of the elderly and ill.

For now the robots operate primarily as a form of mobile video telephone allowing patients and doctors to communicate. But eventually, they may help the health care industry serve millions by wheeling patients to dinner, or even taking temperatures and drawing blood.

"This technology enables health care professionals to care for people in remote locations at a fraction of the time it would normally take," said Loren Shook, chief executive of Silverado Senior Living, an operator of assisted living facilities for people with Alzheimer's disease.

Silverado's Calabasas, Calif., care center is the site for a clinical trial of a robot made by InTouch Health Inc. that is designed to allow real-time, one-on-one communication between doctors and patients, health care management and staff or between patients and their families.

The mobile robot, called the Companion, is fitted with a camera that films the patient while the caregiver's face appears on the robot's television screen-like head.

Controlled from an off-site console, the robot uses software and a broadband wireless Internet connection to allow the patient and caregiver to see, hear and talk to each other.

By the end of life, people with advanced Alzheimer's have lost about a third of their brain, significantly damaging their ability to deal with new things. But patients at the Silverado center seemed to warm to the robot.

"The older you get, the more disagreeable you are to change," Shook said, acknowledging initial worry that the robot might frighten some residents. "To our delight, some just pointed to the robot and laughed. Others talked to it."

The robot drew quizzical looks from Silverado residents but they were soon chatting and preening with pet dogs when Silverado's vice president paid a recent remote-broadcast visit via the device.

The machine is also being used by other experts at Silverado's San Juan Capistrano, California headquarters to train workers, help guide care for patients with problems like walking difficulties and by the son of one patient to keep in touch with his mother.

LEVERAGE SCARCE HEALTH CARE RESOURCES

"The goal is to extend the reach of health care ... A nursing shortage and cuts in government reimbursement are straining the system and its going to get worse," said Yulun Wang, chief executive of InTouch and founder of Computer Motion Inc., which makes robotic systems used in surgery.

The American Association of Retired Persons projects that the ranks of senior citizens, driven by the aging baby boomer generation, will climb to about 40 million in 2010 and to around 70 million by 2030.

"Compared to 50 years ago, people can expect to live 15 years longer, but at the same time the costs of caring for the elderly are rising," Wang said.

Wang believes the robots offer one solution that takes advantage of high technology and the Internet to improve the efficiency and, he says, effectiveness of care delivery.

Some key issues -- like how a doctor who treats a patient via the robot rather than in person would get paid -- are still being ironed out.

Silverado officials said they believe a law is likely to be passed in the next year or two that would allow for complete reimbursement of remote treatment at full-scale nursing homes but said it will take more time for payment in the assisted-living setting.

"We anticipate that the robot will pay for itself," Shook said, saying that using the devices cuts travel costs, reduces the need for emergency room visits and improves staff training, which reduces liability risk and employee turnover.

PUSHING A WHEELCHAIR

The technology is still at an early stage, Wang said. "First there is communication, but the second thing would be manipulation. Eventually the robot could be designed to do things like push a wheelchair or even be used in private homes," he said.

The robots have not received Food and Drug Administration approval to perform medical tasks yet. But the company believes they ultimately will and sees the risk of mistakes or malfunction as low.

Executives noted that the technologically borrows from robots used to perform surgeries and said those machines have worked without problems.

One issue that also must be addressed is how treating patients remotely might affect the quality of care doctors' deliver. Remote treatment also raises questions about whether doctors will be more liable to miss symptoms or trouble signs when not at the patient's bedside.

For now, InTouch Health plans to lease Companion robots to institutions caring for the elderly, probably at around $2,500 to $3,000 per month.

"It is a breakthrough event when people with dementia can tolerate another form of engaging them in life," Shook said.

---

elemental Monday Mar 24 11:14 AM

I, for one, welcome our new robot masters.

I just hope they've kept their <a href="http://www.robotcombat.com/video_oldglory_hi.html">Old Glory Robot Insurance</a> policies up to date. "For when the metal ones come for you. And they will."

---

Nightsong Wednesday Mar 26 12:06 PM

I do not know how these robots are good for people with Alzheimer's disease. They are slowly losing their minds away and here is a human caged in a metal can. That would freak out some old people. I can see it now they will use these robots for the nutcases in the pycho ward but have Max Headroom as the one on the screen...but what do I know.

---

wolf Wednesday Mar 26 02:33 PM

There's too many sharp metal parts on the robot. And the wiring could be used to hang oneself. Oh, and although it's relatively rare, we do get the occasional person with that paranoid delusion (realistic understanding of the world?) about technology taking over and displacing humans .... there are reasons that the televisions on our unit are enclosed in these big lexan boxes.

Besides, the robots probably cost more to purchase and maintain than most nuthouses pay the average psych tech.

---

Nightsong Wednesday Mar 26 05:06 PM

well that is true that might be a little to much for the nuts too many things for them to play with.

---

OnyxCougar Saturday Mar 29 12:49 AM

Well I'm still lost on how this saves time or money. There is still a person "manning" the robot. Are they tryiing to say it's faster to take temperatures via robot rather than in person? Doesn't the doctor still have to talk to the patient? Where is the time saving here?

Seems to me this is just for the lazy doctors who don't want to walk around.

Now, if you were to put one of these in someone's home, and turn it on to seek medical assitance, or for checkups or something, then I could see that is provides a means for in-home care without being in-home. But to have these things rumbling around a group home in place of a real person..? I don't get it.



---
Your reply here?

The Cellar Image of the Day is just a section of a larger web community: a bunch of interesting folks talking about everything. Add your two cents to IotD by joining the Cellar.