Undertoad Friday Mar 28 01:22 PM

3/28/2003: Micro bat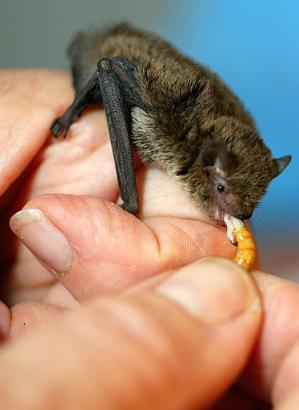 Ladies and Gentlemen, the micro bat!

Unlike minibulls, the micro bat is a product of nature's breeding without human intervention. I'm not just being playful with the name either - that's really its name. OK, the full name is "Australian East Coast Freetail Micro Bat".

It measures less than an inch and a half from head to tail (3 cm). Hold your hand up in this same position and picture the thing on your hand. They say people mistake it for a moth.

I want one!

And look, it's eating a mealworm larva! I wonder how much it got paid?

---

russotto Friday Mar 28 03:57 PM

A bat fan on a newsgroup I frequent claims that's an eastern forest bat, not a freetail. He claims the freetails are twice that size.

---

Uryoces Friday Mar 28 04:24 PM

http://www.icehouse.net/reighley/bathouse.html
http://home.earthlink.net/~jdwiggins.../bathouse.html

Brak likes eatin' bugs! He's makin' a home!

---

Elspode Friday Mar 28 04:40 PM

You know, I think I'm going to have to build one of those. Bats are terribly cool, and there are bugs aplenty around my place. Now, if I can only avoid cutting off my fingers in the process.

---

linknoid Friday Mar 28 09:13 PM

Re: 3/28/2003: Micro bat

Quote:

Originally posted by Undertoad

It measures less than an inch and a half from head to tail (3 cm). Hold your hand up in this same position and picture the thing on your hand. They say people mistake it for a moth.


It doesn't look that much smaller than the bats I've seen. I've seen a few close up, and even handled one (it tried to bite me, so I ended up carrying it outside wrapped in a clean sock), and the ones I've seen are usually about the size of a small mouse, just slightly larger than the one in the picture.

Regarding confusion between moths and bats, I once saw a large moth fluttering around the room, and I spent about half an hour watching it fly around the room trying to figure out if it was a bat or a moth, their flight motions are so similar. It wasn't until it finally landed that I figured out it really was a moth.

In the summer around here, the bugs are attracted to the mercury vapor lamps outside, and we can see bats fluttering around the lights getting dinner (or should I say breakfast) every night.

---

Nothing But Net Friday Mar 28 09:50 PM

We have bats not much bigger than that in Texas.

I was once at a UT football game in Austin. I spotted what I thought was a huge cockroach on the concourse. I looked closer and saw it was a tiny bat all folded up. It may have been sick, or it may have fallen from under the grandstands above.

The things can carry rabies, so I figured it should be removed since there were hundreds of people around.

I wasn't going to touch it, so I went and told a cop.

He came over, looked at the bat for a moment, then stomped on it.

Hell, I could have done that!

---

Beletseri Saturday Mar 29 07:14 AM

That's a pretty nice bat but this one is a really nice bat.


The flying foxes are really personable and smart and they seem more like small monkeys than bats. They are fruit eaters.

---

Elspode Saturday Mar 29 12:06 PM

Flying foxes are really cool, and I think I'd be scared to death if I saw one swooping down on me. I would be even more scared if I saw this bat coming at me, though.

---

Cam Saturday Mar 29 02:39 PM

Wwhen my family came home at night we had a bat fly into our house right over our heads.. It had to be one of the creepiest things I've ever had to do chasing down this bat. It took me and my dad about 15 minutes, a fishnet and a pair of gloves before we finally got it out of the house. My mother was freaking out the entire time.

---

wolf Sunday Mar 30 12:38 AM

One of the frequent callers to the suicide hotline (not to be suicidal, just to chat) had a bat fly into his house.

He and his roommate chased the bat around the house for a couple of hours apparently. The patient was complaining about this, and was trying to think of some way to deal with the bat.

He shoots squirrels off his bird feeder, thought that might work for the bat.

I suggested that since the bat was inside, he'd have to find some other solution (I've tried to talk him out of the squirrel thing, but no go).

Thankfully, he agreed not to shoot the bat.

I told him to try to get it into a room with a door to the outside. This had already been taken care of. It was in the living room. I had him open the door and told him to leave the damn thing alone ... also to turn off the tv, stereo, anything that would be making noise.

At that point it was the end of my shift, and I had to scoot.

Found a note in my mailbox the next morning. "Back Pain Freddy called. He said that the bat left, just like you said it would. He says thanks."

That's what it's all about ... saving lives. In this case, a bat's.

---
Your reply here?

The Cellar Image of the Day is just a section of a larger web community: a bunch of interesting folks talking about everything. Add your two cents to IotD by joining the Cellar.