Undertoad Wednesday Apr 2 01:10 PM

4/2/2003: 1006 A.D. supernova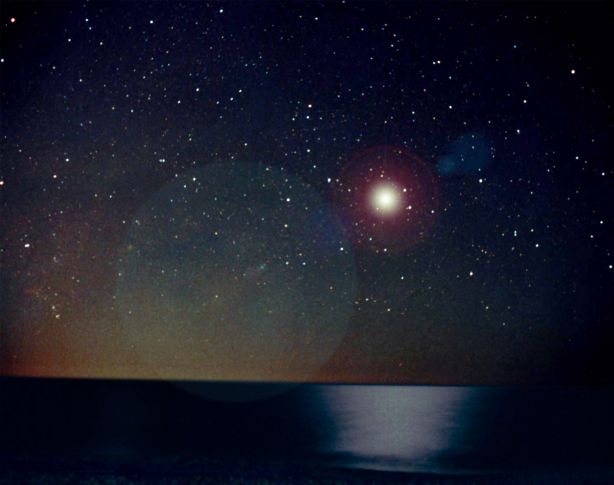 It's ASTRO days on the IotD!

On the heels of the bright-but-cool star mystery, the Astronomy Pic of the Day had this a few days ago. It doesn't look very interesting, but read on.

In the year 1006 AD, a new star suddenly appeared in the sky, and in less than a week it became brighter than Venus. People could have read by its light. It became roughly 1/4th as bright as the moon. And then, over a period of a year, it faded.

In the modern day, astronomers tackled the problem and worked out that it was a supernova - the spectacular death of a star.

It's interesting to think that, to the people of the time, such an event must have been as strange and important as anything they had ever seen. There must have been hundreds upon thousands of attempts to explain it or use it, but there are very few details in recorded history about it. One reason is because it would have appeared rather low in the sky. This view is from Turkey. There were recorded remarks in the history from Arabia, China, Japan and Europe.

The image's developer attempted to get much of the detail of the night sky correct. He started by taking a picture of the night sky at that specific spot, then calculated where the new star would appear in that sky, and added it.

Unfortunately, he then decided it would all look more "realistic" with a big, fake lens flare in the middle of it all. Those are the round artifacts around the star. They are an interpretation of what might happen if you took a picture of something bright like that, because a camera lens gives off its own reflections. You would not see such things with the naked eye, and of course there were no cameras in 1006.

Could such an event happen again? In our lifetimes? With this kind of visibility? Yes but it's very improbable. One of the ApoD links says a supernova should happen in our galaxy every couple of decades, but an event of this brightness and visibility seems to happen only once a millennia or so. The last visible supernova happened about 320 years ago so the next one is overdue.

---

russotto Wednesday Apr 2 02:06 PM

Re: 4/2/2003: 1006 A.D. supernova

The last visible supernova actually occurred in 1987 (give or take a few hundred thousand years for light's travel time), and has the inspiring name "Supernova 1987a". But it didn't occur in this galaxy but rather the Large Magellenic Cloud.

---

xoxoxoBruce Wednesday Apr 2 02:16 PM

I guess a 1967 Super Sport Nova doesn't count.

---

And Thursday Apr 3 11:07 AM

No, but a '73 does.


---
Your reply here?

The Cellar Image of the Day is just a section of a larger web community: a bunch of interesting folks talking about everything. Add your two cents to IotD by joining the Cellar.