Undertoad Thursday Apr 3 01:53 PM

4/3/2003: Photoshopping at the LA Times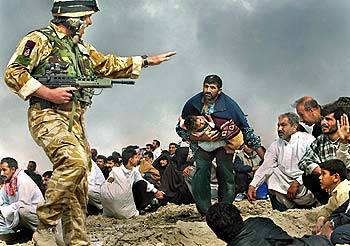 The above photo from the LA Times has led to the dismissal of the photographer involved. It turns out that it's Photoshopped, created by combining two different images: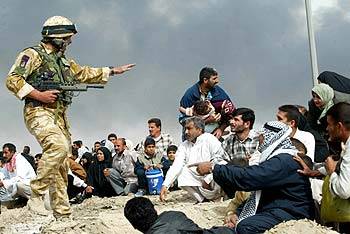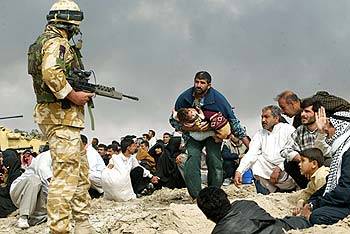 The LA Times has admitted what happened and fired the photographer. It's all a little bit amazing when you consider that he did it all in southern Iraq, but laptops have been capable of running Photoshop for some time now, and every digital photographer probably transfers images from their cameras to their laptops in order to send the images home.

This had been a front-page photo, but a careful eye will find the falsification. For example, if you look closely, you'll notice that there are a couple of guys in the photo who wind up duplicated. In the doctored shot, they are both behind the soldier's knee and in front of it; look for the kneeling man in white, and the head just over his shoulder.

I don't find any motive behind this, other than simply to create a better shot with a stronger composition. But clearly, firing the guy was the right thing to do.

There is an undercurrent running through the war; in the swirling torrents of change, one of the things we see repeatedly is journalists not taking their responsibilities seriously enough. That's partly because the public has not demanded quality journalism all along, but once something truly serious like war comes along, it divides the serious and the non-serious and makes the differences more apparent.

Nobody would have been fired if the photographer had been covering the Oscars and had Photoshopped the spectacle of arriving actors and actresses. But they should have been.

We hate war partly because it is deadly serious and focuses us in uncomfortable ways, bringing about quick change. It exposes people like Peter Arnett, Geraldo, LA Times photographers and Columbia University professors as the non-serious types they are. But, at the same time, reminding us what is truly important and refocusing us is a good thing.

more detail on the firing

An LGF commenter details the probable changes:
The camo on the thigh has been enhanced (history brush on multiply), there is more detail in the boot (same technique), the face has been lightened (apply image on screen or history brush on screen or dodge tool), his shoulder-patch is sharper (unsharp mask). I couldn't be absolutely certain but the thought ocurred to me that he might have widened his upper upper body just a teenie bit with free transform. Just a smidge. Maybe I'm seeing things.
And the soldier has been made larger and put closer to the viewer so that he takes up more space. This photographer did not just cut the soldier out and paste him in the other picture. He spent some time at this. An hour or 2.


---

goethean Thursday Apr 3 02:08 PM

Quote:

We hate war partly because it is deadly serious and focuses us in uncomfortable ways, bringing about quick change.

I hate war because it causes unnecessary pain, torture, violence, and starvation. YMMV.

---

Uryoces Thursday Apr 3 04:19 PM

I dislike people and groups that ignore/put up with unnecessary pain, torture, violence, and starvation to avoid war.

This war wasn't necessary, and should have been concluded before the end of the Gulf War I.

---

headsplice Thursday Apr 3 04:28 PM

quickly:
Gulf War I wasn't about regime change. It was about removing an occupying power from a sovereign nation (sound familiar?). Had we invaded Iraq and deposed Saddam, we would have been (and, whisper it: are) just as bad as him.
Didn't GWB2 learn that multiple wrongs, unlike multiple lefts, don't make a right?

---

xoxoxoBruce Thursday Apr 3 05:54 PM

It looks like G Bush is convivced the end justifies the means.
It looks like Osama is convinced the end justifies the means.
It looks like Saddam is convinced the end justifies the means.

---

Uryoces Friday Apr 4 03:04 AM

Knowing it exists and knowing what to do about the unnecessary pain, torture, violence, and starvation are indeed two seperate things.

My belief is we didn't need this war, but what we're doing now is not wrong. I'm not saying it's right, just not wrong. We can, and we must redeem ourselves after this by keeping our promises to the Iraqi people and the rest of the world. Bush and Cheney may come out smelling like roses, but they are businessmen first. We'll see.

Three lefts ... yeah, you covered that.

---

lawman Friday Apr 4 12:30 PM

About Arnott....

wasn't he fired for merely pointing out that the US Military planners underestimated the resistance they ultimately received? Although probably an unpopular and unwanted observation, certainly it wasn't without it's base in fact.

Unless there is more to the story (and there usually is...) I don't feel Arnott's firing was justified.

Geraldo on the other hand.... should have been sealed up in Capone's empty vault...[bitter irony]

I recall seeing the picture floating around the news sites of a Marine carrying a wounded Iraqi soldier - there was definately some photoshopping on that, certainly not to the extent of this one, but there was the noticible 'glow' around the soldier indicating some contrast/brightness/gamma manipulation.

I don't object to a bit of correction in a photo, but I would also like to see a disclaimer at the bottom indicating what had been done to the original.

---

chrisinhouston Saturday Apr 5 11:11 PM

Information Minister Mohammed Saeed al-Sahhaf held his usual midday news conference, telling reporters that U.S. troops were not in the capital and claiming that Saddam's forces had repelled the attack of the American aggressors and there Photoshops!

"Today, the tide has turned," al-Sahhaf said. "We have destroyed all the Americans.

Speaking to the Al-Arabiya Arab satellite channel, a man who claimed to be a member of the Fedayeen vowed to keep up the fight.

"They are cowards. They are afraid to fight us face to face so they sent the photographers with their Photoshops. We will show them and repell the demon of the wind. Allah be praised. God is great! We will defeat Photoshop!"

---

Torrere Saturday Apr 5 11:48 PM

The sky is lighter, too.
Is that the gamma glow around the soldier?

---

Bitmap Sunday Apr 6 04:25 AM

Naww.. thats Brian Walski using gamma on the whole left side of the photo and when he enlarged the Soldier He didn't even bother increasing the resolution before hand, leaving a pixelated Soldier. The Soldier looks to be about 10+ feet tall. The clouds even look like they are just the Photoshop Cloud Filter(i know, they arn't).


Quote:

From the bottom of the explanation paragraph....<p>He spent some time at this.

aparently not long enough.


Quote:

Originally posted by Undertoad

I don't find any motive. behind this, other than simply to create a better shot with a stronger composition.


Yea he had a motive He wanted to have a photo of a Coalition Tooper being agresive against unarmed civilians. Brian Walski(the foolish Photographer) must have really not been thinking when he decided to Purgure himself and destroy his Professional career, Talk about Black Listed.

<i>-----------------------------------------------------------------------
Credentials: I've been using photoshop since my Sophmore Year of High School (I think it was Version2) adds up to 8 years expierence.</I>

---
Your reply here?

The Cellar Image of the Day is just a section of a larger web community: a bunch of interesting folks talking about everything. Add your two cents to IotD by joining the Cellar.