Undertoad Saturday Apr 5 11:21 AM

4/5/2003: SARS mask fashion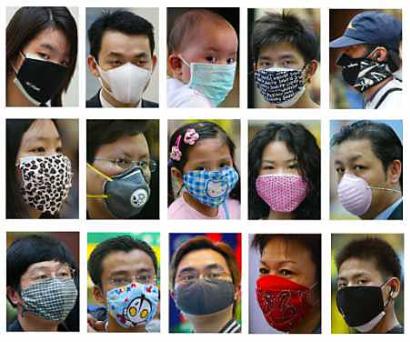 Whenever people have to put things on their body, they'll do what they can to make it distinctive and fashionable. These folks are all in Hong Kong where they are protecting themselves against the SARS epidemic. Already, in the space of a week or two, fashion has nudged itself into the considerations of which mask you wear.

This makes most sense when you realize that, by wearing the masks, the people here have already given up half of their face - the parts that make people most distinctive, the parts that we relate most to our identities.

Fashion also makes the whole thing a bit less frightening and a bit more interesting. Takes away from the idea that you need to wear the masks, and suggests that you might even want to wear them because they're colorful and interesting and creative. Make a statement -- other than the obvious "I'd like to prevent the spread of disease."

Bonus, slithy_tove sends this along: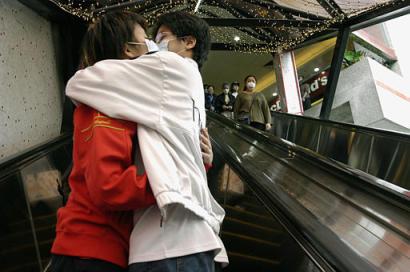 ...which shows how the practice of mask usage makes intimacy more difficult. Another sad, frightening aspect of the whole thing.

---

elSicomoro Saturday Apr 5 11:36 AM

On this side of the planet, Toronto has been hit particularly hard by the SARS outbreak. It appears to be lightening up, but not before 3 hospitals were closed, and 4 people were ordered into mandatory 10-day quarantine. The projected economic losses (from losing a big convention and other businesses losing money) are $10-20 million (roughly $7-14 mil US).

But there was such a run on masks that a factory that makes them had to run 24-hour operations.

---

tjennings Saturday Apr 5 11:53 AM

Kind of makes be glad to live in a dead end burgh that no one has any special reason to go to.

---

xoxoxoBruce Saturday Apr 5 12:36 PM

Quote:

Make a statement -- other than the obvious "I'd like to prevent the spread of disease."

I'd interprete it as I don't want what you might have.
Condoms for the face.

---

chrisinhouston Saturday Apr 5 11:08 PM

Information Minister Mohammed Saeed al-Sahhaf held his usual midday news conference, telling reporters that U.S. troops were not in the capital and claiming that Saddam's forces had repelled the attack of the SARS illness.

"Today, the tide has turned," al-Sahhaf said. "We have destroyed the SARS desease sent from America."

Speaking to the Al-Arabiya Arab satellite channel, a man who claimed to be a member of the Fedayeen vowed to keep up the fight.

"They are cowards. They are afraid to fight us face to face so they sent the SARS illness. We will show them and repell the demon of the wind. Allah be praised. God is great!"

---

russotto Sunday Apr 6 02:48 PM

Quote:

Originally posted by chrisinhouston
(elided)

One thread, you're a wit. Two threads, you're a half-wit. Three or more threads, you're a nitwit. This is the third I've seen today.

---

russotto Sunday Apr 6 02:49 PM

Back on the subject of the thread:

The masks aren't sufficient. You have to cover all your mucous membranes, including your eyes.

---

elSicomoro Sunday Apr 6 03:21 PM

From the BBC:



Quote:

10. Surgical masks, a "must have" for people in Hong Kong and China who hope to protect themselves from the deadly Sars virus, may be a waste of time. While the virulent strain of pneumonia is spread through coughing and sneezing, the masks offer "almost no respiratory protection from airborne particles" according to the Australian Associated Press. "Surgical masks are designed to keep wounds sterile during surgery when a surgeon talks or coughs," according to respiratory protection specialist Dr David Bromwich. "They are not designed to protect the wearer." A better bet would be a special toxic dust mask with a "class P2 particulate filter" which costs about £3.



---

wolf Sunday Apr 6 06:07 PM

I'll have to take a peek and see if there's any informative labelling on my HEPA mask at work. (I also need to check to see if there's an expiration date on the darn thing.)

---

verbatim Sunday Apr 6 10:12 PM

Uh oh. I'm headed to Toronto at the end of this week. Anyone got any tips on avoiding this beast? Or where to pick up a "P2 particulate filter"?

---

Undertoad Sunday Apr 6 10:36 PM

You should be fine! Just avoid going throught the airport, staying at any hotels, eating at any restaurants or using any public toilets. Have a nice trip!

---

jaguar Sunday Apr 6 10:51 PM

I'm got freinds that booked a trip to Englad a few weeks ago, it's Cathay so they've got a 6 hour stopover in Hong Kong. Getting kinda worried.

---

Slithy_Tove Monday Apr 7 09:45 AM

You don't need a HEPA filter. Hong Kong has discovered that N95 masks work perfectly well. Just Google 'N95' for lots of suppliers. About US$1 each in quantity. MAKE SURE THEY FIT PROPERLY!

For a fascinating look into the trenches of the SARS wars, read these e-mail dispatches from Tom Buckley, an ICU physician at Prince of Wales Hospital in Hong Kong. Buckley has been posting to the Critical Care Medicine list (ccm-l), and his e-mails have been collected here. Oldest at the bottom.

---

elSicomoro Monday Apr 7 08:28 PM

Verbatim, you really don't have much to worry about, at least according to city health officials. They want people to live their lives as normally as can be.

Maybe this will help.

---
Your reply here?

The Cellar Image of the Day is just a section of a larger web community: a bunch of interesting folks talking about everything. Add your two cents to IotD by joining the Cellar.