xoxoxoBruce Wednesday Dec 9 12:52 AM

December 9th, 2015: Chewed Up

This guy in North Florida says he drove home, was busy in the back yard, heard nothing, then two hours later found this out front.

......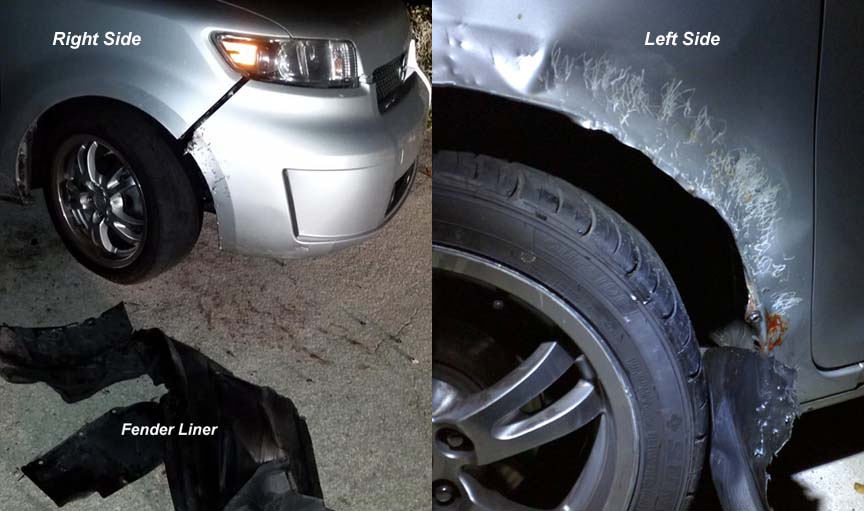 Both sides of the car chewed up, blood spatters all over the ground, right fender liner torn completely out and the left liner half way out.
And nothing around.

......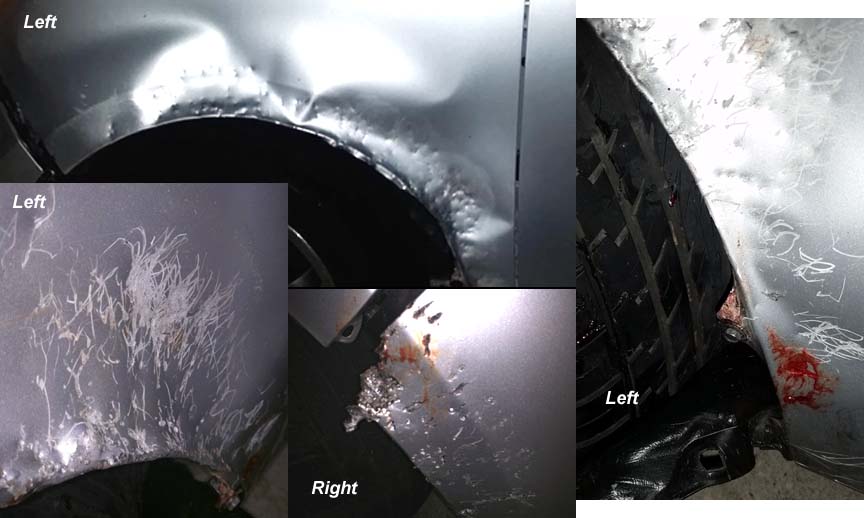 The only clue is the cat, who showed up later, was covered with grease/oil and freaked.
I guess pussy was holed up in the engine compartment.
The guy says the cops are baffled, and his wife thinks it was a bigassed dog.

I've seen the videos of dogs tearing bumpers off, but those were plastic with a few plastic push fasteners.
This is well chewed metal. Strong jaw, but short teeth, quiet but stupid... got to be a Gator.
But wouldn't residents, or at least local cops, recognize gator marks?

Maybe aliens, like Pissed Planet Pluto Paratroopers Packing Payback?




Imgur Link

---

Snakeadelic Wednesday Dec 9 08:35 AM

My guess would be a combination of hungry/angry gator and possibly Burmese python, depending on what part of Florida. Most dogs make LOTS of noise when pursuing other animals, but only a reptile is truly dumb enough to rip up both sides of a car chasing a cat, and has little to no voice to add to whatever sound of teeth on metal. The absence of tracks could mean the pythons have crept northward over the years, possibly undetected. My apologies to any Floridians who have nightmares after reading that...

Oh, and I'm not dead.

We got in...call it a spat...with our phone company (may CenturyLink executives all FRY IN HELL thankee kindly) that offlined my computer for 37 days. We're STILL waiting for our phone number back--our new internet & phone provider is trying to get CenturyLink to release control of it after an epic mess that started on Nov. 1st. Meanwhile I had to wait until we figured out we had to change ISP & phone provider (got satellite TV in the package, which is almost exactly the same $$ as our old, no-TV package) to know what to ask my dad, who is a tech expert. Since he built my computer for me he knows exactly what it will and won't do, and it needed a USB receiver to interact with the wireless 'net stuff, while my sweetie was able to piggyback signal from a neighbor who is also an awesomely good friend

. My poor sweetie was losin' his freakin' MIND once the new provider install was done--his CPU would find the network, accept and validate the password, and then tell him there is no such thing as this 'internet' he was trying to reach. USB receiver took care of that, and then I chose to wait (like another 10 business days) for the second receiver to arrive.

---

xoxoxoBruce Wednesday Dec 9 09:33 AM

I'm glad you're alive and well... alive.


Yeah providers, aka dealers, are unreliable and recalcitrant. It feels good to tell one to go fly a kite, but then the next one turns out to be second verse, same as the first.

I don't think it was a snake. If the target was truly the cat hiding under the hood, a python wouldn't chew the outside of the car, it would go under and up like the cat did. Got to be a Gator... or alien.

---

lumberjim Wednesday Dec 9 10:25 AM

Bear? Monitor lizard? Something with claws

---

Clodfobble Wednesday Dec 9 01:02 PM

In Florida? Definitely a gator.



---

Diaphone Jim Wednesday Dec 9 01:06 PM

I think the culprit is a Florida Black Bear.
They are common in north Florida and their numbers have been increasing.
There are a combination of scratch and bite marks.
In Yosemite park I saw the way bears look for food in cars. They simply stick a few claws into the little bitty gap at the top of a window and pull it off the door.
It looks like under the hood or in the fender well is no safer.

---

infinite monkey Wednesday Dec 9 01:10 PM

I did it. Sorry. I was Hungry Angry Lonely Tired.

---

Carruthers Wednesday Dec 9 01:51 PM

Not being able to find a burglar to rip to pieces, the alligator turned his attention to a car.

Alligator ate Florida burglary suspect.

---

xoxoxoBruce Wednesday Dec 9 04:25 PM

Bah, cover up, police dogs chewed him up and he threatened to sue, so the cops fed him to the gator to protect the K-9 crew.

---
Your reply here?

The Cellar Image of the Day is just a section of a larger web community: a bunch of interesting folks talking about everything. Add your two cents to IotD by joining the Cellar.