Sunday Jun 24 10:22 AM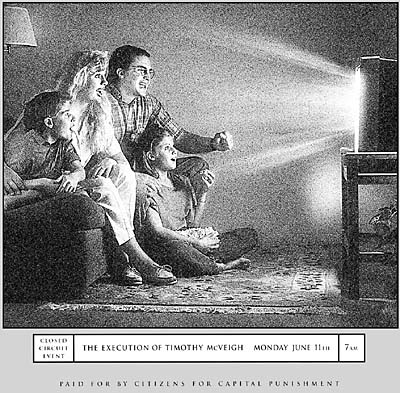 This ad, said to be sponsored by the group "Citizens for Capital Punishment," ran in Monday's Terre Haute Tribune-Star after being rejected by The New York Times and The Wall Street Journal, according to Tom Ungar of the Chicago ad agency the Ungar Group. Ungar insists the ad is serious and pro-capital punishment, although he acknowledged that numerous callers have seen it instead as a parody.

Ungar said the CCP is a newly formed Chicago group that prefers to let the ad speak for itself. Was he disappointed that so many people saw the ad as anti-capital punishment? "You never can predict what will happen with a piece of communication," Ungar said. "It's provocative to the point of getting people to discuss the issue."


---

Sunday Jun 24 03:29 PM

good for them. McV deserves it.




but it looks like they are watching a hockey game. you know america is out of whack when people enjoy seeing other peolpe die, but hey, thats also the entertainment industry.

---

Sunday Jun 24 11:05 PM

I'm against capital punishment, but man, if we're gonna do it, pull out all the friggin' stops! Don't try to pretend there's some dignity to the affair. Go full out bread and circuses. Sell tickets, popcorn, stadium seating. Think of some new and gruesome ways of doing it. Let the criminals know what's waiting for them if they're really bad. (Yeah, it may endanger a few prison officials if the inmates watch, and make a martyr of some folks, but you know, whatever, that stuff might happen anyway)

It's barbaric, and a gloss of "privacy" and "dignity" won't change that. I'll be a bit upset if that close circuit broadcast of McVeigh's execution doesn't make it to the web.

---

Monday Jun 25 12:30 AM

And you're AGAINST capital punishment ?

You sound like those people in the ad. ;-)



---

kisrael Monday Jun 25 07:00 PM

Well, that's the point... I don't think we should kill, but I think it's hypocritical to give it a sheen of respectibility. If you're going to take away someone's life, I don't see that there's much sense in pretending you're leaving other things like privacy and dignity.

Also, I think more people might be properly outraged if we made it into a spectator sport, and then maybe the law will be changed and we can join the civlized nations in, oh, not letting the state be an eye for an eye murderer.

---

elSicomoro Monday Jun 25 10:05 PM

This Tuesday night on FOX..."When Bad People Die..."

In fact, this topic is along the lines of Lard's song "Generation Execute."

---

serge Thursday Jun 28 06:35 AM
---

kaleidoscopic ziggurat Thursday Jun 28 10:52 AM

ha ha ha... and "HA"

i like that comique..

---

elSicomoro Thursday Jun 28 04:16 PM

Tom Tomorrow rules...I love reading "This Modern World."

---

jaguar Friday Jun 29 01:04 AM

Where did you get that???
I love it!

---
Your reply here?

The Cellar Image of the Day is just a section of a larger web community: a bunch of interesting folks talking about everything. Add your two cents to IotD by joining the Cellar.