xoxoxoBruce Tuesday Jun 21 12:50 AM

June 21st, 2016: Pretty Pebbles

♫ My home's in Montana, I wear a bandana
My spurs are of silver, My pony is gray
♫While riding the ranges, My luck never changes
With foot in the stirrup, I'll gallop away
Thatís the first song I ever learned (except for maybe Happy Birthday) from my sisterís book when I was learning to read.

So I knew all about Montana, then some teacher burst my bubble telling thereís mountains too. The first time I went there
confirmed that, but it wasnít until I got to Glacier National Park that I truly appreciated the mountains of Montana.
There are 700 lakes, 200 over 5 acres, 12 over 1,000 acres, in Glacier Park, and the rugged landscape may be why only 131
have names. Lake McDonald is typical in that the water is crystal clear because itís too cold year round for plankton or many
water plants to grow. Mama Nature makes up for that by giving it a beautiful bottom.

HmmÖ A lot of beautiful bottoms Iíve met were very cold toward me.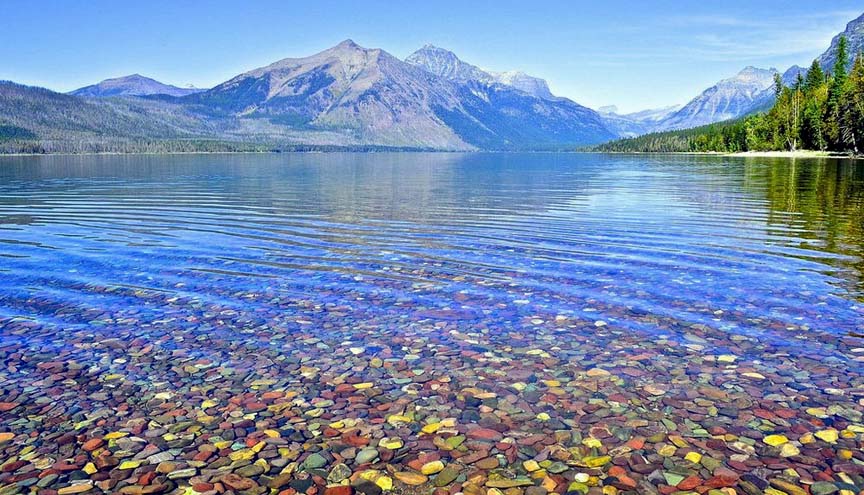 Anyway, the reason they have such colorful pebbles is there is many types of rock in these mountains, and some of each type
were ground to little bits by the glaciers moving south from Canada. See, those immigrants made it a better place.
When the glaciers retreated 10,000 years ago, the cycles of rain and snow moved a lot of those pebbles into the low spots along
with the water, making lakes with pretty bottoms.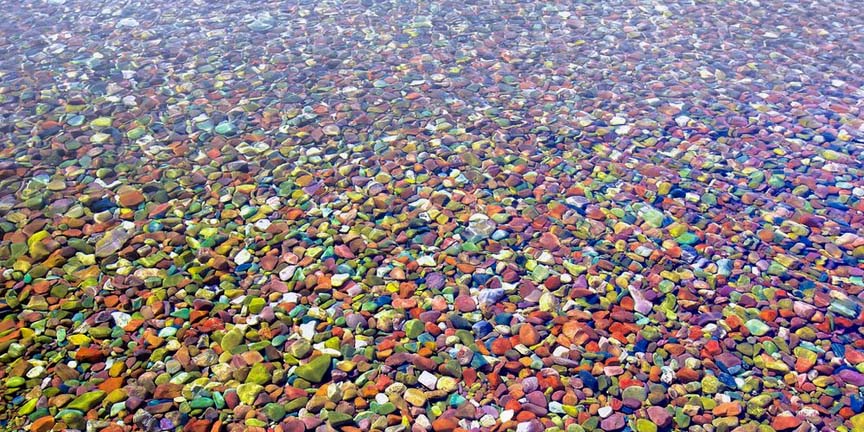 The color of the rocks is determined by iron. A couple years back, maybe 100 million give or take a little, the bright red rocks were
in a shallow ocean and the iron oxidized from tidal exposure to the air. Red ones often have old ripple marks or mud crack lines.
The green rocks were in deeper water and have the same amount of iron but werenít exposed to oxygen so less oxidation.
The dark-colored rocks are from the red and green rocks seeing intense heat and pressure in the forming of the Rocky Mountains.

So if you can, by all means check it out, the areas further north in Canada too, before the lakes warm up to grow stuff.

---

burns334 Tuesday Jun 21 08:00 AM

Very interesting

---

Snakeadelic Tuesday Jun 21 08:27 AM

Actually, almost everyone on the west coast seems to think we're ALL mountains (I live a couple of miles from the Bitterroot Range and can see about 6 peaks from where I sit). In truth, we are the 6th windiest state last I read, probably because everything east of the Sapphire Mountains (which I can also see, but from my balcony) is in the Great Plains biome. Two-thirds of Montana is Great Plains!

As for the rocks above, most of the reds are likely shale (also known as fossilized silt layers) the greens could easily be aventurine quartz and various jasper blends, and the whites are likely granite, milky quartz, or stones I'm not great at identifying. And there are a couple of similar lakes OUTSIDE park boundaries

. Flathead Lake, at least the northwestern quarter, also has a wild mix of river-cobble stones.

Heck, even the Bitterroot River, which is a ways from Glacier, spits up spectacular piles of color--I've found shiny-charcoal-colored biotite mica (about the size of a chimney brick), green aventurine that shades to blue on one side, and fossilized broken-up driftwood cemented back together with red, yellow, and green jasper. Less than half a mile from my apartment. Anybody wanna come visit?

I'll cook bison burgers! (We even have a local bison farm and a butcher shop that carries ground bison.)

---

Snakeadelic Tuesday Jun 21 08:30 AM

...And for scenic adventure almost as spectacular as Glacier but easier to get to, we have a maintained ghost town (Bannack) and the Big Hole National Battlefield Monument (last stand of the Nez Perce iirc) and Crystal Park (where the quartz points are literally laying on the ground, or you can get ambitious and dig for bigger ones) close to each other just east of the Sapphires. And the Sapphire Mountains got their name because they really are where Montana sapphire (including the fabled Yogo) comes from.

---

xoxoxoBruce Tuesday Jun 21 11:13 AM

You're right, there are numerous smaller parks and beautiful spots outside the parks with unique features. I spent quite a bit of time working in Boardman Oregon and it's amazing driving I-84 from the lush green coast along the Columbia river through the Cascades and coming out to high desert of OR, or the rolling wheat fields and apple orchards of WA state west of Hanford.

Lancaster County, PA has, a number of Bison farms, so fresh meat is easy to find here

---
Your reply here?

The Cellar Image of the Day is just a section of a larger web community: a bunch of interesting folks talking about everything. Add your two cents to IotD by joining the Cellar.