What's IotD?

The interesting, amazing, or mind-boggling images of our days.
xoxoxoBruce Monday Nov 28 08:08 PM

Nov 29th, 2016: Greek Sponge Divers

Quote:

The entire Greek sponge industry was centered on a string of islands in the Aegean Sea, called the Dodecanese Islands.
For generations, young men and their fathers and their forefathers earned their living by diving for sponges. Traditionally,
the sponge was gathered from the ocean floor by 'skin diving', or free diving without clothes and without using any breathing
apparatus. Sponge divers would dive to the bottom of the sea on just a single breath of air, weighing their body down by
a piece of flat stone that weighed up to 15 kg. The heavy stone would drag the naked bodies quickly to the bottom.
The presence of sponge on the dive site would have been already verified by the crew above using a cylindrical viewing pipe
with a glass bottom. Once the diver reaches the floor, he would cut loose as many sponges as he could and stuff them into
a mesh bag. A skilled diver could dive up to depths of 30 meters and stay under water for 3 to 5 minutes.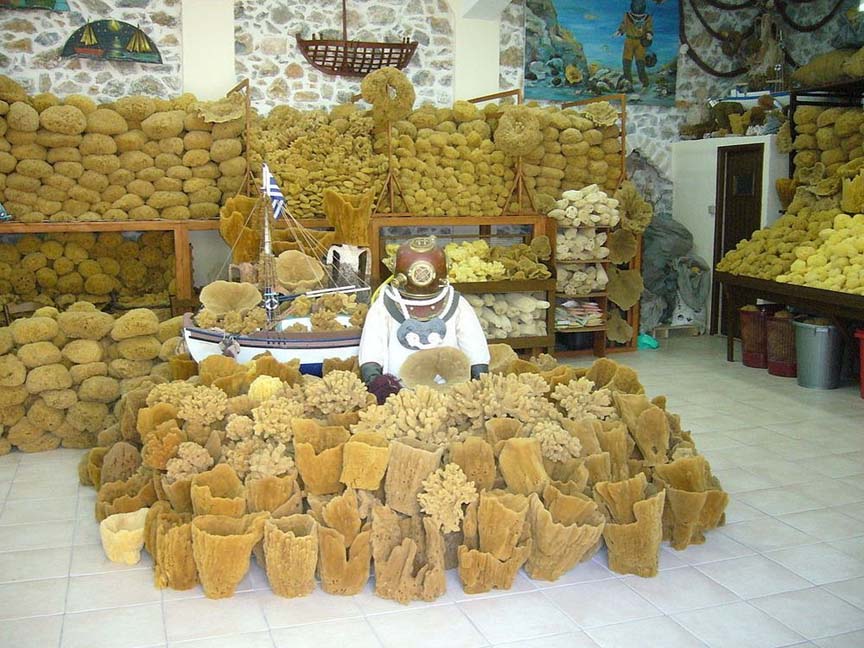 Then somebody invented the diving suit so divers could go deeper and longer making everybody richer.
But it also brought the "bends". Between 1866 and 1895, on the island of Kalymnos alone, 800 young men died of the bends and
200 more were paralyzed. The suits were outlawed for a couple years but the loss of profits brought them back.

When a virus wiped out the sponges many of the divers scattered around the world with one group coming to Florida, where they
did well until a red tide wiped out the beds. The red tide comes often enough the beds never recovered.

Of course synthetic sponges have taken over except for some car nuts and some fancy bathers.
link

---

blueboy56 Monday Nov 28 09:25 PM

This betrays my age, however, A favorite plot device of adventure movies of the 50's was to have a sponge diver get attacked by somebody with a knife. (or somebody on board the boat shutting off the air pump.

---

BigV Monday Nov 28 11:36 PM

Sea Hunt? Lloyd Bridges?

---

xoxoxoBruce Monday Nov 28 11:45 PM

The Deep, with Jacqueline Bisset.

---

elSicomoro Tuesday Nov 29 01:47 AM

I wonder if Elaine still has her stash...

---

elSicomoro Tuesday Nov 29 01:48 AM

Joke aside, fascinating.

---
Your reply here?

The Cellar Image of the Day is just a section of a larger web community: a bunch of interesting folks talking about everything. Add your two cents to IotD by joining the Cellar.