Undertoad Monday Apr 28 11:49 AM

4/28/2003: Tunick in London store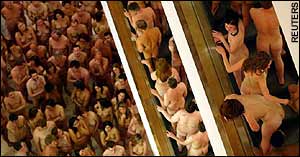 Doc noticed that this morning's The Telegraph had a story this morning on a Spencer Tunick setup in Selfridge's a department store in central London. That meant at 6 AM yesterday there were 600 naked people wandering around the store, and Tunick could set up one of his group installations for photographs.

From the story: Ellen Ritman, 51, a writer from London, was one of the volunteers. "I found it exciting and liberating. The feeling was one of calm enjoyment. At my age it was a perfect thing to do, to look at other people's bodies and mine, and to remember how beautiful we all are. His work is wonderful."

That's part of it, and another part of it is the contrast that always happens in Tunick's work, between the warm human body and its cold surroundings. Tunick notes in the story that "I was able to use the interior of the store to capture the anonymity of public and private spaces. The idea was to bring the body up against commerce and create a tension between them."

The Telegraph also has an interesting first-person account of what it was like to be naked in a big city department store. And the author makes another interesting point: "[Tunick's] images are often spectacular, but there will be a splendid element of rejection in the Selfridges pictures - several hundred people all devoid of anything the shop could sell."

Also, I'm not sure whether any of the previous IotD Tunick shots included Tunick's own URL. He has his own website now featuring many more of his interesting shots.

---

xoxoxoBruce Monday Apr 28 04:14 PM

If the store made off with the models clothes, they could make a fortune.

---

juju Monday Apr 28 05:09 PM

Hey, his next 'installation' is in Spain! Maybe Rucita could pose?

---

xoxoxoBruce Monday Apr 28 05:50 PM

I don't know. Do you think they could talk him out of his legal briefs?

---

novice day off Tuesday Apr 29 08:06 AM

I'm in awe of this guy's ( hope he's a male) ability to talk/inspire large numbers of people out of their clothes but I'm starting to feel a little underwhelmed by it all. I mean, what next? A bigger gathering, a more audacious venue? When will the show cross from 'art' into tackiness if it hasn't already. Despite the vast area of naked flesh on display it's become just so much ho and hum. Enough already. I don't want to be de-sensitised to nudity. I love nudity.

---

xoxoxoBruce Tuesday Apr 29 09:29 AM

Maybe he's trying to desensitize the great majority that have an aversion to it

---

Whit Tuesday Apr 29 11:23 AM

     I couldn't help but notice how many people on the bottom floor have their arms crossed. I wonder if this is because they don't know what to do with their hands, or if it's just cold?

---

wolf Tuesday Apr 29 12:55 PM

The arm-crossers appear to be mostly women who might not be entirely comfortable with public nudity ...

---

Whit Tuesday Apr 29 03:16 PM

     Actually I notice several men doing the same. I considered the comfort level possibility, but it's not nearly as funny as them crossing their arms because they realized the height the average hand hangs at in a crowded room full of nude people.

---

Whit Tuesday Apr 29 03:20 PM

     Also, am I the only one that thinks the person in the bottom left corner of the photo appears to be doing something inappropriate?
     Exactly what is this person doing with their left arm?
     Sorry, feeling a bit crude today I guess.

---
Your reply here?

The Cellar Image of the Day is just a section of a larger web community: a bunch of interesting folks talking about everything. Add your two cents to IotD by joining the Cellar.