xoxoxoBruce Thursday Mar 2 11:12 PM

Mar 3rd, 2017: Anchiornis

Say what? Anchiornis, you know, Anchiornis the four winged dinosaur.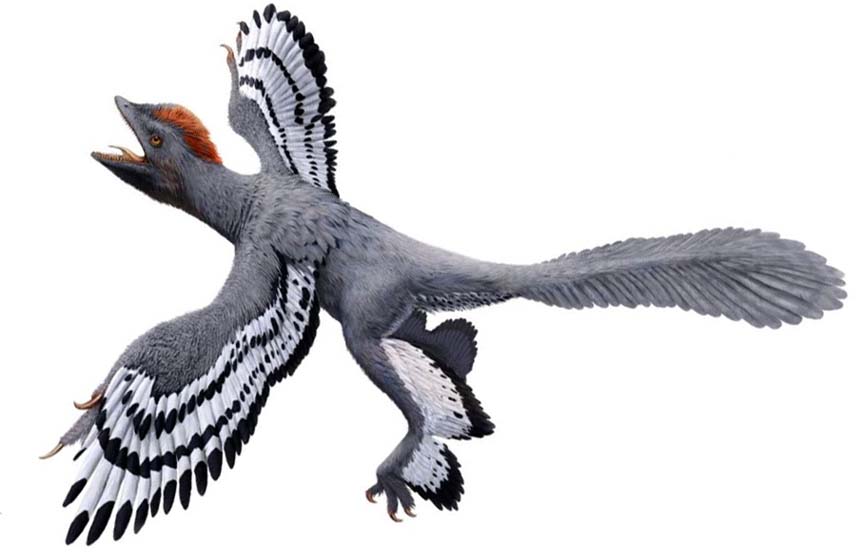 Quote:
A research team led by Michael Pitman from the Department of Earth Sciences, University of Hong Kong, used an exciting new technique called laser-stimulated fluorescence (LSF) to reveal the delicate contours of soft tissue around the fossilized bones of a dinosaur called Anchiornis. The new study, published today in Nature, is the first to show a highly accurate body outline of a feathered dinosaur, offering an unprecedented look at this 160 million-year-old creature. Incredibly, Anchiornis exhibited many traits of modern birds, pushing back the emergence of important bird-like features to the Late Jurassic.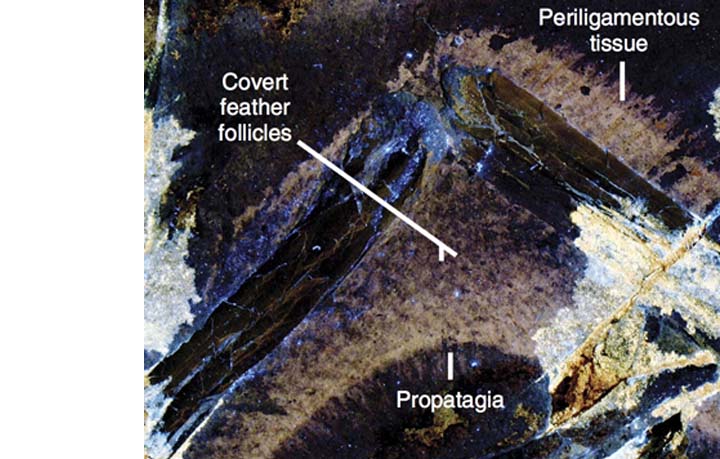 Quote:
The researchers chose to apply LSF on Anchiornis as it's one of only a few early examples of bird-like dinosaurs in the fossil record, a list that includes Microraptor and Archaeopteryx. The study of these early feathered, winged dinos, with their unique body shapes, feathering, and apparent aerodynamics—have contributed greatly to our understanding of the origin of birds and early flight evolution. Anchiornis is also a good species for study owing to the rich paleontological record. There are at least 229 known specimens, significantly improving the researchers' chance of discovering traces of soft tissue preservation in the samples.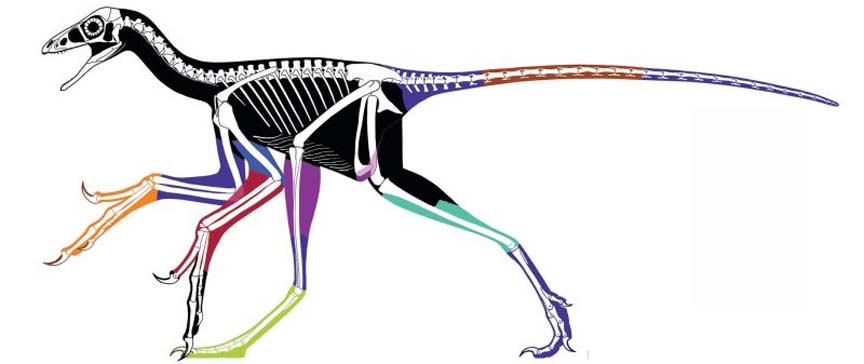 Quote:

It's not clear if Anchiornis could actually fly, but given these physical features, it might have been capable of making considerable leaps and engaging in gliding behavior. But, as the researchers point out, more work is needed to determine if Anchiornis could actually leave the ground or jump off a tree or cliff in any meaningful way. "The wings of Anchiornis are reminiscent of the wings of some living gliding and soaring birds, but detailed investigation, specifically quantitative biomechanical modelling that can constrain how this animal could have moved, is required to robustly test whether Anchiornis could have glided, soared or even moved through the air at all," said Pitman. "At the moment we don't have all the data we need to strongly support any of these capabilities."

Having all the equipment, it's definitely a link between a four legged ground dweller and a true bird, even if it couldn't fly.
But of course we all know it couldn't be more than 7,000 years old.

link
---

Snakeadelic Friday Mar 3 09:14 AM

http://www.cnn.com/2016/12/08/health...in-amber-trnd/

Well, if we WERE created 7,000 years ago by some benevolent all-seeing being, that being went to a lot of trouble to convince us otherwise. The Myanmar specimen from last year--they found it in an open-air village market near the Chinese border--was thought to contain some kind of plant material along with a valuable insect.

That's not plant material, though. That may be the single most valuable hunk of amber ever excavated, because that's a section of a dinosaur tail and it still has visible structures shaped like a rooster's "hackle" (neck) feathers! Too bad anyone in the US who wants to see it will have to go wherever the amber is, as we still have a full trade embargo against Myanmar (formerly Burma). This is strongly felt in the world of geological and gemological collecting, as several unique stones come only from that area. Maw-Sit-Sit, known from one deposit near a village by the same name, is a beautiful mixed-blend stone I think turned out to be at least partly jade when tested. Octahedral spinel is found there, and while that's not unique the combination of vivid red color, the number of spinel crystals with perfect, clean, unchipped edges sticking out of a marble matrix so white it almost hurts to look at is unique. Rubies, of course, are another big one though there are quite a few other sources worldwide. And amber. Sure, Baltic amber has the best variety of inclusions, while the Dominican Republic and a couple other places produce amber that can be blue or green.

But a perfectly preserved section of dino tail, right down to unbroken feathers? That's unique so far! It does advance the validity and acceptance in the paleontological community of the whole "feathered dino" idea. Rocks are great, particularly several individual fossils such as part of an infant T. Rex with down feather impressions around the visible skin and some that have preserved feather structure so well that microscopically visible structures within those feathers tell us they were iridescent. Now that too would be amazing to find in amber someday--dino feathers with bright colors or high shine preserved!

The one in the post reminds me a lot of both my mom's chickens and the Jurassic movie franchise raptors, which it turns out may also have been feathered for at least part of their lives.

---

Snakeadelic Friday Mar 3 09:15 AM

PS to Bruce--you actually now have me trained to look at my notifications before I log out. You rock!

---

xoxoxoBruce Friday Mar 3 05:04 PM

We'll whip you into shape, 'cruit.

---
Your reply here?

The Cellar Image of the Day is just a section of a larger web community: a bunch of interesting folks talking about everything. Add your two cents to IotD by joining the Cellar.